The diary of newlywed buyers – Entry 1
Entry 1: Let the dreaming begin
This is an account of buying our second house and actually paying attention this time around!
My wife Shelly and I bought our first house together 8 years ago at the age of 24; we timed it perfectly, just before the market crash and when everyone went from wanting the next iPhone to hoping they were going to keep their job.
We lived very happily in our little 1.5 bedroom end of terrace in the charming market town of Newport Pagnell, famous for Aston Martin and a spectacular place to stop on the M1 when you need a refuel and a KFC… but it was the right time to move.
I'm a little ashamed to admit it but I remember very little from our first purchase, I think I just got swept away with finally becoming a home owner; thankfully I was more astute this time around. Selling your first place and buying your next one is probably one of the trickiest property hurdles to overcome. You are making a substantial investment but with the added complication of managing the sale of your existing property, a place you will always have an emotional connection with.
"Where do we want to live?" That's the first question we asked each other. I work in central London and commute by train and my wife needs to be close to main road links for her job. We thought about our preferred life style too. Living in an established market town offers numerous benefits  – green grocers, local butchers, a Costa coffee shop and a selection of restaurants and pubs – all things we enjoy… we found ourselves questioning: "Why are we moving?"
We had outgrown our house and needed to upscale so I asked my Dad, someone who had substantially more experience and who would tell me straight, for his advice. "I wouldn't move out of this town, find a nice resale property, something a little larger than what you have already but don't get carried away". So having listened to his advice, immediately I thought 'spacious new build' – double the market value and the only properties we found that matched this was outside our beloved market town. At least I asked!
The idea of buying a new build house from a developer had always appealed to us – something fresh, not lived in and has that 'new car' premium feel. We had seen some properties on Rightmove via instant alerts of some big open plan kitchens with island cooker units, lots of light and space, creative storage solutions. The idea of having multiple bathrooms and being able to have people stay over without putting them in a box room was amazing!
At this stage we weren't sure what we could even afford or what we could sell our current place for. We needed a valuation on our place to sell so using Rightmove's Property Valuation Tool, we engaged three estate agents to find out what our place is worth. We were pleased to hear all three said around £165,000 to £170,000, which was a little above what we expected.
We didn't do anything for three or four weeks. I think the enormity of the journey we were about to embark on weighed too heavy on our thoughts; it's such a big decision to move and we needed a few more evenings and nights debating this over a bottle of wine (or two!).
Selecting our estate agent for our sale was really straight forward, as we picked our agent because she made us feel at ease and came across as a cheerful and personable. We were made to feel our sale was important to them, discussing different strategies available to us, looking at our competition out there by showing us similar properties online and going over options such as Premium Listings on Rightmove to help our property stand out from the crowd.
The tidy mission began… paint on the walls, Polyfiller everywhere, cat hair and clutter removed, windows washed and decking repainted.
They viewings began…. We were at work while our two cats were greeted several times a day by strangers, probably confused as to why they weren't there to feed them.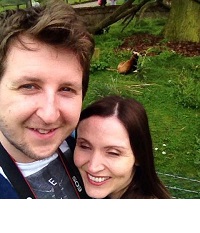 After just a few viewings we got a call: "Hi Martin, we had an offer".  Great, I thought, the selling business is easy! "It's not what you were hoping for". My heart sank; it was significantly under the asking price. I gave a resounding no, without even consulting my wife (which was brave), but such was my conviction we could do better!
We didn't know it yet but without a firm offer it was going to prove difficult, actually near to impossible, to engage with any developer to find our dream new home.
Next week – What to expect when buying a new home…
Written by Martin and Shelly, buying newlyweds.