Top 10 contemporary homeware designers from around the world – plus an exclusive 15% off!
By Lollita Sadiki
Africa
African art has been a top favorite in home accessorising for a while. So when the Juju hat caught the eye of top interior designers it was no wonder they became a must have wall sculpture. The circular feathered headwear originally worn by Cameroon royalty chiefs is the absolute home decoration. The story behind their heritage is truly fascinating. Handmade and colourfully crafted by Cameroonians themselves makes it a fair trade bonus. A collector's piece, worldly symbol or whether teamed with other art forms to create the ultimate wall explosion of mixed mediums. Either way truly unique.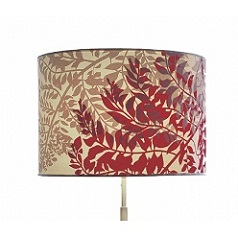 Scotland
Creating a luxury home lifestyle is becoming more accessible.  Timorous Beasties Giant Lamp Shades are a combination of contemporary, timeless, stylish and printed to the highest standard.  This chic shade with leaf print captivates the light, giving a silhouette effect in the evening. A classic luxurious design that will convert any space dramatically.
Denmark
If you're looking for lighting that's simple yet modern then the Mega Bulb by Sofie Refer is on spec. Iconic as the light bulb is, Sofie's take captures her creative personality and grace, bringing such elegance to glass art suspended from the ceiling. Its entirety consists of blown clear glass, a bulb inside a larger lampshade bulb, complete with transparent cord. Placed in whichever environment it's sure to transform any space reflecting light from surface to surface.
England
While admiring Anthony Dickens Japanese inspired Origami side table three things come to mind…retro, sleek and tea cups forbidden to rest on the surface without a coaster. For those of you who don't know the meaning of the word Origami, it's the Japanese paper folding art that's been around for decades.  Ori is Japanese for folding and kami means paper. Award winning Dickens round glass table highly deserves adoration, for his attention to detail.  A stylish modern approach and great addition for those who appreciate design-focused pieces.
South Africa
Heather Moores Borrowed Spoons tea towels are part of her flatware textile collection. The multi talented artist and brand owner of Skinny laMinx creations are made in South Africa. Her signature style is simple and draws on several influences which all tell a unique story. Screen printed onto 100% cotton in vibrant colour, which accentuates the minimal illustrations to finish the designs. Made with passion these tea towels are refreshing.
Japan
Candles set the tone in any space when lit creating shadowed backdrops, which formulates a mood depending on their placement. And of cause unless merged with the perfect candleholder dramatically makes a statement. Designer Shin Azumis Ribbon Candlestick collaboration with British brand Innermost truly depicts style and luxury. Shin's interpretation of the ageless candlestick is a genius work of art, celebrating modern chic. By combining old décor and new this piece is not likely to go out of style – obviously the creator's intention.
Sweden
Swedish brand Àry have been making trays for over 50 years. Àry Trays also continually strive to maintain an ethos of ecologically friendly products. British designer Asta Barrington designed this Alabasta Fish tray, and is hand crafted from single sheets of Scandinavian birch wood. The design is simply painted in a one-colour palette of black, which looks truly divine. With duel purpose it can be used purely for decoration or for serving.
Hong Kong
Time is of the essence with this Fantome Ghost Clock by Yen-Ling Wan. Yen-Ling is one of Innermost top young designers, bridging the gap from Hong Kong.  Her modern take on the Victorian mantel clock is gorgeously constructed. The mirrors, glass and transparency combined, finished with etched detail create an illusion of mystery mastering the overall attention to detail.
France
Ibride are known for their eccentric quirkiness, providing a world of fantasy visualised by its artists. The Ostrich console is crafted out of recycled wood, which is an eco-friendly must have.  Every home needs a touch of unpredictability to keep the inspiration flowing. This Diva console's a great starting point and can be decorated with your most fabulous home ware to complete the look.
Israel
The Israeli art scene is slowing emerging into the market depicting its culture globally. Art Ori Design uses everyday life and people to illustrate their silhouettes, which are crafted into lifestyle art. The Cookbook Bookends are no exception, while being practical and visually appealing. Israeli designer Ori Niv has created these bookends with food lovers in mind.

TERMS & CONDITIONS: 1. This promotion will run until 21/12/11. 2. Discount code can be used multiple times. 3. Discount code cannot be used in conjunction with any other offers.