Japanese Knotweed – Not to be ignored and Not a chain breaker

The image on the left clearly shows how destructive Japanese knotweed can be and highlights why some mortgage lenders are refusing loans resulting in property chains breaking.
The presence of Japanese knotweed can significantly impede the conveyancing process and buyers are pulling out of property sales due to the presence of Japanese knotweed coming to light on property surveys. Although the presence of knotweed can be seen as a problem it doesn't necessarily have to be a chain breaker – there is a solution.
So if Japanese knotweed is affecting the property you want to buy or sell, read on.
Why all the media hype and scare stories you may ask?
The implications of Japanese Knotweed are serious; Mortgage lenders could refuse to lend and Insurance companies can refuse to insure, owing to the potential damage that knotweed can wreak on property footings and drainage systems. This means that the true costs could be significant in proportion to the asset value of the property.
Here's what to do if knotweed is impeding your property purchase or sale.
Most importantly, the first thing to do is instruct a specialist Japanese knotweed survey by an invasive weed specialist; a professional company who are registered with the Property Care Association (PCA).
Many lenders are happy to accept a 10 year Knotweed Management Plan (KMP) with an insured backed guarantee which demonstrates a planned treatment and monitoring schedule to tackle the infestation.
A herbicide treatment programme is widely accepted as being an effective way to control and manage the spread of knotweed but it is unlikely to eradicate the deep underground rhizome system and this is an important note (especially for developers) because the Environment Agency state that any waste from ground containing knotweed (dead or alive) even after a specialist has been providing a herbicide treatment programme should be classified as controlled waste if removed from site. If you want to build an extension or carry out any hard landscaping you will need to consider the excavation of the knotweed contaminated ground.
It would also be advisable not to rely solely on the information given in the TA6 form relating to the question that asks "is the property affected by Japanese knotweed: Yes, No or Not Known."  Buyers cannot and should not rely on the answers No or Not Known because often the seller doesn't understand what Japanese knotweed is or what it looks like or what is meant by the word 'affected'.
Ask yourself are you confident that the information given on the TA6 is accurate and talk to your solicitor about it in greater detail.
For further advice on Japanese knotweed identification and solutions please visit www.japaneseknotweed.co.uk  For real peace of mind, contact survey@knotweed.co.uk  to arrange for a specialist Japanese knotweed survey.
---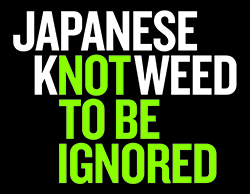 Japanese Knotweed Ltd is the largest private limited company in the UK dedicated to the remediation of Japanese Knotweed.
Our success has been built upon the high level of Experience, Expertise, Service Delivery and Customer Care.
With regional surveyors near you we're ready to help investigate your knotweed problems. Following investigation we will provide you a Knotweed Management Plan report and quotations for all feasible remediation methods.
As an established contractor we are affiliated members of the Property Care Association's Invasive Weed Control Group.