Pets in Rentals SOS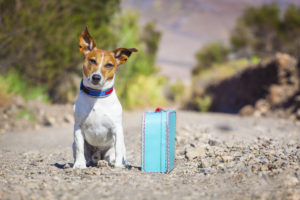 Looking to rent with your furry friend in tow? Make sure you know the rules and ask the rights questions – you don't want to end up getting a hefty fine or having your tenancy terminated if you don't. Here are your FAQs answered:
Do I need to tell a landlord I'll be moving in my pet?
If it's specified in your contract that you aren't allowed pets then you must ask your landlord before you move in. If it isn't mentioned anywhere in the advert or in the contract, it's still definitely worth telling them as it may mean changes to the contract wording and deposit amounts if they agree this is ok.
If my contract says 'no pets', that doesn't include little things like a hamster right?
Clarify this with your estate agent – usually they are most concerned about dogs and cats, so it's worth asking! If they say yes to your pet, make sure the contract is amended to say so, to protect yourself as a tenant.
If I get a pet whilst living in a rental property, do I need to do anything or tell anyone?
Yes, you have an obligation to tell your landlord because if it was in your contract that you weren't allowed pets, you are breaching your contract and the landlord can have you evicted.
What if my pet damages a part of the property?
If your pet accidentally damages part of your property, this is your problem and will come out of your deposit. Make sure you tell your landlord at the time and don't try to DIY the problem as you could end up being charged even more, when you're moving out, if you do a botch job!
Can the landlord make me pay more deposit if I have a pet?
Yes, if you have a pet, your landlord may see you as being more likely to damage the property and may amend your contract for a fee, and ask for more of a deposit.
What if the Rightmove listing doesn't specify anything about pets?
Then ring or email the agent and ask! It's better to know now than when you've paid all of the estate agency fees and then you read the contract which says 'no pets'. Save yourself the hassle and ask upfront.
Don't get caught short when you're renting with your pet – make sure you take all the right steps in making yourself a happy home with a happy pet – good luck!