Q3 2023
Rents hit 15th consecutive record, as average property receives 25 enquiries
 Average advertised rents outside London hit a new record for the 15th consecutive quarter, and are now 10% higher than a year ago at £1,278 per calendar month (pcm)

Average London rents have also risen to a record of £2,627 pcm, now 12.1% higher than last year

The number of enquiries each property is receiving from would-be tenants has more than tripled to 25 from eight at this time in 2019:

The increase in enquiries is driven by the ongoing imbalance between supply and demand, with 41% more tenants looking to move than in 2019 and available supply down by 35%

The supply and demand imbalance is slowly improving from last year, with demand easing by 17% compared with 2022, while available supply is up by 14% over the same period:

The number of new rental properties coming to market is now 7% higher than at this time last year, the biggest yearly jump since November 2022

In such a busy market, tenants are having to do more to have the best chance of securing a property, including being flexible on viewing and move-in times, and being ready to move fast with references
Overview
The average advertised rent for new properties on the rental market hits another new national record of £1,278 per calendar month (pcm) outside of London.
This is the 15th consecutive quarter that average advertised rents have risen to a new record, with average rents now 10% higher than this time last year.
The average advertised rent in London has also risen to a new record of £2,627 pcm, and is now 12.1% higher than last year.
One of the factors driving rising rents is not enough available rental properties to meet the demand from prospective tenants looking to move.
The average rental property across Great Britain is currently receiving 25 enquiries from prospective tenants to letting agents, which is more than triple the eight on average they were receiving in pre-pandemic 2019.
It is also five more than when this figure was last reported in May.
The data measures the total number of enquiries by phone and email sent from would-be tenants to agents, with agents reporting queues of hopeful tenants arriving for viewings when a property becomes available.
Overall, the number of unique tenants looking to move across Great Britain is 41% higher than in 2019, while the number of properties available to rent is down by 35%.
Ria Laitmer, Lettings Manager at Clarkes in Dorset says: "The gap between high demand and a severe shortage of rental stock at the moment is just crazy. We're receiving mounting enquiries for each property to rent from would-be tenants, with queues of tenants arriving to open-house viewings and the majority being left disappointed as there is just not enough properties on the market to meet the demand."
Debbie Marsden, Director at Marsdens Lettings in Wiltshire says: "Like everywhere else, we've been seeing a huge increase in enquiries per property as it's just a crazily busy market at the moment, and on top of this we are having to keep up with compliance requirements. Due to the fast-changing nature of legislation, it can be hard to keep up."
However, there are signs that the long-lasting imbalance between supply and demand in the rental market is beginning to improve. While demand is still significantly higher than pre-pandemic levels, it has eased by 17% compared to last year.
The total number of available properties to rent is up by 14% compared with 2022, while the number of new properties coming to the market to rent is now 7% higher than at this time last year, the biggest annual jump in new properties to rent since November 2022.
Rightmove's Director of Property Science Tim Bannister said: "Record rents and far more tenants looking to move than there are homes available means it will still feel very difficult for many tenants navigating the market. However, there are signs that some of the pressure between supply and demand is beginning to ease, with the number of new rental properties coming to the market now at its highest level since the end of last year. While it is likely that there is some way to go before this filters through to rental prices, if the improving trend between supply and demand continues, we could start to see the pace of yearly rent rises slow more significantly than it has been."
In the current market, tenants are having to do more to have the best chance of securing a rental property. Rightmove's property expert Tim Bannister shares some actions tenants can take to put themselves in the best position.
He says:
Moving fast to set up a viewing is key, which can be difficult when juggling other commitments. Having instant property alerts set up, and getting to know local estate agents can help to make sure you're one of the first to know about a new property.
Be clear about your non-negotiables from the start. This includes your max budget, how many rooms you need and how long you intend on staying at the property. This will help avoid going on viewings where the property isn't quite right, and help agents suggest the most suitable other properties if one doesn't work out.
Being flexible on a move-in date is tricky, but it can be an attractive addition to a tenant application. This is easier for first-time renters, but if you're already renting, considering if you have any options to temporarily move in with friends or family to fit around the new property move-in date could help you.
It's really important to be organised and have your finances and documentation in order early, to be able to move through the tenancy application process smoothly and quickly. This includes having the deposit ready to go, references lined up, and a guarantor secured if you need one.
Renters are increasingly looking outside of traditional hotspots and widening their search when looking for their next home. If you're able to expand your search it could open up more options to find available properties, and you could potentially find some cheaper properties too.
Quarterly Trends
Regional trends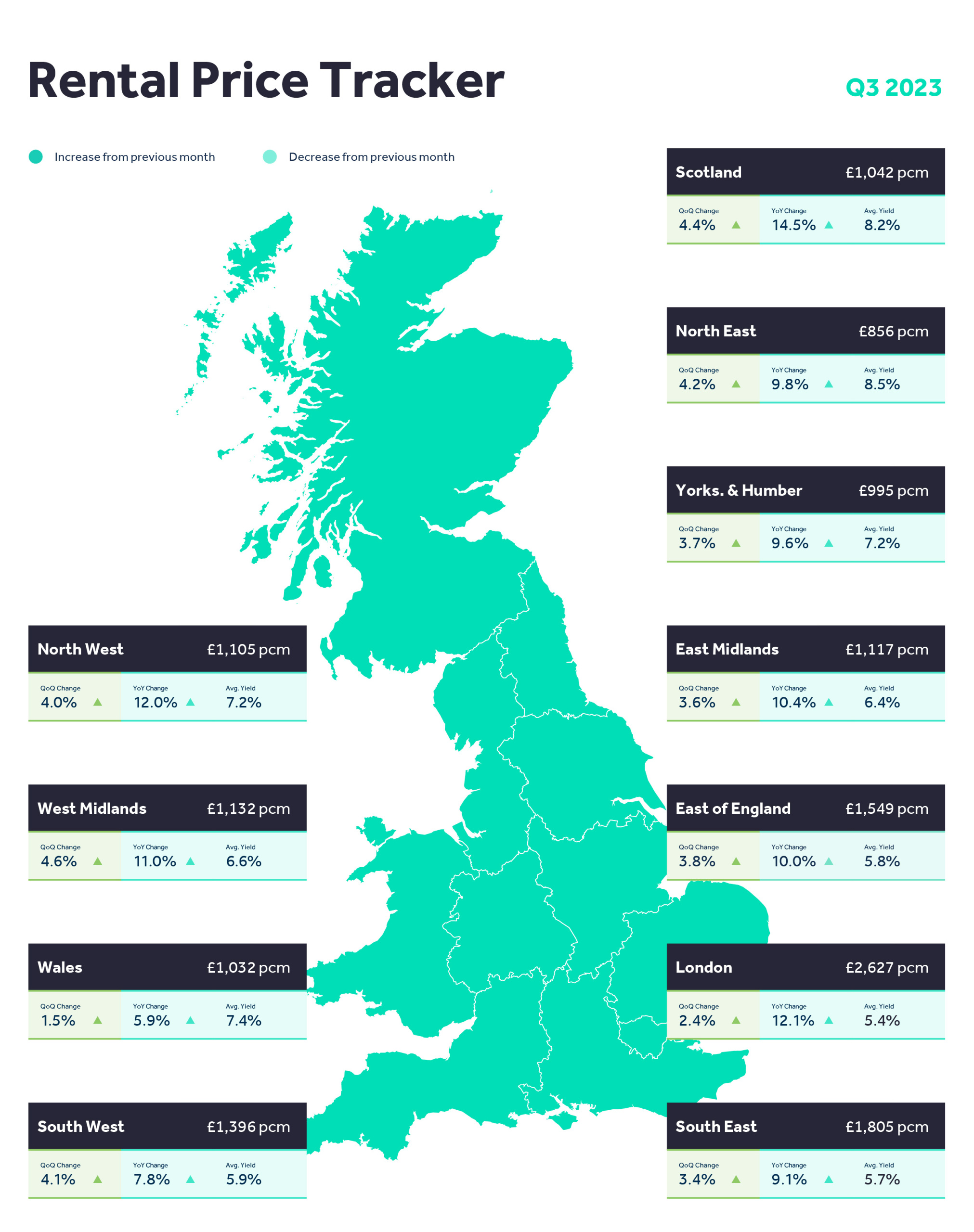 Full Report