Q3 2018
Drop in available rental properties pushes asking rents to record high
Average asking rents outside London have hit over £800 per month for the first time, fuelled by fewer available rental properties for prospective tenants to choose from:

The quarterly rent rise of 0.8% is the biggest jump recorded at this time of year since 2015
There are 8.7% fewer rental properties marked available compared to this time last year
A 14% drop in mortgage approvals for new buy-to-let purchases compared to the same period last year has contributed to the lack of choice

In London, the number of available rental properties is down by 19.4%, with agents finding tenants four days quicker for landlords' properties than a year ago

Overview
A continuing trend of fewer property investors purchasing buy-to-let properties has led to record high rents and a lack of available rental properties this quarter, increasing competition among many prospective tenants looking for the right home.
The average asking rent of a home outside London surpassed £800 for the first time, up to £802 per month in the third quarter of 2018.  Available stock numbers have dropped by 8.7%, exacerbated by a 19.4% fall in London.  As we reported earlier this month in our House Price Index, one factor for this lack of rental stock is the drop in new buy-to-let mortgage approvals, down 14% compared to a year ago and by 53% compared to three years ago, prior to the extra stamp duty surcharges on second homes.
Rightmove's Commercial Director and Housing Market Analyst Miles Shipside comments: "Rental demand is currently outstripping supply in many locations, especially in the capital. The exit of more landlords from the buy-to-let market in recent years has been due to a raft of different factors, from the more onerous tax regime and more stringent borrowing criteria, to the higher stamp duty on second home purchases and extra legal obligations. What we're left with is a lack of available homes for tenants looking to find their next place to rent, meaning that when the right kind of property does come along it isn't sticking around for very long before it's snapped up."
It's now four days quicker than this time last year for a rental property to be marked 'let agreed' in London, down from 41 days to 37 days. The majority of other regions are yet to see lower available stock translate through to a quicker time to let, with the national average of 35 days remaining the same as this time last year.
Scotland performed best for price growth in Q3, with a 2.8% increase in asking rents leading to an annual rate of 3.8%. Both Stirling and Hamilton made it into the top five areas around Great Britain with the highest tenant demand, alongside three areas in the North West: Ashton-Under-Lyne, Oldham, and Bootle. Glasgow made the top five for the highest growth in asking rents, now running at 5.1% higher than this time last year.
Shipside observes: "Although some of the shortfall in supply will be met by quality housing provided by Build to Rent schemes in the coming years, it's likely stock shortages will remain in areas with a high concentration of renters. Given this backdrop and rents likely to rise, private landlords should try and look beyond the current challenges if they can and stay in the sector. If they concentrate on improving the spec of their existing properties and buy better quality accommodation to add to their portfolios, tenant demand should steadily improve rental yields. Long term security is important too so see if landlords are open to negotiating a longer tenancy, perhaps with inflation only increases, as many will be keen to keep good tenants."
Quarterly Trends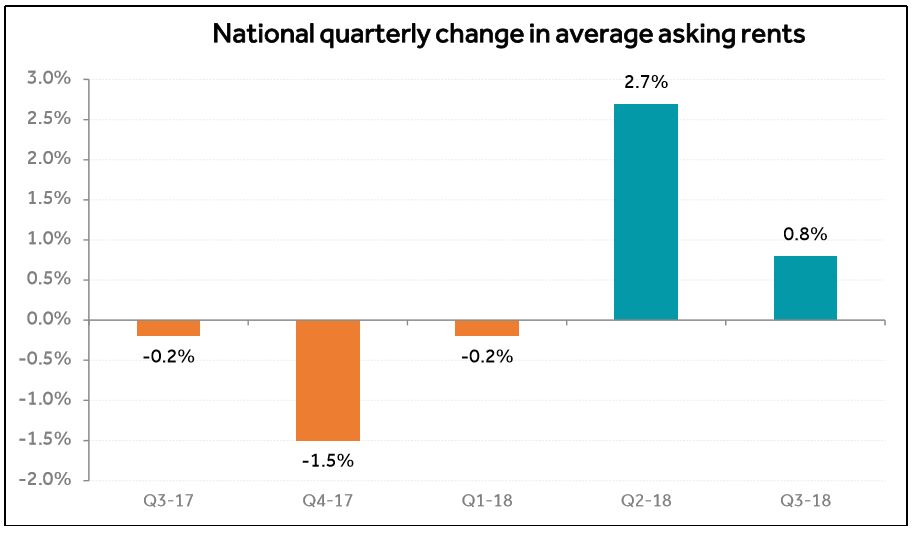 In Demand Areas

Highest Growth

Regional trends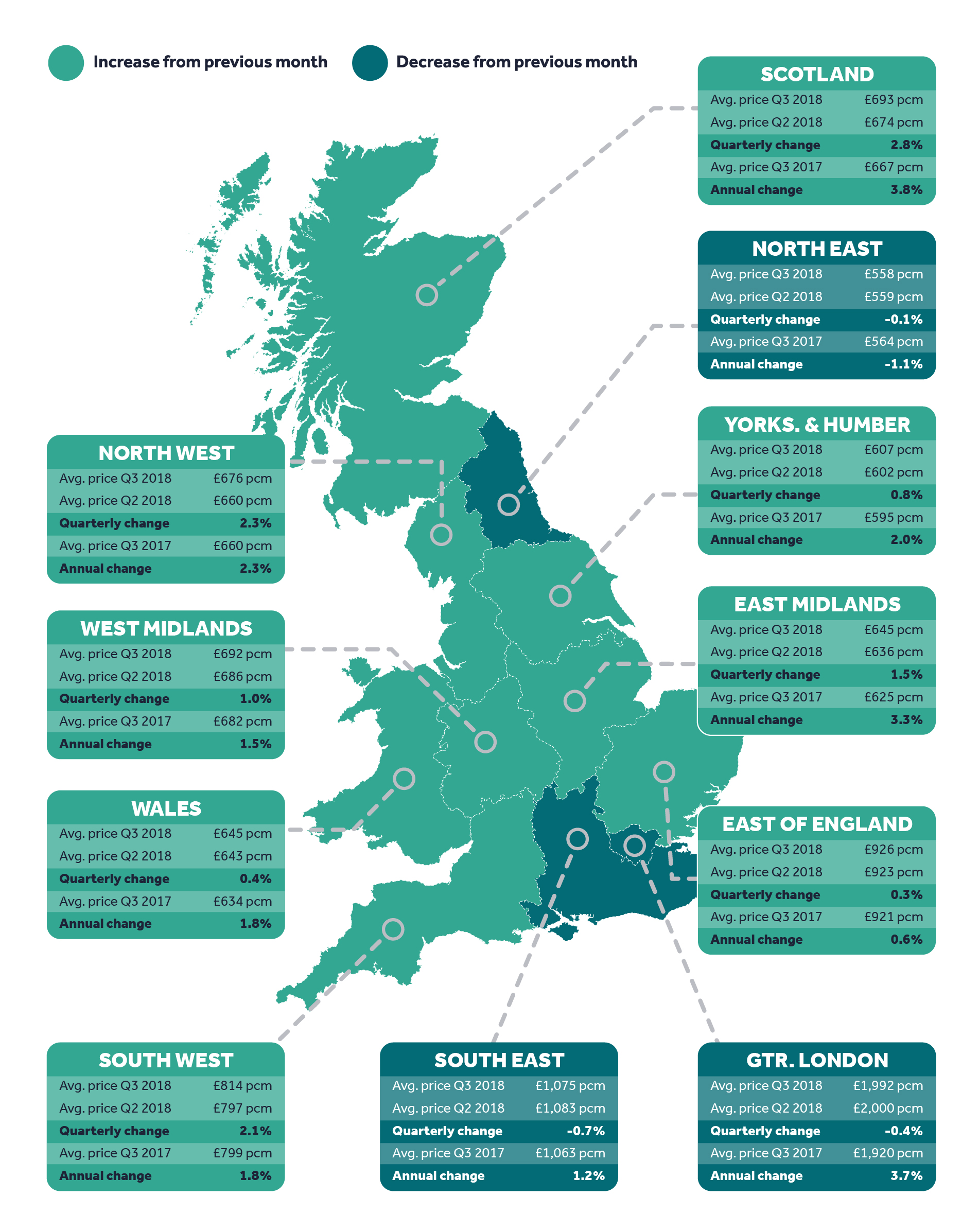 Full Report