The most sought-after locations on Rightmove in 2015

Rightmove's 2015 property round-up: Bristol becomes most searched for place, Margate sees highest asking price hikes and Welwyn Garden City is quickest to sell1
New data out today from the UK's number one property website Rightmove reveals the hottest property spots in 2015.
There were 110 million visits2 from home-hunters each month to Rightmove in 2015, as demand for property hit an all-time high and supply issues in many parts of the country remained.
Whilst the busiest month was March, the busiest day for browsing property was actually later in the year on Monday 10th August when home-hunters browsed over 58.6 million pages of property, a common time of year for people to try and find a new home to be settled in before Christmas.
A surge in searching
Bristol and Cambridge came first and second for potential buyers and renters searching for property in 2015 outside London, with almost 14 million searches in these two places over the year. York made it into third place for buying and Manchester came third for rental searches. Commuter towns Milton Keynes and Reading made the top ten searches for both renting and buying, perhaps as people looked for more affordable options outside of the capital.
Highest asking price hikes
Some areas fared particularly well in 2015 outside London, with new seller asking prices in a few locations going up by more than 20%.   The seaside town of Margate in Kent saw the price of property coming to market go up by 24.2% to £204,631 between Jan and the end of November, followed closely by Altrincham in Cheshire with a rise of 21.9% to £484,258. The rest of the top five is made up of the towns of Gravesend (+20.5%), Ramsgate (+18.6%) and Dartford (+17.4%), all in Kent.
Speedy Gone-Sales
The average time for a property to sell across England and Wales was 62 days throughout 2015. Properties in Welwyn Garden City sold fastest outside London, spending an average of only 25 days on the site before being marked as sold, with nearby Hertford coming in second place with an average of 26 days.
Places in the East of England dominate the top ten fastest to sell list, as many parts of the region recorded strong growth. As the year ends, the annual new seller asking price increase in the East of England is 9.2%, recording the same rise as the South East.
Rightmove's housing expert Sam Mitchell comments on the 2015 market: "This year saw demand reach record levels for home-hunters both buying and renting, and the ripple effect from London to the South East moved even further out to places like Essex and Hertfordshire, as you can see from how quick properties are selling in these locations.  Usually January is Rightmove's busiest month but the New Year rush stayed even longer this year, and we recorded our busiest ever month in March.
 "It'll be interesting to see how 2016 plays out with the new buy-to-let stamp duty coming in in April – prices are looking set to increase even further so those people having issues affording the location they want could think about looking at an area further afield. Although it might not be on their immediate wish list of places to look, they could find a more affordable property and have less of a battle against fellow potential buyers."
The top ten quickest places to sell a property outside London (England and Wales)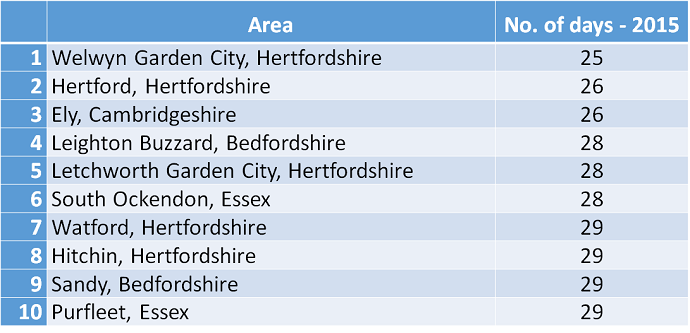 The top ten highest new seller asking price growth areas outside London (England and Wales)
The top ten searches for buying and renting outside London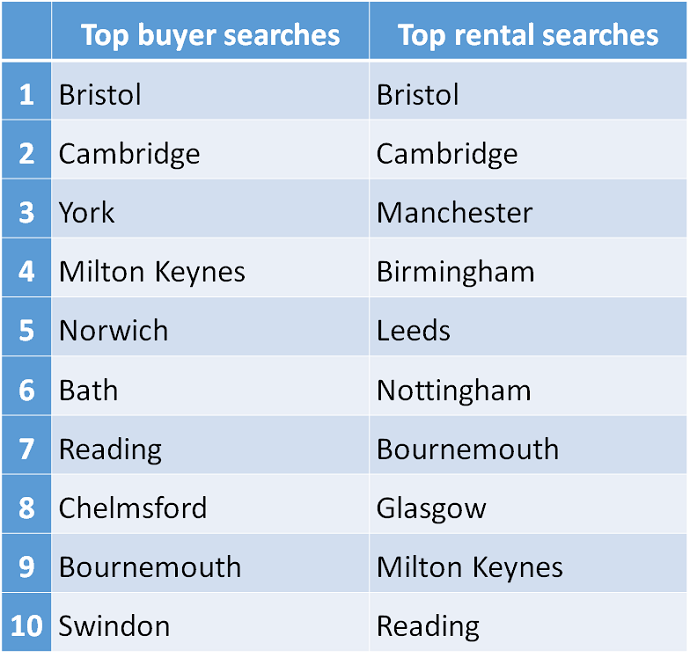 1 Rightmove data from 1st January 2015 –  30th November 2015.
2 On average each month.