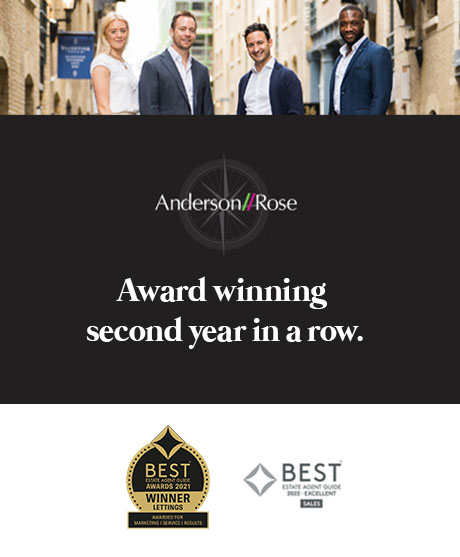 paragraph

About Us

Since launching in 2011, Anderson Rose has won six Sunday Times awards and will be one of the elite estate agencies to be included in The Best Estate Agency Guide 2021, sponsored by Rightmove. We are one of the only estate agencies to have 5 stars on Google Review and work hard for every customer in order to keep that status. Our video marketing and social media have enabled us to stand out and make us highly effective at selling and letting property in a market place that is so progressively on line.




Our Team

Jon Byers - Founder

Jules O'Keeffe - Operations Manager

Oliver Sanhaji - Assistant Manager

Lori McPherson - Associate

Sarah Sousa - Lettings Administrator

Hayley Jarrett - Lettings Administrator

Angeliki Stylianou - Property Manager

Rebecca Quinn - Property Manager




Our Reach

Our network has grown expansively over the years reaching far and wide, from our local neighbourhood in Shad Thames to clients in the Far-East. The use of social media, our innovative video marketing and many years of growing our loyal client base, we make sure to attract buyers and tenants to provide you the peace of mind your home is being appropriately represented.




Our Promise

Highlighted by our five star Google Review, we ensure we keep our customers happy by following a few fundamental practices:

- You will be treated with the utmost courtesy and respect

- We will remain in close contact with you until the successful conclusion of the transaction'

- We will behave with honesty and integrity, abiding by the OFT's Code of Conduct for Estate Agents

- We will work swiftly and proactively in all cases, doing our very best to overcome any issue that might arise.




Our Aim

To be the most innovative and effective estate agency, attracting the best people to represent us and to continually grow our reach so that we can provide our service to more and more people.



Contact us
Check out our available properties
You can see the properties we're currently marketing for rent by clicking the button below:
View properties