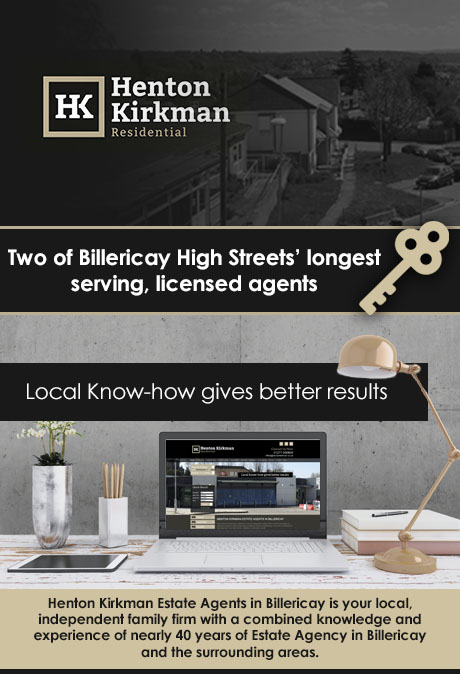 paragraph

Both Nick Henton and Tim Kirkman are familiar faces and names in the town, and have been since the 1990's when we both started in estate agency in Billericay. Now you will find us working together as business partners at our recently refurbished offices at The Horseshoes, 137a High Street Billericay with our right hand man Ross Ladd (himself with 11 years of experience) and office support from Ella and Abbie and our wives Irene & Kerry - both having previously worked in Estate Agency for many years, Irene at Management level.

Those of you whom Nick & Tim have helped before, will know our personal and friendly approach, supported by a high level of expertise, support and knowledge, ensuring your letting, buying and selling experience with us, is one you'll come back to and want to recommend to others time and again.

paragraph

We know our area and the local lettings market intimately, guaranteeing you a thorough and pro-active service.

We offer a flexible choice of services enabling you to stay involved in the letting process or to hand over all the arrangements of letting, rent collection and property management to us.

We understand that every property and every person is unique and we work hard to tailor our service and exceed your expectations.

It's vital to do the most thorough background checks possible. We offer a thorough insight into your potential tenant's background, taking a comprehensive approach which goes far beyond the more common simple credit check.

This gives you the reassurance that your tenants are who they say they are, work where they say they work and are able to make rental payments.

Our checks include:

Complete credit check, including adverse history such as CCJs and bankruptcy
Contacting current landlord or managing agent for a reference
Background search on previous names, addresses and aliases
Financial sanctions check
Assurance that their bank account is genuine
Employment check to establish your tenant's salary (and that their employment isn't likely to be terminated

For even greater confidence, we can offer a Rent Guarantee, assuring you of rental income even if the tenant fails to pay.
Contact us
Check out our available properties
You can see the properties we're currently marketing for rent by clicking the button below:
View properties