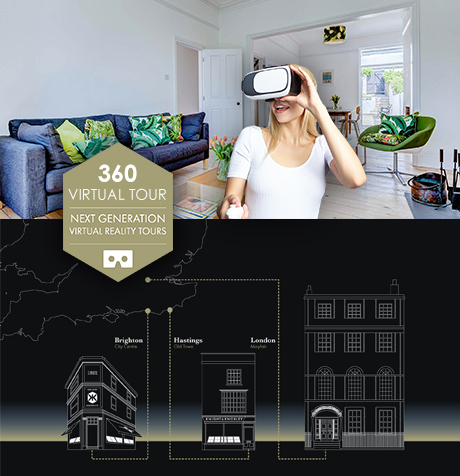 paragraph

KNIGHT & KNOXLEY is the first agency in the country to use next generation virtual reality technology to showcase their properties.

KNIGHT & KNOXLEY have become the destination agency of choice. With our unique combination of next generation technology and old - fashioned know how we have helped thousands of clients buy, sell, let, rent and manage their homes and investments over decades. Our reputation for professionalism and service with a human element is one of the reasons that we have remained at the leading edge of the property business. We consistently top the industry league tables as number one selling agents and our properties are constantly the most viewed online due to our unrivalled marketing. Our experience and expertise encompasses the residential and commercial markets covering London and the South Coast.

Being at the forefront of emerging markets we have played a pivotal role in the repopulation of our core areas and know our business like no one else. We have an integral understanding of local values and an unparalleled knowledge of our areas. Our business is built on professionalism and innovation with a commitment to remaining at the heart of our communities. We were the very first to pioneer next generation virtual reality as a marketing tool, it's this magical mix of cutting edge technology and Knowledge & Knowhow that has become our trademark.

We value our customers and we know that their feedback is what helps us to constantly improve. Don't just take it from us, please take a moment to read our customer testimonials. In the words of one client:

"Great service. Super professional and kept on top of all the inevitable twists and turns that buying a home throws up. Friendly and attentive."

żżżżż - Jonathan Ross




Our staff and directors have countless years of experience in their specialised fields and we employ the best people in the business, they vary in background, specialism, gender and perspective. They are intellectual, practical, commercial. Our people define us. Their diversity is the cornerstone of our ability to serve you and provide you with a balance of both deep and broad expertise. We will be the least estate agent like agents you will meet.

We do not wish to be the biggest, just the best and are united by a simple mission: to give our clients a genuine, personal service and to act with transparency and honesty.









Contact us
Check out our available properties
You can see the properties we're currently marketing for sale by clicking the button below:
View properties