Expanding our search area was our right move
Roohi and Bally were not happy with the current neighbourhood and community they were living in. Life felt very lonely, noisy and unsafe at the best of times. The couple's routine included going straight to gym after a full-time job during the day and getting home much later, with the couple admitting they never felt like they wanted to spend any time in their home. All the pair wanted was to come home to a place that made them feel happy and relaxed after a long, hard day at work. Both tired and frustrated by the environment they were living in, it soon became clear a change was needed. It was time to move.
The couple were first time buyers and had struggled to get onto the property ladder. Bally's main asks for a new home were having a hallway, a garden and three bedrooms if possible, whereas for Roohi the priorities about the local community. Would their neighbours be friendly people? Is the area safe for them to walk around? What are the transport links like? Is there a pub within walking distance?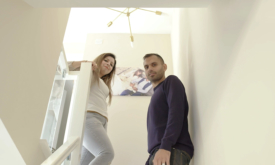 As their property search began in earnest, the couple saw lots of properties come up that they simply could not afford. "Sometimes it seemed like we were never going to get out of here and be stuck here forever," Roohi told us. They decided it was time to look further afield and expanded their search using Rightmove's very own Draw a Search tool to include properties in Warwick. Just a few days later a particular property caught their eye.
The property comprises of two bedrooms, one upstairs bathroom, one downstairs toilet, one kitchen and living room leading onto a small outside area. The property is a ten-minute walk from the Warwick city center. The [new] home is set in a beautiful location with canal walks nearby, farmers' markets, plenty of shops, charming local pubs and a beautiful scenic drive to work every day. This [new] home ticks the couples' requirements of being near a pub, a garden, safe area and a good community.
"When we found this property online on Rightmove's website, I was really blown away," Roohi recalled. "We never thought of getting something like this house we are in. We only realised after moving into our [new] home that we have so much on our doorstep and therefore so much to be grateful for."
Since moving to Warwick in their new home the pair have had friends and family visit who have all been blown away with their new-found quality of life, the views and the lifestyle. "When guests visit, we usually take a beautiful walk to the canal and visit the local pub.
Having started a new life in Warwick – and making sure they get involved in the local community, Roohi and Bally now relish the time they get to spend at home, which makes a big change to their former situation. They feel it's a much safer area and regularly enjoy walking around the neighbourhood.
"It's so beautiful and calming and really makes us appreciate the move and where we have come from to what we have now," they explained. "There is no way we could go back to living in the city after this, there is so much silence which is calming, and we love it."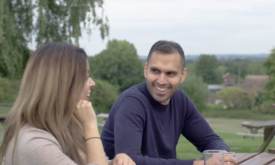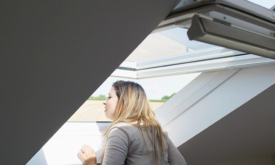 Roohi and Bally's advice for anyone looking to buy their first home is simply not to put that property search on hold if the 'perfect' place doesn't come up straight away. If there is no good reason to put it off, just do it, because no one ever turns around and says, 'I should have waited longer for happiness'. And more than anything, the couple advise not being fixated on one specific area, because being open minded when it comes to your search could mean you find something amazing where you least expect it.
We'd love to hear your moving story
Everyone has a moving story. Share yours with us for the chance to be featured on Rightmove. Share your story