Giving the kids room to grow was our right move
Reader's note: This story was first published on 8th January 2019.
A few years ago, Liz and John moved from Yorkshire down to Coventry when it was just the two of them and kids weren't yet on the cards. Soon enough their first child, Henry, came along and they soon realized they were about to outgrow their current house when Liz fell pregnant again with baby Rose. They needed a home with more space to keep up with their growing family and to give their children a better upbringing. The pair already knew they loved and wanted to stay the local area, they just needed a bigger place to call home.
The couple's challenge was finding a new home big enough for their ever-growing brood, but being able to buy within the competitive Coventry housing market would be a challenge. They also needed four bedrooms, space for the children to play in, close proximity to good local schools, a place to entertain when friends and family visited and, preferably, both a well-sized garden and a garage.
As their property search began – and with such a long wish list – Liza and John weren't so sure they would be so lucky. While friends and family often quizzed the pair on why they were looking to move while Liz was so heavily pregnant, they felt they had no choice but to start looking.
The pair searched for their new home for almost a year, throughout Liz's pregnancy, and while their eventual dream home had come up several times during the hunt, they had originally dismissed it – thinking the nature of the desirable area the property was in would have priced them out of the running. The couple faced many issues whilst searching for their new home, they saw a fair share of homes that didn't quite fit what they were after with the biggest challenge finding a home in the right area which led to much disappointment.
Eventually however, Liz took a chance and went to see the property and immediately fell in love with the place, asking the owner after her viewing whether John could come and see it the next day. She felt it could be the perfect move for them and told her husband that night, 'You need to go and look at that house now, and we need to put an offer in'.
She loved the fact that the property had a beautiful enclosed garden and could picture the children running around and playing in the safe space. The house had four bedrooms meaning the family could grow if they wanted it to, they had plenty of space for entertaining guests and the children would have their own bedrooms as well. It really did tick all the boxes for them.
After John also found himself smitten with the property, he and Liz realised that throughout the house-hunting process things always happen for a reason – the other houses they had seen were just not meant to be for them.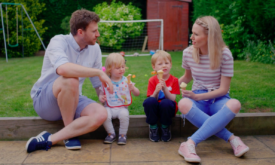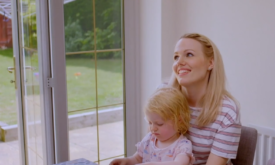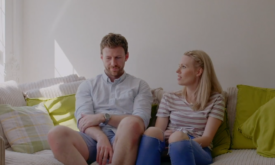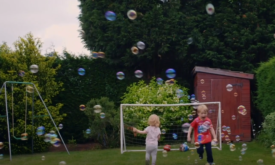 Since moving in, the couple have both been able to develop their hobbies more. Liz loves playing the piano and now has the space to do work on her passion, while John has converted their separate 'secret' attic room into a shrine for all of his James Bond memorabilia.
They have always been the type of people that like to go after something they want, with no regrets, which is exactly that happened with their moving story. The pair have even managed to keep a connection to their beloved old home, having sold the property to close friends of theirs.
Their pair have always been the type of people to go after something if they want it and don't like to regret anything. Happily, they are also very much still connected to their old home, having sold the property to good friends of theirs.
While they had never dreamt of having so much space – and within their chosen area too – when starting their hunt, both Liz and John now say it feels like they've won the lottery having a new property to call home where their family can grow and flourish.
We'd love to hear your moving story
Everyone has a moving story. Share yours with us for the chance to be featured on Rightmove. Share your story