In collaboration with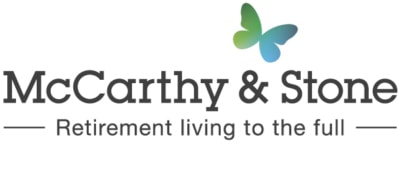 Moving to a retirement community was our right move
Marion Hughes and her husband Edward had lived in their home for 60 years when they decided to move to a retirement community.
The couple had shared their three-bedroom home in Edgware for decades and whilst the decision to downsize was a tough one, the thought of another cold winter was enough to start their property search.
"It was an older property so it could get quite cold and draughty. It needed regular repair work to keep on top of it, and as Edward and I got older, we were feeling the chill much more than we used to. We knew that it wasn't going to be viable for us to stay there", Marion recalled.
The thought of moving to a retirement community was not something they had previously considered but the pair spotted an advert for a McCarthy & Stone Retirement Living PLUS development, and whilst they didn't know much about the facilities on offer, they decided to go and view one of the show apartments. "I fell in love with it almost immediately", says Marion.
Similar properties on the market:
"It was mainly me pushing for us to move as I've always found men take a little longer to make a decision! We hadn't needed to move for 60 years so the idea that we could have something from new again, that didn't need any work and that was ready to move into was really appealing."
Retirement living can offer its residents the independence they're looking for, along with the reassurance of varying levels of support and care. There are also a range of flexible options to choose from, to help those who may not be ready to commit to buying a property but are looking for long-term security – residents can rent their home, or take advantage of part buy, part rent options.
Marion and Edward decided to purchase their new property and used the McCarthy & Stone part exchange scheme. Marion explained: "My husband was becoming unwell and had stopped driving. Going down the part exchange route meant the whole process was handled for us as we hadn't much experience of moving – well for a long time anyway!"
"When we actually moved, it was seamless, as we had help with packing, boxing and removals."
Throughout the process, Marion and Edward visited the site regularly – complete with boots and hard hats! –  to see how the development was taking shape.
When the apartment was complete, Marion was thrilled that their decision to make a big change had paid off: "We took in the hallway, two-bedrooms and walk-in wardrobe – I've always wanted a walk-in wardrobe! The lounge with the south-facing balcony – how wonderful to have a balcony – and the main bathroom with walk-in shower – so much easier to use than a big bath."
Not only did Marion fall in love with the apartment itself, but also the lifestyle on offer. Most developments offer perks such as lounges for socialising, and events and activities which bring people together and often involve the wider local neighbourhood. On site bistros serve freshly prepared nutritious meals and a thriving active community helps you make the most of your retirement.
As a big book lover, Marion has a particular fondness for the local library's visits to the development which shares books with the residents. "All the events really make the community here special", she enthused.
Letting go of the property they shared for 60 years was not a decision taken lightly; the old house had such a special place in their hearts, and they considered it as one of their biggest achievements and investments of their lives.
Marion explained: "I think this is something a lot of people in a similar situation as we were, struggle with… It's the feeling of letting go."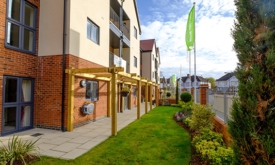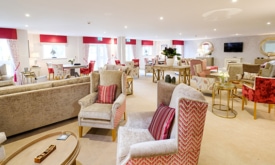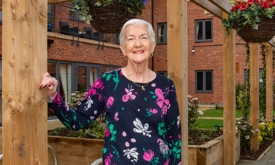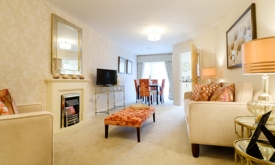 "However, it was the best decision we ever made! It presented a clean slate. An opportunity to turn the clock back, to go again and all the excitement of picking out décor and furniture to make a home your own. But more than that, it was a ready-made community. Somewhere we could feel supported and not so on our own."
Marion and Edward spent five months in their new home together before Edward sadly passed away, and in that time they enjoyed settling into their new lives and watching the community grow.
Adjusting to life on her own was truly upsetting, yet Marion found enormous comfort and help within the staff and fellow residents, who supported her throughout the difficult period and helped her to make the most of everything on offer at the development.
"Had I have been at the old house when Edward passed away, I don't think I would have coped. Being in such a warm community has given me strength. It's given me a shoulder to cry on, it's given me purpose and I've found comfort with those who have gone through something similar to me."
Marion regularly gets involved with social activities, including the weekly coffee morning, end of month meetings, bingo and the movie club.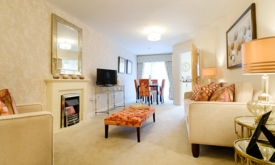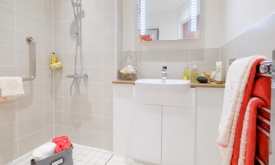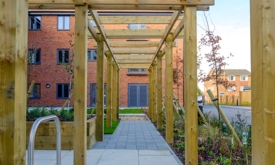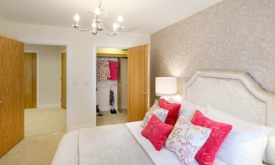 The possibility of moving to a retirement development was not one that had originally been on Marion and Edward's mind, but now Marion says she wishes she'd done it ten years earlier. "If you think a retirement development might be for you, don't hold back!", she says.
"Don't leave it too late. Move while you can and while you can still enjoy the kind of lifestyle I lead now. I missed out on so many years by staying in the old house, suffering the cold and just getting on with things. Had I have known what I know now, I wouldn't have hesitated for a second and I know Edward would have done likewise.
"Go and see for yourself. Go and take a tour. You will be surprised by what you find!"
For more information or advice about Retirement Living PLUS and similar McCarthy & Stone properties available across the UK, please call 0800 201 4811 or visit www.mccarthyandstone.co.uk.