We stumbled upon a London neighbourhood with community at its heart
Phin, and their partner, Alberte, were living in a housing cooperative in east London, when they decided it was time to find their own place. But they never thought they'd find it within a day. 
Phin is an architecture critic and writer, while Alberte co-founded the feminist architecture collective, Edit. So it's no surprise that their search would focus on the architecture, design and history of any potential new home. 
"I'm really interested in how the buildings, landscapes and architecture around us affect our environment, and how we live," says Phin. "Before we moved, we were living in London's only Brutalist housing cooperative, designed by Erno Goldfinger, and it's been run as a housing coop since it was completed in the 1970s. Living there was amazing, but we were in a flat share, and were quite excited at the prospect of getting our own space to call home." 
Phin is the director of Open City, the charity that runs London's Open House Festival. This annual city-wide event opens some of the capital's most famous buildings and inspirational private homes to visitors. It's a great way to explore new parts of the capital you might not be familiar with, and visit some places that are normally off-limits.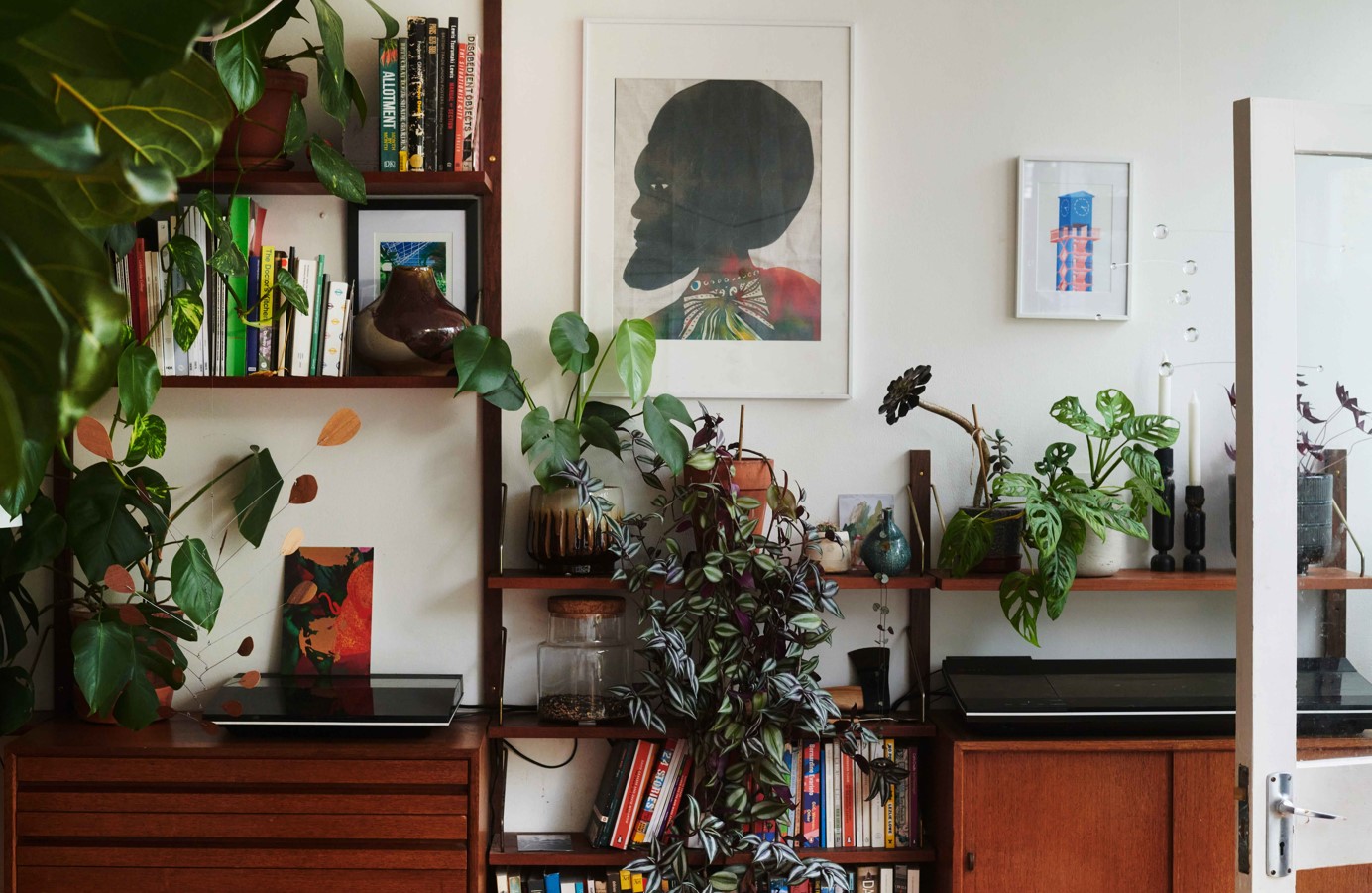 Phin stumbled across their new home — a two-bedroom flat on a housing estate in south-east London — after reading about it in an Open House book. 
"I found my home via an amazing combination of Open House and Rightmove. I suspect there are a lot of people who learn about new areas of London through the Open House cultural programme, and then use Rightmove to find places to live in those areas, whether that be to rent a home, or to buy."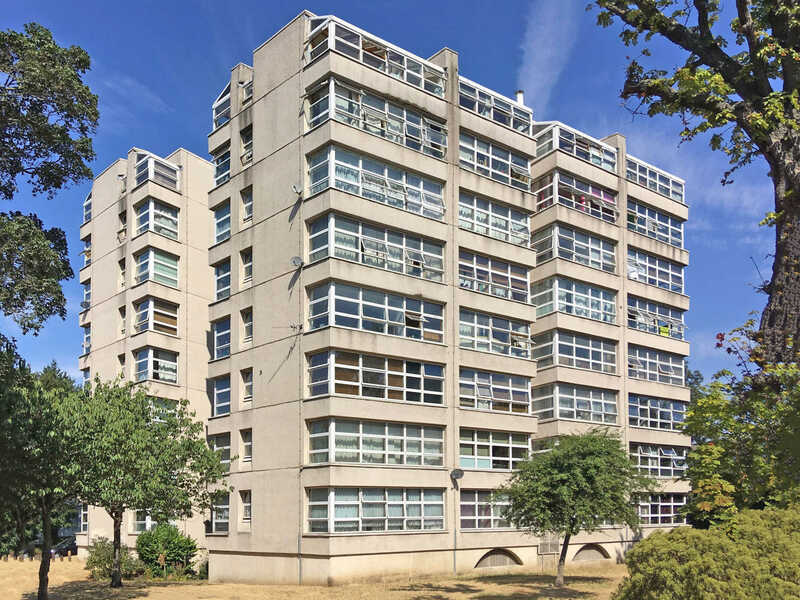 Phin had never heard of the Vanbrugh Park Estate in Greenwich, but soon learned it was designed by Chamberlin, Powell and Bon – the same architects behind buildings like The Barbican, in the City of London. 
"I came across it in one of the Open House books, and I learned a lot about it through that. I Googled the estate, and up pops a flat for sale on Rightmove. We booked a viewing that afternoon, cycled over to take a look, and put in an offer the same day. It was the first property we'd viewed on our home search and we jumped at the first opportunity. Our search started in the morning, and it had pretty much finished by the evening."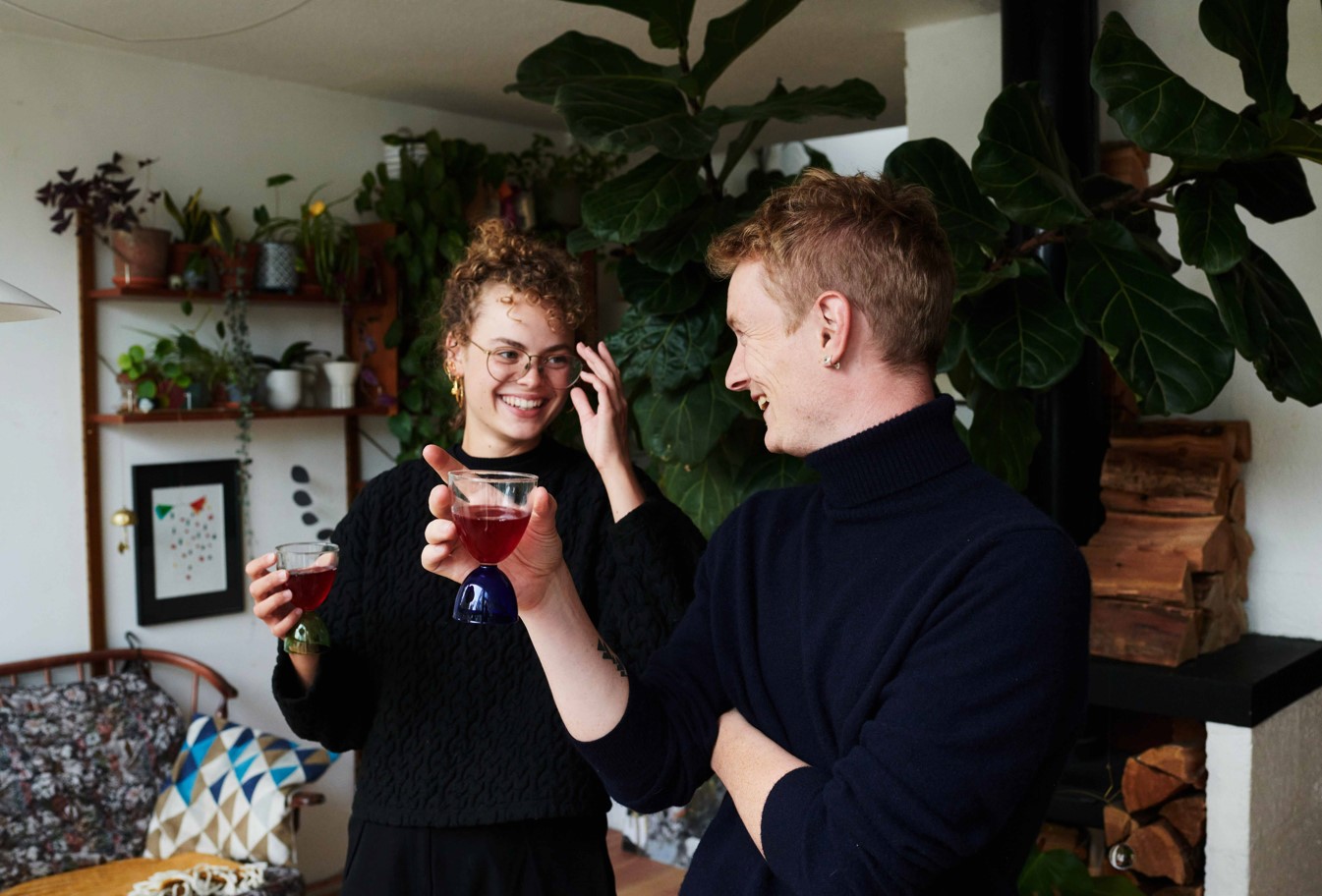 But some of the features Phin and Alberte loved about the maisonette – such as the front door leading out to a shared veranda, which is unusually not at ground level – meant that getting a mortgage wasn't straightforward. 
In the end, Phin and Alberte enlisted the help of a mortgage broker and spoke to other home-owners on the estate who had mortgages. "We ended up turning to the same banks as them to get our mortgage. It was great to speak to others who lived in the area, and learn from their experiences. We got there in the end!"
A home with community at its heart 
Vanbrugh Park is a housing estate made up of terraced houses and maisonettes, and an eight-storey tower block of 64 flats. It's on the edge of Greenwich Park and was built with a design ethos that champions community living.   
When researching the history of the estate, Phin learnt that the developers had such a small budget to build the homes, recycled bricks were used to construct it. And now, over many decades, a thriving neighbourhood has taken shape. 
"I think the reason that strong community has developed is in part due to the architecture, and the clever way it's been built," says Phin. 
There's a wide veranda, and a laundry-drying area, that're shared by everyone who lives there. And it's these much-loved shared spaces, and the residents' use of them, that has helped them to create close friendships with their neighbours.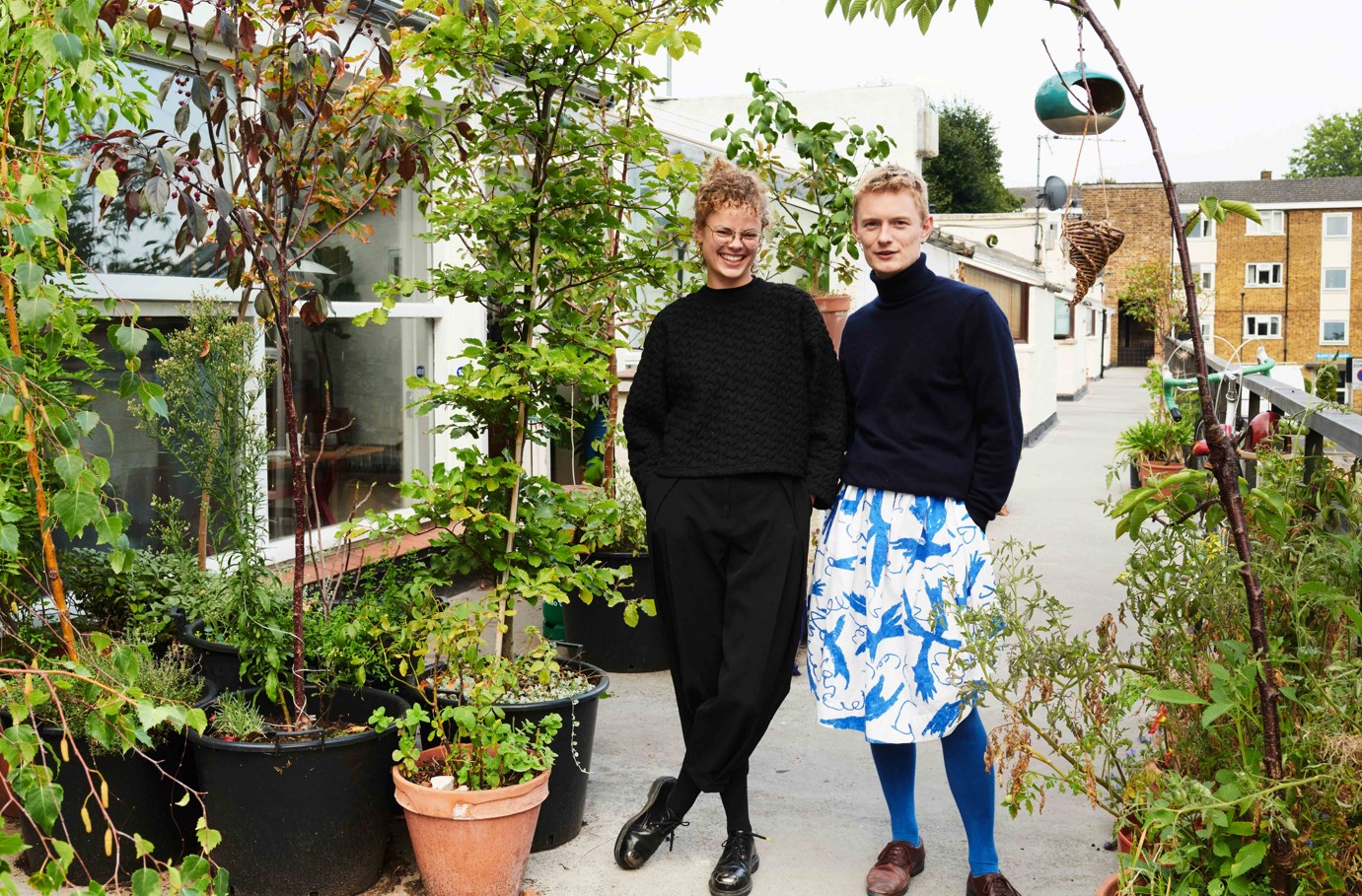 "This long terrace means I walk past my neighbours' windows, and they walk past mine, but there's never a feeling of not having your own space. This social area is where we hang out with our neighbours, on this generous veranda that's connected to all of our porches. During the pandemic, this is where we'd sit out, with a glass of wine or a beer. There's also plenty of space in the communal laundry area to dry our washing, which was a really pleasant surprise!" 
"They're often a better way to get to know your neighbours, more than living on a typical street of Victorian houses. The community here is amazing. We knew it was a special place, but we didn't quite realise how special. Like many council estates that have been around for decades, the community has matured with it. In a relatively short amount of time I've gotten to know a huge number of people here." 
Plenty of sunlight and Danish design 
One of Phin's favourite things about their home is its south-facing position, and the design-nod to the mid-century houses of Scandinavia. 
"Even in the deepest darkest winter it gets a lot of sunlight, and stays quite warm throughout. A lot of houses in Great Britain haven't been well designed for the winter: they take a lot of energy to heat and can be quite draughty. So I really like that we're oriented to the sun, and that it stays cosy. We also have an interior feature of timber-panelled walls. At the same time Chamberlin, Powell and Bon were building the estate, lots of compact, timber-walled apartments were being built in Denmark. There was the style point of view, but another reason for the design is that it was cheap – simple tongue and groove joints. Using this much wood would have kept the costs down."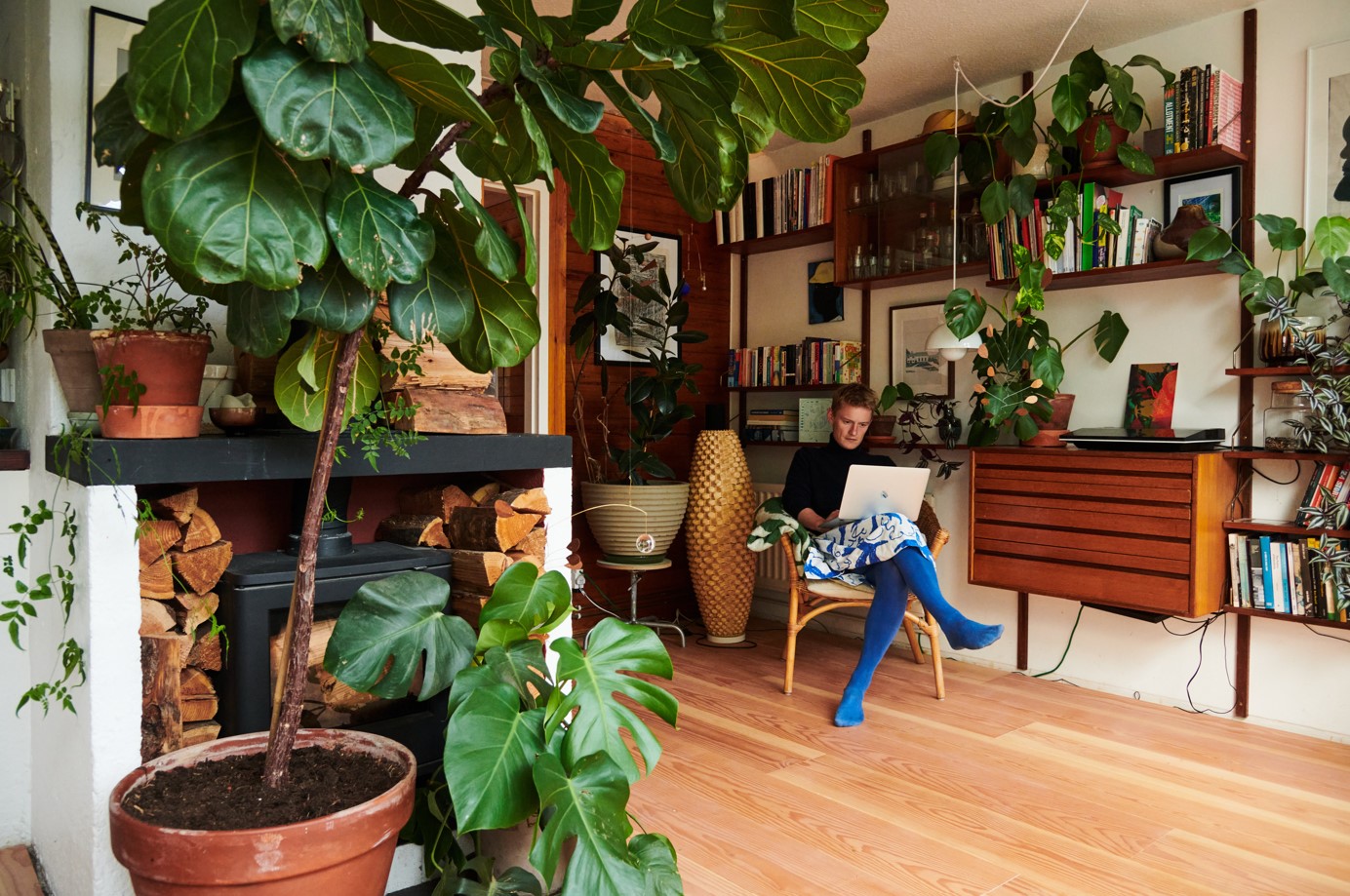 The flat's Modernist in style and has been designed around a central fireplace. "These homes were built in 1963, at a time when they probably thought they would be heated by coal. Even though that isn't the case now, it really gives the room a strong anchor point, which I prefer having than the living room anchored around a TV, for instance!" laughs Phin.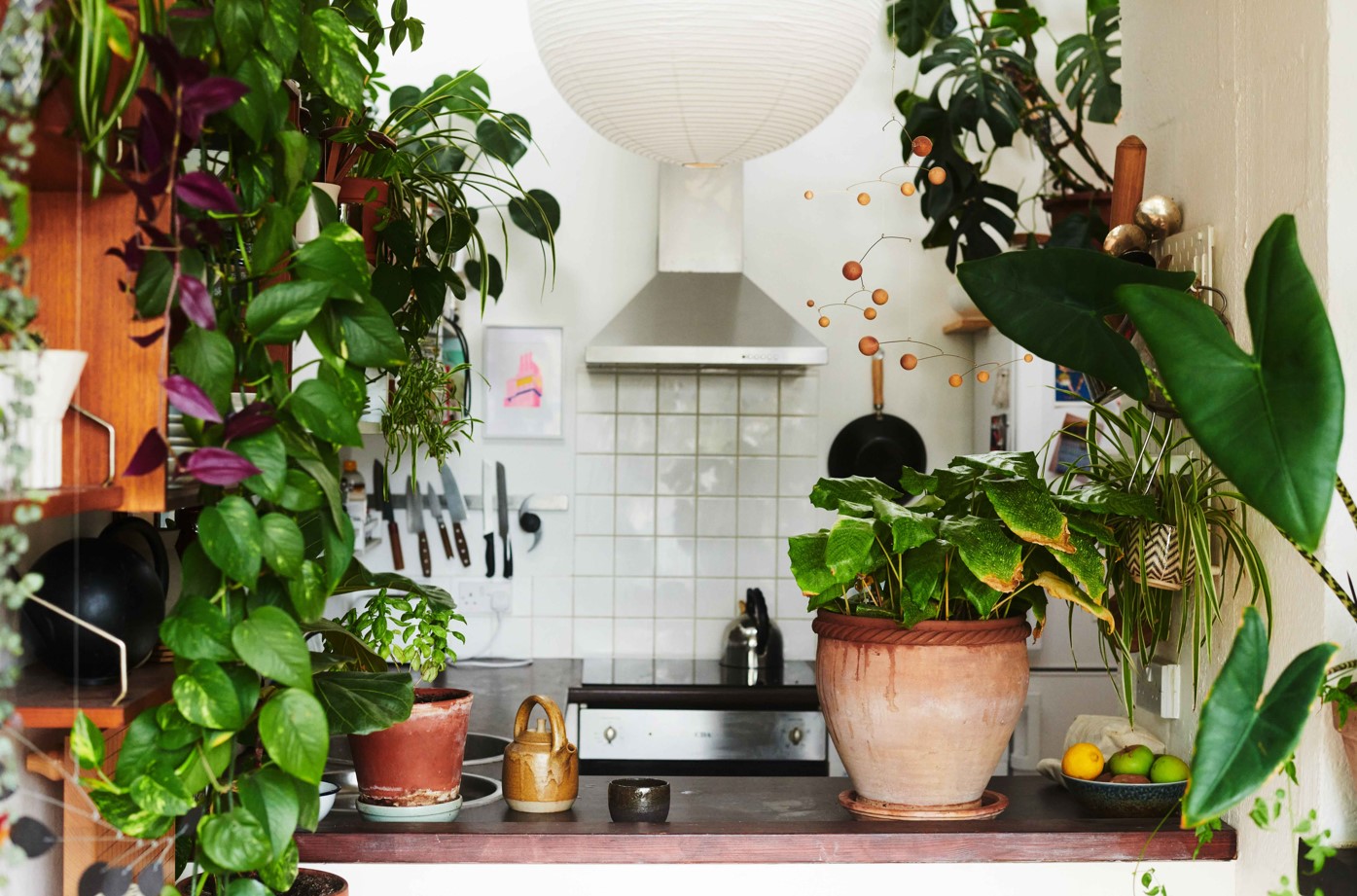 Phin and Alberte's living space is warm and cosy, and packed with plants. Alberte's Danish roots also mean the flat is filled with second-hand Scandinavian furniture and iconic Danish lamps. Since moving to the estate, Phin has started crafting sculptural mobiles, many of which are hung around the flat before making their way to their new homes: "Most of my designs are small structural experiments using timber veneer, painted card and sheet metals", says Phin. "I've learned a lot from studying the great 20th century mobile makers, and hope my pieces are bringing something new to the craft. I was thrilled to recently be invited to create a huge brass mobile for the London School of Economics."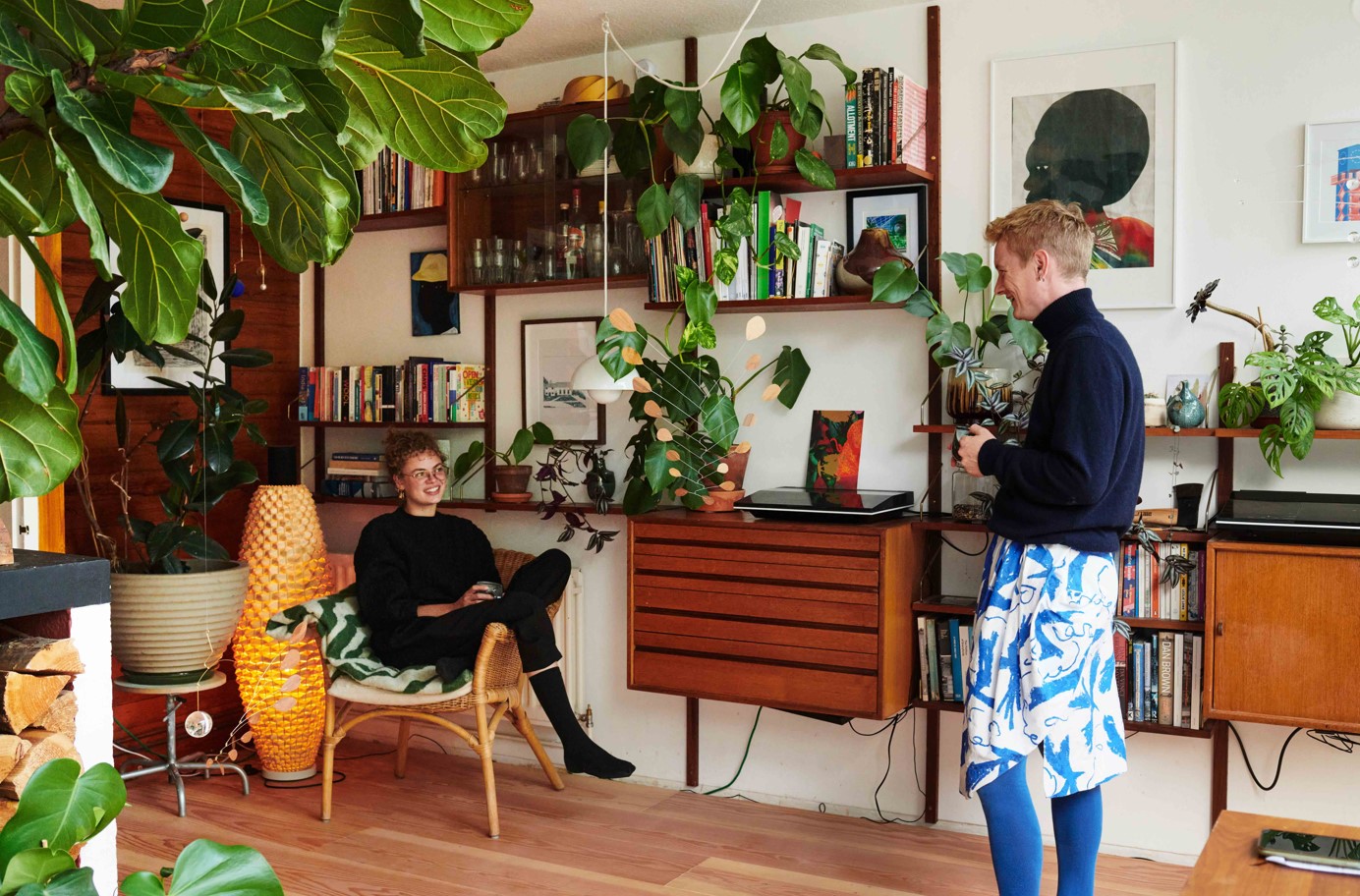 Phin and Alberte have made some renovations since moving into their two-bedroom flat. As with many buildings this age, there was a small amount of asbestos in the original floor, so this needed to be replaced. 
"We took that out and laid a wooden floor, and that's probably the biggest job we've done since moving here. We're also experimenting with growing a vine outside the front door: we hope it will grow to create a natural sunscreen over the top of the flat's big window. Hopefully in the summer it will be full of leaves and shade the flat." 
And when the leaves are gone in the winter, the light will stream through. 
With Phin and Alberte happily settled in their two-bedroom London flat, with their beloved shared spaces and friendly neighbours, do they have any advice for those searching for their next home? 
"It's worth doing some research into a building – who designed it and when," says Phin. "Some of the best architecture that has ever been built in this country is found in not particularly famous, outer-London council estates. It's not always about the number of bedrooms or the finish of a kitchen that's important. It's more about the fundamental design principles that went into creating that home. Our estate shows that you don't need to have anything particularly fancy, glamorous materials or have a big budget for the build. If it's got a bit of design flair behind it, it'll be so much richer as a result."

We'd love to hear your moving story
Everyone has a moving story. Share yours with us for the chance to be featured on Rightmove.
Photography by Joe Woodhouse.