This is why renting is perfect for this couple
Societal expectations suggest that we should progress from renters in our twenties to homeowners in our thirties, but renting is becoming a conscious lifestyle choice for many professionals.
One such example is Charlotte, a freelance branded content and documentary producer who's been living in London for 10 years and, along with now husband Cal, is very content with life as a tenant.
But it's not all been plain sailing. The reality of life as a renter hit home just days after Cal proposed when their landlord – who'd moved to New York – needed their West Hampstead flat back pronto.
Similar properties currently on the market:
With a wedding on the horizon, the couple embarked on a frantic journey to find somewhere to live. This is the story of how they found their happy in a three-bedroom Victorian terrace in Leytonstone. Charlotte said: "We were both devastated and once again spent our time browsing one- and two-bedroom apartments to rent in West Hampstead or nearby. Day in and day out, we were disappointed as we looked for something similar only to discover that prices in the area had risen beyond our budget. We decided it was time to widen our search net so extended our mile radius on Rightmove.
"By this point we'd set a date for the wedding, and agreed that we wanted our first home as a married couple (though it would still be rented) to feel more 'grown up'. I wanted an outdoor space in which to do some gardening (and drink G&Ts in a hammock) and Cal wanted space for his numerous hobbies." Charlotte extended her Rightmove search to Zone 3 and Zone 4, eventually booking a viewing at a three-bedroom Victorian property in Leytonstone, complete with a garden, hardwood floors and a huge kitchen. After putting in an offer immediately, Charlotte realised that moving from a one-bedroom apartment to a three-bedroom home was pretty stressful – and decking the place out with furniture was an expensive task given the pair's plans to tie the knot.
"My interior design head was definitely keen to start putting our footprint and style on the place and furnish it how we wanted, but we quickly found that doing this for such a large property means spending quite a lot of money which, while planning a wedding and following a surprise move, can be a bit hard to come by," Charlotte added.
"To me, acquiring new furniture can be one of the most stressful aspects of renting, as you're constantly plagued by questions: will this dining table fit in our next place? Will there be space for my office desk when we're inevitably forced to move again in a few years' time? "Moving into a three-bedroom flat has been liberating for storage space but we also found that you have to have a huge amount of self-discipline not to allow the lesser used spaces to become dumping grounds."
Charlotte went freelance earlier this year, and used this as an excuse to finally convert the back bedroom into a home office. She says that renting has its limitations in terms of what you're able to do with the decor, but has instead satisfied herself by adding personality through the furnishings, fixtures and small details.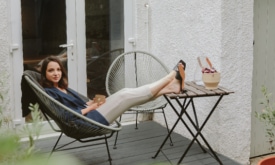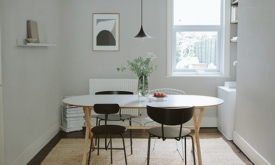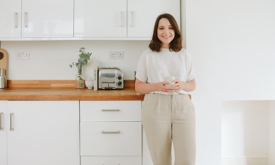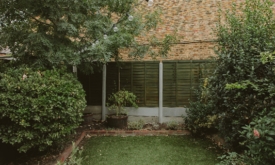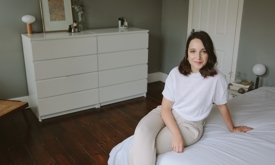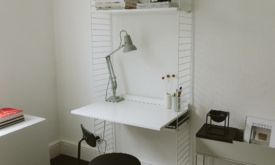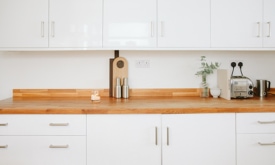 She said: "The move to Zone 3 has definitely had its ups and downs but some of our favourite moments over the past two years have been having a kitchen and dining room large enough to host family Christmases. We've also made use of the garden terrace (still no hammock…yet) on most summer evenings, which after years of having no outdoor space has been bliss.
"We have also come to really love the area. The neighbourhood is incredibly diverse and with that comes an array of amazing eateries, pubs, and wine bars popping up in nearby railway arches and some hidden culinary gems. "It's the kind of community feel that we've never experienced in our years of renting in London, and we've found that being able to wave at your neighbours as you leave for work is something well worth looking for in your next move."
In partnership with Refinery29
We'd love to share your special moving stories on Rightmove.
Submit your story for the chance to win an Amazon voucher!