We've moved 8 times but now we're 'home'
To say that Helen and Brian are experienced when it comes to moving house is something of an understatement.  Meeting at work 10 years ago, they have since moved no fewer than an eye-watering eight times.
Originally living together in Largs on the west coast of Scotland, the couple rented several different properties before eventually taking the plunge and buying a house of their own there. It was a change of job for them both that meant it was time to up sticks and leave the Scottish coast for the English seaside.
"We were in Essex for a year but rented while we were there and kept the house in Largs and rented that out," Helen explains. It was while living in Essex that Helen fell pregnant and this prompted them to move back to the north to be closer to Helen's family. Brian found a job in Aberdeen, and Helen left her job in Essex to go on maternity leave.
"We ended up moving up to Aberdeen literally a week before our daughter Frankie was born and because we moved so quickly we initially rented a place. We then waited for the dust to settle a bit before looking for somewhere to buy." Sadly it was while they were looking for a new home in Aberdeen that Helen, who had become pregnant again, miscarried, so they put their plans on hold.
"It was a very difficult time – made more difficult by the fact that there was nobody we knew nearby," says Brian, "which is why we decided to move back to the house we owned in the west of Scotland to be closer to Helen's family in Largs, and also so that Helen could return to her original job after maternity leave."
Similar properties on the market:
Having moved back to Largs, Brian then took on a contract for work in Glasgow which, due to traffic, meant a horrendous daily commute: he was leaving at 4.30am to get to work, and not getting back until late each evening.
"While living in Largs I fell pregnant again and with Brian doing this awful commute we decided it would be better for him to spend more time at home with us and less time sitting in traffic. Brian had really enjoyed working in Aberdeen so we thought the best thing would be to look for a job and a home back there." So once again Helen and Brian found themselves scouring Rightmove for a new place to live.
"I was pregnant, working and had a young baby, Brian was working and commuting long hours, so it was especially tough doing the house-hunting thing this time round," Helen remembers. "Aberdeen was a good 2.5 to 3 hours away, so we couldn't just nip up to look at individual houses – instead we'd wait until we found enough houses of interest on Rightmove and then travel up there at the weekend to look at as many as possible – heavily pregnant and with a young baby in tow!"
With time ticking before Helen was due to give birth, Brian went on his own to see a house that he believed would work for the family and decided that this was the one – Helen agreed and they moved in just two weeks before their second daughter, Roxie, was born. Unbelievably, the first time that Helen actually saw this house in person was on the day they moved in!
"Luckily, I loved it!" Helen laughs. "I had seen it on Rightmove and I trusted Brian's judgment and I was right to – it was perfect."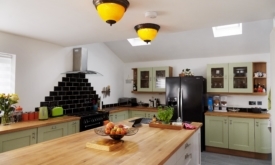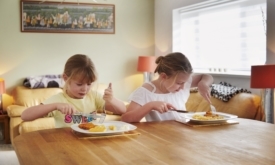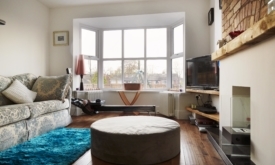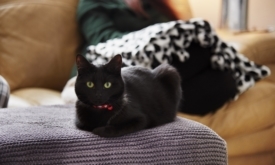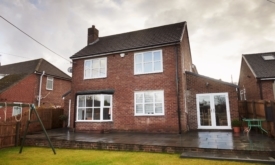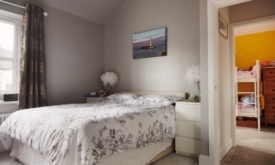 And perfect came in the shape of a modern detached four-bedroom house with an open-plan kitchen/diner/sun-room with French doors that opened onto the garden, all of which they soon came to realise suited family life perfectly.
"I think that's why when Brian saw it, although it wasn't at all the house we'd imagined we'd buy, he knew it made sense. We had initially wanted something old with character, but what we got was a modern 'box' – but it was a great family house and we didn't have to do anything when we moved in. "
Helen, Brian and the girls lived happily in their 'perfect' Aberdeen family home for two years, but when the oil and gas market crashed Brian had to look for new work which he found in Preston. "So we were on the move again," says Helen. "We did our research on Rightmove in advance, then rented a place for a week in Preston in order to look at as many properties as possible."
And it was the very last house they saw that week that turned out to be the one. "It was actually on our way home and it was head and shoulders above everything else we'd seen," Brian remembers. "Mind you it was also more expensive than everything else we'd seen – but it was fantastic. It also turned out to be in a great location in a lovely village with a great school and nursery for the girls."
A great house in a great location… sounds like the perfect happy ending but this is Helen and Brian, so things weren't going to be that straightforward.
"We were in love with this big beautiful house but it came with a big, not that beautiful, mortgage! It meant we'd have to keep earning a considerable amount to stay there," says Brian. "Helen would have to return to work and I'd have to commit to full-time work rather than contracting for people on a part-time basis."
So after just one year in Preston, realising it wasn't quite what they were looking for, they decided to make one more (hopefully final) move. "Our ultimate goal was to settle somewhere permanently. We desperately wanted somewhere the girls could grow up and really call home," says Helen. And that place, they concluded, would be Ryton near Newcastle. It was where Brian had grown up and where most of his family still lived – and, importantly for them, where local house prices meant they could live mortgage-free.
"We deliberately chose a house that was on the cheaper end and we'd planned to do any work ourselves, where possible, so that we could create our dream home without worrying about mortgage repayments," Helen explains. "We liked this house as soon as we viewed it – it's about 400 yards from where Brian grew up and it was a really nice square house on a detached plot and we could see the potential of what it could be. We knew exactly what we wanted to do because of the house in Aberdeen which had worked so well for us. So the extension and the way we developed our current house was very much based on the house in Aberdeen."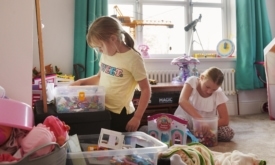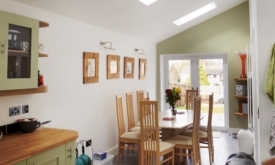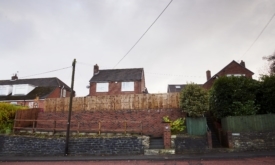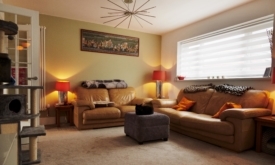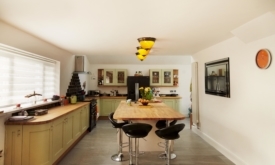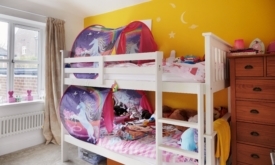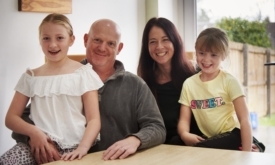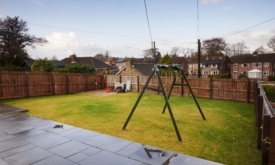 They picked up their house in Ryton for £140,000 which left them with plenty for Brian to finally be let loose on a project.
"The original house was approx. 88 sqm and the extension was 100 sqm so we've more than doubled the size of the house," says Brian. It wasn't a small project by any means – it involved knocking down three lean-to extensions and adding a single storey on either side and double storey to the rear. It was worth the work though and they now have four bedrooms, including a fabulous master with en suite, a stylish and roomy family bathroom and a high-spec open plan kitchen and pantry.
"I love my kitchen," beams Helen. "I've always inherited a kitchen and it was great fun planning and choosing exactly what I wanted and it's turned out lovely." The renovations took a total of 18 months, but it was certainly worth the wait."This is it now," says Helen. "We saw a change in the girls when we moved here – their confidence improved, they love their school, they've got their aunties, their grandma and cousins on their doorstep so this was definitely the right move as we can see how happy they are."
Brian agrees. "We've lived in lots of houses and we've liked them all, some of them have been cracking houses, but this is the first one for me that's truly 'home'."
Want some help finding your forever home? Check out our buyers' advice here.
We'd love to share your special moving stories on Rightmove.
Submit your story for the chance to win an Amazon voucher!