Clearing: How to arrange your accommodation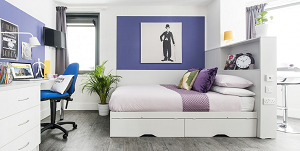 Tips for organising university accommodation at the last minute
Have you changed your plans for university at the last minute? Follow The Student Housing Company's guide to arranging student accommodation after clearing.
Securing your place at a university is an exciting moment and whilst it's tempting to get right back to enjoying your summer holidays, you should bear in mind that there is one more thing to get sorted – your accommodation.
There's no need to panic or presume that because you were late to the party you'll have limited options, you can relax. All universities have systems in place for clearing and are prepared for the situation.
No time to waste
However, many of them will have deadlines in place with regards to applying for university halls; this is usually around the end of August so it's important that you act quickly if this is the accommodation that you have in mind. Check the University website, and don't be afraid to call their housing service or the Students' Union if you need more advice.
Alternatively, if you're not too bothered about staying in halls, or you are unable to find a place on campus, again don't worry there are a lot of private accommodation options that rival if not surpass the facilities and conveniences offered in university halls.
Your Perfect University Accommodation
Your options include:
Private Halls – There are a number of advantages to living in private halls, and if you're disappointed to not have gotten a place on campus then this is definitely an attractive alternative. Private halls offer a social experience that rivals that of campus accommodation, giving you the opportunity to meet lots of lovely new people.
Most private halls offer top notch facilities including en-suite bathrooms, TV's and WiFi, you'll also have a maintenance team on hand ensuring that any repairs or faults will be sorted swiftly.
Private student accommodation providers often operate on a single payment which means that all of your bills will be included in your weekly rate. You are also likely to have the option to stay in your room out of term time which is handy for those planning on holding down a part time job.
House or Flat Share – Trying to find a place to live at the last minute is not an unusual experience and you are certainly not alone in your pursuit. Use social media platforms and online forums to find freshers and older students who may have a vacant room.
Living with older students has various perks, as they will be able to share their pearls of wisdom for living alone and advise you on the top places to eat and drink in the area.
Lodging – Lodging with a homeowner is a great shout for people who are not necessarily keen on embracing the lifestyle that comes along with studying. Living in someone's home can provide the peace, quiet, solitude and a sense of daily routine that is more in line with the working week.
However, hosting the party is not an option and it's crucial that you're able to stay on top of your finances with regards to bills – but if it's the quiet life that you're after then this could be the one for you.
Only for your first year
When it comes to finding a place to live there are tonnes of online resources that will give advice that's specific to your situation. And if you do end up in a situation that you're not completely happy with, remember that it's only for 9 months and in your second year you can make different arrangements.
Most importantly enjoy yourself and don't get too caught up in where you rest your head as there will be plenty of opportunities to meet people and make friends throughout the year.


---
The Student Housing Company provides accommodation in cities around the UK, giving students a comfortable and vibrant place to stay during their university years.