Explore the remote island property with amazing views of France
If you're looking to move somewhere idyllic with beautiful panoramic views there are few places that can compete with sweeping vistas of the French coast.
But that's exactly what you'll find in Alderney – the northernmost of the inhabited Channel Islands and the closest to France – which is also the island that this three-bedroom property calls home.
This charming stone-built house lies just outside the capital of St Anne and its quirkiest feature is definitely the open air 'party room' that can be found in a stone ruin in the garden.
The property has been delicately renovated by the current owners and now boasts French-style travertine tiles in all the bathrooms, bespoke wooden cabinets and granite kitchen countertops.
Stunning sea views from the top floor bedroom, combined with an open fire place in the living room, make this place a gem of a rural retreat.
In the large garden the rose granite ruin has been converted to provide an incredible entertaining space, with decked flooring and open cross beams to the ceiling to reveal the night skies.
The property is just a short stroll from the main town, with several country pubs nearby, while there are a number of awe-inspiring coastal walks on the doorstep too.
Alderney itself is only eight miles from the Normandy coast and has a population of a little over 2,000 people.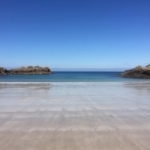 Despite being just three and a half miles wide and a mile and a half long, the island is the perfect place to settle down for a tranquil lifestyle, with its beautiful beaches and stylish restaurants an incredible pull.
Alderney, part of the Bailiwick of Guernsey, boasts its own airport with direct flights to Southampton and is accessible via plane or sea.
Rightmove's property expert Miles Shipside said: "We've found that feeling a sense of community spirit is one of the biggest drivers of happiness and it would certainly seem that you'll find that here. Alderney is an absolute gem and I've no doubt its residents are extremely proud to call it home. This property offers the most remarkable views and you'll be hard pushed to find a more impressive landscape on Rightmove."
This property is listed for sale with Hawkesford.