Homeowners reveal their first-hand renovation tips
Building an extension or renovating your home can be a daunting prospect, but we know it's reassuring to hear from people who've been there and done it.
So we sat down with two homeowners who've recently refurbed their own properties to ask them about the challenges they faced as well as any pearls of wisdom that they'd like to pass on.
'Get an architect to help you see the full picture'
Matt moved into a detached Victorian property in Kent in November and has been renovating his Broadstairs home for the past two months.
He said that his renovation project, which involved demolishing a load-bearing wall and low ceiling to create an open-plan family room, has overrun by about a month.
"We wanted to knock a wall down at the back of the house, because in our minds it was completely pointless," he said.
"It was part of an extension from the late 70s or early 80s when open-plan living wasn't as on-trend as it is now. We just wanted to lighten up the room and open it into a bit more of a family space.
"Our little one likes to run around, and because the room has bi-fold doors that open out onto the garden decking, the idea was to create a space with a summer vibe.
"But it's been more work than we expected. The main house was built around 1900 and we've run into a few problems that we didn't anticipate at the start of the process."
READ MORE: How much will it cost to build an extension? Use our new calculator!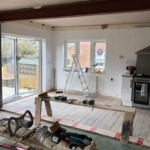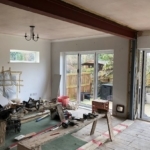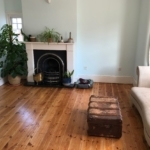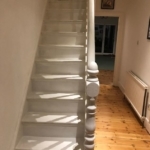 Matt said that one of the main issues occurred when they stripped back the carpet. They found broken floorboards underneath, and while they plan to keep the wooden flooring, they've been left with a hole in the ground in the meantime.
Other unforeseen complications involved having to get the electrics decommissioned and calling in a plumber to deal with old radiators that needed removing.
"Perhaps naively, I thought we'd only need builders in, but we've had electricians and plumbers doing work as well. And the cat loves to disappear down the hole in the floor," Matt added.
"I didn't appreciate all the prep work and measuring the builders have to do and that when they hit a snag there are just some things they can't do, so some days there was no work happening.
"That's meant the budget and time frame have blown up slightly, but that's in part because we're making cosmetic changes as we go.
"All our tradesmen have been recommendations, which has helped us to save some money. But my main advice would be to get an architect over and ask them to walk you around the house and point out what might be affected by the work.
"Otherwise you don't see the full picture and you end up doing things on the fly."
But has the work been worth it?
Matt said: "The renovation has completely opened up the room in a way that I never imagined and the light that we get in there now is fantastic. We're really happy with how things turned out."
'Don't jump in, take time to assess what you really want'
Chris and his family moved back into their Norfolk home just before Christmas, six months after builders started a sizeable extension and renovation project.
The dad-of-two originally wanted to extend into the loft, but was encouraged by his architect to consider a different option. He told us that he kept an open mind and trusted the flexibility of his builders.
READ MORE: Five fixer-upper homes to inspire your own renovation
He said: "We were living in a three-bedroom semi in Norwich and were looking for a four-bedroom detached. But we found another three-bedroom semi and it was just a much bigger plot with lots of scope for extending so we went for it.
"We bought the new place for more than we sold the old place for, but we had a kitty of about £100,000 set aside for the renovation.
"We originally wanted to extend into the loft, but the architect said that because of the pitch of the roof, that would actually pinch a lot of space from other rooms upstairs.
"So he suggested we extend out over the kitchen to create a kind of canopy over the patio. We also turned the conservatory into a utility room and added a downstairs toilet and put a new roof on it. We've completely reconfigured the kitchen, too, and despite that initial curve ball, everything has worked out really well."
Chris' family lived in the house for a year before starting any work, and moved in with his wife's parents for six months whilst the bulk of the building work was being done.
Their budget swelled to £125,000, but Chris revealed it's been worth every penny.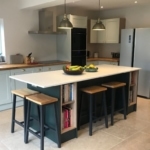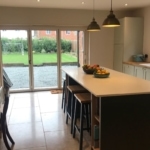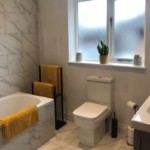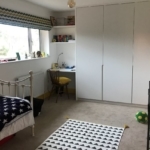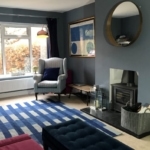 "This is the place we want to stay long-term now," he added.
"The new kitchen is my favourite part of the house. It's where everyone congregates. The room felt quite cramped before, but we've reworked the space and I think it's great.
"My biggest piece of advice to people would be to fully get your head around what work is required. We had to pretty much rip the whole house up before we got started as the electrics and plumbing hadn't been touched since the house was built in the 50s.
"If you're going to invest in something, you don't want to have to undo to update. We project-managed the extension ourselves and it was important that we got a good handle on timelines and devised a decent programme of work. We've renovated places in the past, so I had a good idea of what to plan, but it's a really valuable part of the process.
"We were here for a year before we started building anything. It was interesting because our ideas changed as we spent time in the house with the kids. So don't jump in, take time to assess what you really want."
To use our new House Extension Calculator, click here.