#InspirationWednesday – Milton Keynes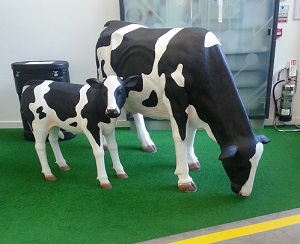 Milton Keynes is based in Buckinghamshire, less than 50 miles North West of London. Classed as a new town, MK is within an easy commute of London, Birmingham and Oxford, with much to offer those looking for a family-friendly hometown.

MK offers great amenities and travel links nearby, such as the Intu shopping complex, regular National Rail services and easy access to the M1. There are also lots of leisure facilities, such as the 'Xscape' skiing complex, the 'National Bowl' open air venue and Stadium:uk, home to MK Dons, to accommodate the ever-growing population.

5 facts about Milton Keynes
1. As one of the country's 'new towns', the town was born from a number of villages to ease housing congestion in London.


2. Surrounding by greenery, the town has 4500 acres of parks and woodland.


3. Milton Keynes is home to the 'Concrete Cows', created in 1978 by sculptor Liz Leyh. They are now homed in the shopping centre but a replica sits beside the A422.


4. Bletchley Park, in Milton Keynes, is where the Enigma Code was cracked during World War Two.


5 . The town, untypically for English towns, is designed in a grid system.

This two bedroom property at Oakgrove Village is a great example of a couple's first property. Nicely furnished with lots of space and light, the apartment sits within a new development in Milton Keynes. Why not make your first home your own with a cosy front room, a large kitchen space for preparing for your dinner parties and a spare room for storage or visitors.


If you're looking for a first family home, check out this property at Noon Layer Drive. With lots of space for new additions to the family, a long open-plan kitchen and a decent garden for letting the kids out to play in a safe, secure environment, this property offers everything you need for a cosy family home.


This property in Kensal Green offers the perfect larger family home. With plenty of bedroom space, room for an office and a large garden with terrace for sitting out in the afternoons, the property offers a relaxed and spacious living space.

---
There are so many beautiful areas in the UK, many of which we may never have even come across. Each Wednesday, on the Rightmove blog and Twitter, we'll be doing a location focus, with information, facts and pictures of the area and what it has to offer. We hope you find them useful, and if you have any requests, let us know on Twitter using #InspirationWednesday!