Isolated sea fort turned hotel is for sale
This redeveloped fort is up for sale… but you need a boat or helicopter to reach it
An iconic Victorian fort that survived two World Wars before being transformed into a boutique hotel retreat could be yours for a cool £5 million.
Spitbank Fort, one of three imposing structures built in the late 19th century in The Solent between Portsmouth and the Isle of Wight, is on the market with Knight Frank.
Originally built more than 150 years ago to repel the threat of a French invasion, this incredible building boasts nine decadently decorated bedroom suites, a 60-cover restaurant and its very own wine cave.
These incredible aerial pictures show the fort standing proud with the shimmering sea surrounding it and the city of Portsmouth visible a short distance away on the coast.
The fort was extensively refurbished in 2012 to the tune of millions of pounds after it was purchased by Clarenco LLP and converted into a luxury spa hotel.
Another magnificent feature of this remarkable building is the Hollywood-style roof terrace which offers stunning views across the south coast of England.
This leisure area also benefits from a hot pool, sauna, fire pit and sun deck – perfect for those long summer nights when toasting marshmallows are the order of the day.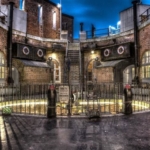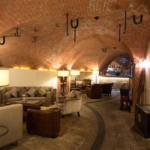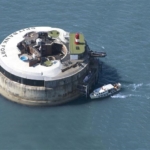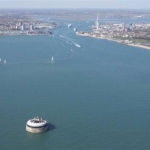 The romantics out there will be pleased to hear that Spitbank Fort is licenced for civil ceremonies and weddings – and is less than an eight-minute flight from Lee-on-Solent Heliport.
Having been equipped with guns for World War One and fitted with a boom defence to ward off submarines during World War Two, the fort was disposed of by the Ministry of Defence in 1982.
But the fort was extensively refurbished when Dreams bed tycoon Mike Clare bought the property.
He oversaw a transformation that included decking out Spitbank Fort with various mod cons and luxury accommodation whilst also retaining the essential character and charm of the forbidding-looking fortress.
The property is listed for sale with Knight Frank.