2018's most viewed properties
The results are in and these are the most-viewed properties on Rightmove this year, including the Spanish villa which helped launch One Direction to super-stardom.
Our data scientists have totted up each click to reveal these properties as the most popular homes on Rightmove in the UK and overseas in 2018.
The properties range from a stunning Scottish castle to the Marbella mansion where 1D made their debut performance at judges' houses in 2010 on The X Factor.
Rightmove's property expert Miles Shipside said: "It's easy to see why some of these jaw-droppingly glamorous properties have attracted so much attention on Rightmove, whether it's people just wanting to have a nosy inside some of the mansions or those looking for design inspiration."
Barrow Lane, Hale
A daringly contemporary design with an Italian influence permeates throughout this beautiful six-bedroom home in Hale. This property provides an immaculately presented, spacious, family home offering approximately 10,000 sq. ft. of accommodation.
The house is arranged over four floors and is situated in one of the most sought-after and very private residential locations in Hale. Superb landscaped, mature gardens and an imposing secure gated entrance contribute to this individually designed and stunningly presented property.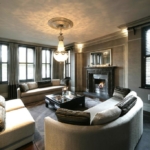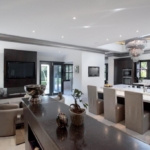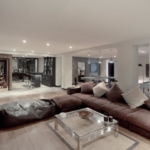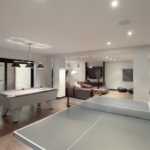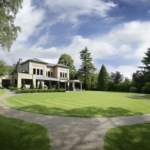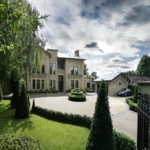 This property is listed for sale with Gascoigne Halman.
Glenborrodale Castle, Scotland
Glenborrodale Castle dates from 1902 and wouldn't look out of place on Game of Thrones. It is a five-storey Scots Baronial mansion built of red Dumfriesshire sandstone. The castle itself dominates the steep south-facing hillside which overlooks Loch Sunart, while panoramic views take in the islands of Risga, Carna and Oronsay and the Morven Hills on the far north side of the loch.
Additional buildings include a gate lodge, a detached coach house, a gym and a boathouse and jetty. The grounds of the castle extend to an incredible 132 acres and include the Isle of Risga and Eilean an Feidh.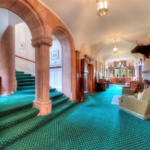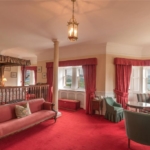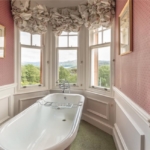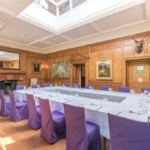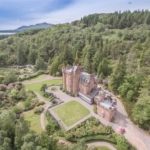 This property is listed for sale with Bell Ingram.
Cappers Lane, Cheshire
This exceptionally charming country house estate is situated in a beautifully scenic part of rural South Cheshire. The approach is via a long tree-lined drive, which compliments an existing courtyard range of buildings, cottages and modern farm buildings.
Inside is an indoor swimming pool, jacuzzi, gym, wine room, orangery and multiple reception rooms.
Historically, High Ash formed part of the neighbouring Peckforton Estate owned by the Tollemache family whose lineage can be traced back to before the Norman Conquest.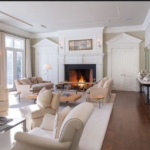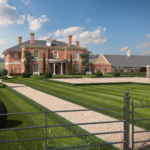 This property is listed for sale with Jackson Stops.
The Park, St Albans
This seven-bedroom home is simply breath-taking, plain and simple. An outstanding testament to elegance and style, this property has been built with unsurpassable quality, a jewel that demonstrates facets of pure luxury and an understated wow factor.
Situated in one of St. Albans' most premier roads, this has been built on a no-expense-spared basis. It boasts a built-in music system, Lutron lighting, home cinema, and flows easily over four levels in an impressive harmony of space and functionality.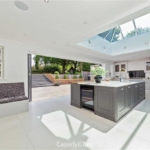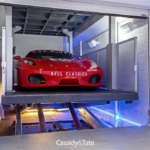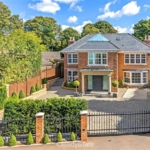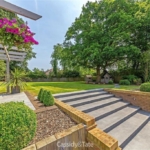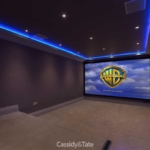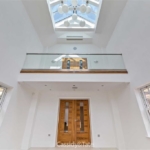 This property is listed for sale with Cassidy & Tate.
The College, Devon
This remarkable property is the former family home of none other than Samuel Taylor Coleridge, the poet who wrote the Rime of the Ancient Mariner.
The entire west wing of the 10-bedroom house is taken up at ground floor level by a huge library, the largest west of Salisbury and designed for Lord Coleridge's 18,000 books.
The house enjoys wonderful views over the parkland to the deciduous woodland beyond. The property is approached by a sweeping drive which runs up through the parkland around the walled garden and rear of the house to the cobbled courtyard at the front.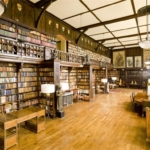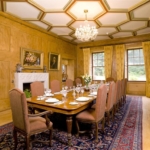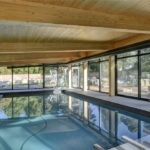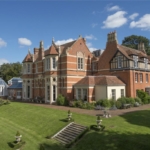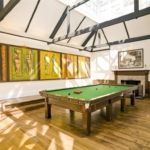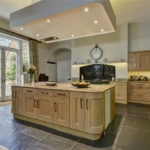 This property is listed for sale with Strutt & Parker.
Kunfunadhoo Island, Maldives
When you think of paradise, your imagination will likely conjure up an image which is strikingly close to this: the ultimate luxury island mansion. This stunning property is the largest private residence at the 5* Soneva Resort in the Maldives, complete with nine spacious bedrooms, an expansive swimming pool with sunken dining area and its own private water slide.
Located on the sunrise side of the island, close to Dolphin Beach, the property offers views over the Indian Ocean and direct access onto the pristine white sand beach. Boasting a spa, exercise room, sauna and steam rooms without having to leave the confines of this forested mansion, it is perfect for large families. The sunken dining area is ideal for hosting dinners and during the day the generous terraces around the curved lagoon-style pool provides plenty of options for lazing around and relaxing.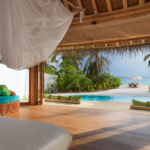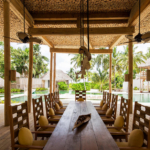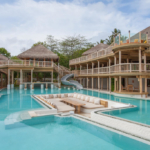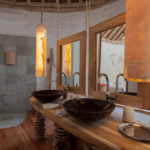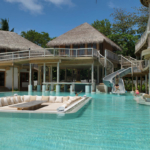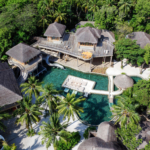 This property is listed for sale with Sphere Estates.
Malaga, Marbella
Often referred to as the most luxurious villa on Spain's Costa del Sol, Villa Moana is truly a jewel nestled in the heart of paradise. It also played a very important role in helping One Direction on their way to super stardom.
Enjoying 180-degree ocean views, this 2,250 sqm home sits idyllically among 7,000 sqm of beautifully landscaped gardens – and was Simon Cowell's filming location for judges' houses on the 2010 series of The X Factor.
Villa Moana has previously welcomed royalty, presidents, billionaires, sheiks and many more superstars, some of whom return year after year.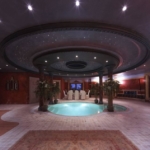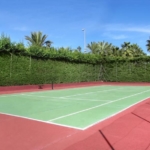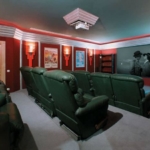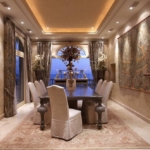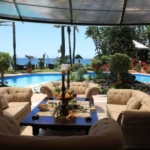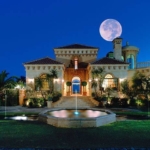 This property is listed for sale with I Find Marbella.
West Hollywood, Los Angeles
Rub shoulders with the stars at this Mediterranean retreat in the gated community of The Summit in Beverly Hills; an elegant residence of over 8,000 sq ft which is detailed to perfection – featuring five bedrooms and six bathrooms.
There is a two-storey entry with dramatic staircase leading to four bedrooms suites. The master suite with luxurious master bathroom features exquisite finishes and custom walk in closet.
A gourmet kitchen with an island and the living room open to a lush garden and a pool. A large media room, wine room and multiple fireplaces add to the charm of the estate. Custom made furniture imported from Italy enhance the integrity of the design.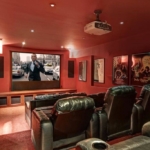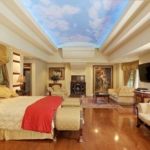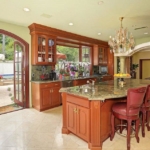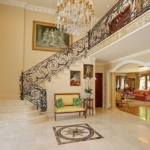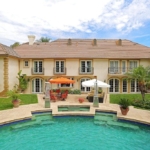 This property is listed for sale with Chestertons.
Port of Monaco, Monaco
If living alongside the rich and famous is your thing then this stunning €70 million apartment is for you. Overlooking the famous Port of Monaco, this property has been lovingly refurbished and redesigned to create a magnificent home with sensational views over central Monaco.
The Art Deco apartment also enjoys large terraces that run along the front and rear of the apartment offering breath-taking views over the Port of Monaco, The Rock of Monaco and magnificent mountains.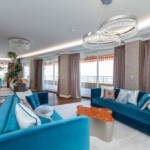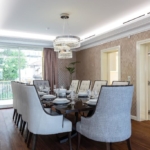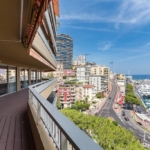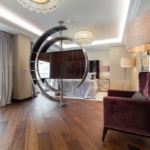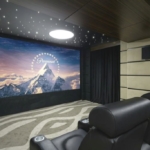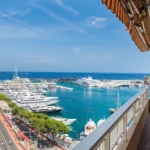 This property is listed for sale with Finlay Brewer.
Medhufaru Island, Maldives
If heaven is a place on earth, this may well be it. This elegant island retreat is the epitome of idyllic calm and peacefulness – a million miles away from the hustle and bustle of modern life.
This elegant, detached property boasts a slide into the ocean, outdoor hammocks, luxurious living accommodation and a sense of remoteness that is pure perfection. Soneva Jani is a five-star resort with excellent facilities including a beach restaurant, clubhouse, spa, cinema, water sports and dive school.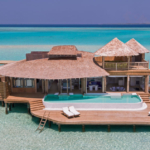 This property is listed for sale with Sphere Estates.