Peek inside the modern day castle with its own mini moat
If Jon Snow ever needed to lay low in north east Wales to evade some White Walkers then this medieval-looking property in Denbighshire could be for him.
The uniquely distinctive three-bedroom property is nestled on a residential street in Ruthin yet looks more like something you'd find in Game of Thrones.
The suburban home has been brilliantly transformed to resemble a property akin to the Middle Ages – most notably with its mock timber framing and its very own draw bridge over a mini moat.
The property is named Agincourt after the battle in 1415 in northern France and inside it boasts extensive wood panelling and beautifully beamed ceilings.
Each room is more elaborately decorated than the last, with its indisputable character shining through at every fantastical turn.
A large bar dubbed Graceland sits at the far end of one particular reception room, while elsewhere, fixtures and fittings have been given a mottled stone effect – complete with big metal hinges – to really give the impression that visitors have stepped back in time.
Bright yellow walls adorn the hallway and landing, with mock stone fireplaces with herringbone detailing adding to the sense of fun in more than one room.
But the most interesting feature of this playful home is the mini moat that dominates the back garden.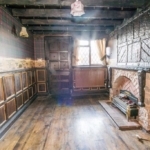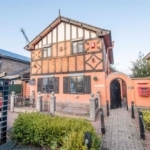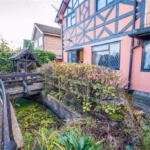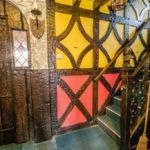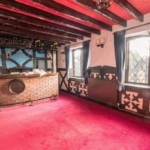 An impressive 4ft deep, it straddles the rear garden with the front door and is accessed via a drawbridge over an ornamental well.
Rightmove's property expert Miles Shipside said: "There is no denying that this amusingly quirky home is one of the most unique properties currently on the market. The owners have gone to incredible lengths to recreate a bygone era and the results are quite stunning. Whilst it's probably not to everyone's taste, this home feels like it connects to the past in a way few other properties can."  
This property is listed for sale with Cavendish Residential.