Single and looking for love? Make a move to Watford
New data out today from the UK's number one property website Rightmove reveals Watford as the best place to move to if you are searching for Mr or Mrs Right, closely followed by Edinburgh.
The Hertfordshire town topped Rightmove's national 'Looking for Love League' – based on a formula that looked at where the highest proportion of people who are single, use internet dating and go out socialising live, in 91 towns and cities.


The formula, which uses data from over 30,000 people around Great Britain, also considered where couples said they are happiest in their relationships, in case they hold the secret to a successful romance.


The top ten places in the Rightmove Looking for Love League are: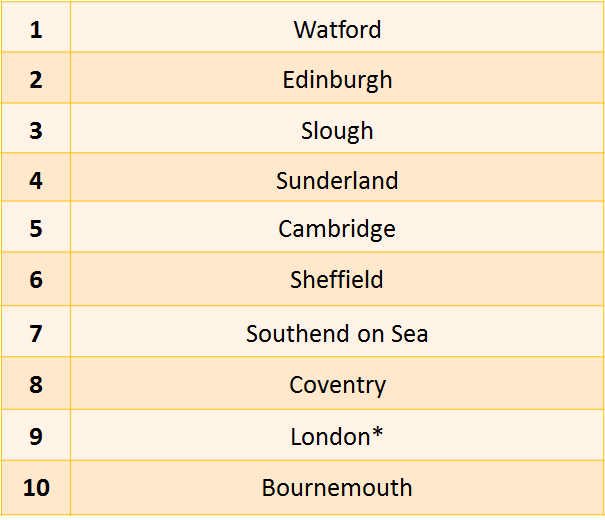 *The average of data from all 32 London boroughs. London borough breakdowns are also available.
Watford's winning formula
So what makes Watford such a good place for finding a partner?


There is a love-active mix of one in six (14%) people who have used internet dating in the past year, and one in four (42%) going out three or more nights a week .  In addition a quarter of people (25%) in Watford are single, while the national average is 19%.  If this love triangle of statistics gives those looking for love the moving-bug, the average asking price of a property in the area is £361,090 according to the January Rightmove House Price Index. If you ask people who have already found love in Watford, a massive 97% of them say they are happy or mostly happy in their relationship.

Mr and Miss national average
The study found that one in ten (11%) people have used internet dating in the past year, with 20% more men than women logging on to find love.  The internet dating capital is Dartford, followed by London.


The singletons capital is Slough, with Watford coming second and Truro third.  Nationally, 40% of people go out three or more nights a week, with Durham topping the list as the social capital of Britain, followed by London and Stockport.


According to the survey the nation's couples are overwhelmingly happy in love, with 95% either happy or mostly happy in their relationship.


The data comes from the first part of Rightmove's 'Alternative Census', a new report that will be released throughout 2015.


Miles Shipside, Rightmove's Housing Market Analyst explains:

"Home hunters' wish-lists contain many different demands, from a garden and a garage to a conservatory and a quick commute. So why not add in a new dimension if you're looking for love and are unsure where you want to move?  Obviously people will need to check what they can afford in an area – while the top ten includes some places with asking prices much higher than the national average there are also up-and-coming areas that are worth a look.  The aim of this new Rightmove Alternative Census is to help paint a picture of local areas by asking the residents themselves about their lives, offering something extra to the usual statistics you read about a place you're thinking of moving to."
The top tens that make up the formula
The Looking for Love League assigned a ranking to each town or city based on their results on four categories:

1 Happy in love

2 Logging on to find love

3 The social butterflies

4 Singletons


Click here to see the ranking of your local area in each category.