The 10 most expensive homes in the world – but how many are in Blighty?
Some recent digging by The Times has uncovered the latest list of the world's most expensive properties, and we could resist letting you take a grand tour!
From ballrooms to bowling alleys, orchards to iris scanners, entourage rooms to panic rooms, acres of gardens to gold-leaf bathrooms, the list has it all.
And where is almost a third of the list located? Yes that's right, the green green grass of home! Hyde Park in London plays host to the world's most expensive apartment, #3 on the list, and Updown Court, one of the most distinguished properties for sale right now on Rightmove has also made the cut at #9.
This, as they say people, is how the other half live…
1. "Antilla", Mumbai – $1billion.

This 27-story, 40,000 sq/ft tower, pictured above, where no two floors are the same, is the unique and extravagant creation of owners Mukesh and Nita Ambani. Costing more than a hotel or high-rise, due to its custom measurements and fittings, it comes complete with a six-story car park and actually begins on the ninth floor.

2. Villa Leopolda, French Riviera – $506million.
Made even more famous by recent press, this villa on the French Riviera was built in 1902 by King Leopold II of Belgium. Rumoured to have been home to many renowned people, including Bill Gates, it actually belonged to Edmond Safra, and still belongs to his wife Lily.
3. The Penthouse, London – $200million.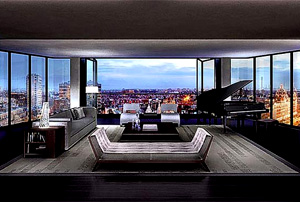 Atop the 82 other apartments at the famous Number One Hyde Park address will sit the most expensive flat in the world, at £6,000 per sq/ft. Only the highest level of security will do for these residents, guarded by the SAS, with special features such a panic rooms, bulletproof windows, iris scanners and even a secret tunnel to the nearby Mandarin Hotel. The building boasts communal spas, squash courts and even wine tasting rooms! This plush apartment will have 24-hour room service despite the floor to ceiling refrigerators.
4. Fairfield Pond, The Hamptons. – $170million.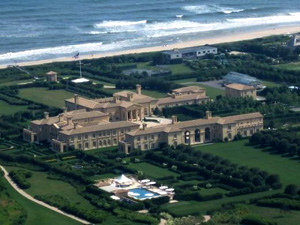 At 63 acres, the home of Ira Rennert, is considered the largest residential compound in the whole of America. The publicity shy billionaire is the proud owner of the most valuable home in the Hamptons; with 29 bedrooms, 39 bathrooms, as well as a huge dining room (91 feet long), 5 sports courts, bowling alley and a $150,000 hot tub, this beachfront home cuts no corners.
5. Hearst Mansion, Beverly Hills – $165million.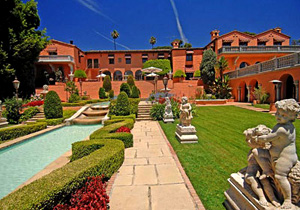 This mansion, formerly owned by publishing magnate William Randolph Hearst (the inspiration for the main character in "Citizen Kane"), features 29 bedrooms and three pools. It even comes complete with its own disco and theatre. Steeped in pop culture history, it was the estate used in The Godfather when the infamous severed horse's head turned up in its owner's bed. The house has some notable neighbours, including Tom Cruise and Katie Holmes and David and Victoria Beckham.
6. Franchuk Villa, Kensington – $161million.
This Victorian Villa was a girl's prep school until 1997. Bought by developers and upgraded in 2006 with more than £10million worth of work, it was purchased by Ukrainian AIDS philanthropist, Elena Franchuk. Unusually for London, this 5-story home is freestanding, with 10 bedrooms, an underground indoor swimming pool, movie theatre, panic room, saunas and gym.
7. "The Pinnacle", Montana – $155million.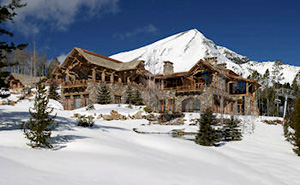 This luxury ski-lodge is to be the largest property in the exclusive billionaires-only private ski and golf community, "Yellowstone Club". This home will include heated flooring throughout the house that stretches all the way to the heated driveway, as well as fireplaces in all bathrooms, a huge wine cellar, an indoor/outdoor pool, gym and massage room.
8. "The Manor", Los Angeles – $150million.
Built in 1991 'The Manor' has 123 rooms to choose from. Nothing was spared in the creation of this home, with an indoor skating rink, multiple pools, three kitchens, sports courts, private orchard, and a bowling alley.
9. Updown Court, Windlesham, Surrey – $139million.
This 40,000 sq/ft mansion is bigger than Buckingham Palace, has 103 rooms, is known as the most luxurious mansion in the world and has been billed as "the most important private residence to be built in England since the 19th century". Its standout factor however is the 24-carat gold leaf mosaic floor feature in 22 bedrooms and 27 baths. Feeling flush?
10. Dracula's Castle, Romania – $135million.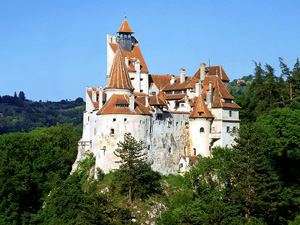 Built in the late 14th century this castle is a national monument and technically a museum thanks to Vlad the Impaler. However, this historical castle came on the market in 2009. Very different from the others on this list, this potential home would be more enticing due to its history and name, rather than the flash features it may possess. With 57 rooms in total, including 17 bedrooms filled with antiques and historical artefacts, this property is one for the quirkier billionaire.