This epic country manor needs to be seen to be believed
If you win the lottery and you're looking for a dream home to buy, you should definitely consider splashing your millions on this epic country residence.
Tokenbury Manor is nestled at the heart of a sprawling 120-acre estate deep in the Cornish countryside and this fantastically fun property may well be our favourite home of the year.
As well as the main living quarters, which are found in a beautifully grand stone-built house – which comes with its own guest wing – you'll also find a detached farmhouse and five holiday cottages.
All told, this impressive estate boasts an incredible 20 bedrooms!
But that's just the beginning…
…Because Tokenbury Manor is equipped with its very own entertainment complex and it really is an adult playground.
Sports fans will be excited to hear that as well as endless acres of stunning parkland to play in, one of the impressive double-height outbuildings houses a state-of-the-art golf simulator room.
So you can play all your favourite courses at the click of a button, without ever having to leave home.
At the moment, this vast space, which boasts a galleried staircase sweeping up to yet another entertaining suite, is being used as a luxury car showroom.
In the agent's pictures, it's showcasing a remarkable fleet of red Ferraris.
Upstairs at this barn you'll also find a bar area, a World Championship snooker table and multiple Juliette balconies allowing for views across the countryside. Oh and crystal chandeliers.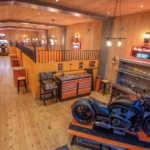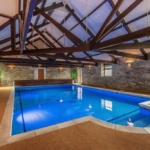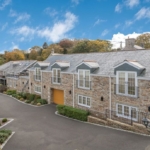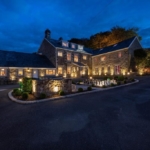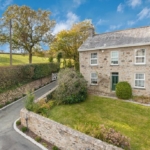 But we're not done with the showrooms just yet.
Over in the stables, you'll find yet more supercars on display, as well as a Harley Davidson, and even a helicopter!
For film lovers, we can report that Tokenbury Manor comes complete with a private 4K cinema room, with seating for 10 people.
There's also a pretty sizeable indoor swimming pool if you're looking for somewhere to burn off all the popcorn you've eaten in the home theatre.
The five holiday cottages are a great bonus for when you're hosting big parties (once they're allowed again), or they could also be let out to paying guests as an extra source of income.
They're currently playfully named The Hen House, Hay Barn, The Cow Shed, The Piggery and Milking Parlour.
This property is listed for sale with Ideal Homes.