"We do like to live beside the seaside": St Ives voted Britain's 'ideal' place to live
Wish you were here: The Cornwall town tops Rightmove's 'Ideal Home' Report, which asked people where in Britain they would most like to live
In-demand areas: Coastal locations of Poole and Brighton came second and third, followed by the historic cities of Edinburgh and York
Britain's ideal home: If money were no object, people would choose a detached house with three bedrooms, one kitchen, two living rooms, two bathrooms, a garden and a utility room
Pubs over parks: Having good transport links and a pub within walking distance is more important than being near a park or supermarket when choosing where to live
A new report out today reveals the nation's ideal home is close to the sea, with two living rooms rather than one, two bathrooms and within a short walk to the pub.
The findings, from the UK's number one property website Rightmove, reveal that St Ives is the most desired place, alongside a number of cities around the UK: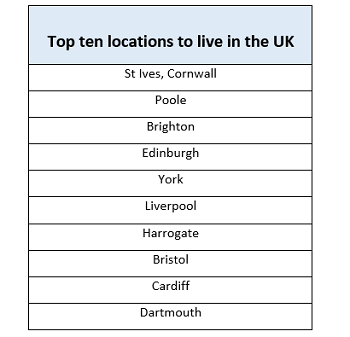 If people could have a house of any size, the average person would not opt for a mansion.  Only 1% would like to live in a castle, while the majority would choose a detached house with only three bedrooms, though they would like the additional benefit of two living rooms and two bathrooms. The practical utility room wins out over other more high-end features like a conservatory or walk-in wardrobe.
The premium paid for buying houses near good transport links is well known, but for many a good pub close by is also an important factor – more so than living near a park or supermarket.
Rightmove Director & Housing Market Analyst Miles Shipside comments:
"Many people choose to holiday by the sea, and given the choice of where to live they would like to make that a permanent arrangement. But it also seems many like the features of a smart town or city, so one near the coast seems the ideal location to live. And while we gave people the chance to choose a home fit for royalty, on average they said they would be happy in a more modest home with plenty of space and practical features, instead of rattling around in a massive mansion.  This shows that the perfect home for many is one that they know they could possibly live in one day rather than a pipe dream."