If you plant one thing this winter…
Not everyone is keen to get out in the garden during the winter, but there are some garden jobs that are perfect for this time of year.

Tempted to brave the cold? Well how about creating one of the best features for wildlife that you can have in a garden – the humble hedge.

Whilst a fence doesn't do much for garden wildlife, a hedge is a great home for nature. Birds will nest, roost and feed in them, insects will visit the flowers and nibble the foliage, and the base will offer shelter and a highway to hedgehogs and toads. They're good for us too as they offer protection from the wind as well as security and privacy. They may need clipping at certain times of the year, but that can be good exercise and a great opportunity to get to grips with your garden. You never know, you might find you have a talent for topiary!


So why do the hedge planting in winter? Well firstly, the actual hedge trees and shrubs are cheap to buy at this time of year as dormant bare rooted 'whips'. You can get a good number of hedgerow plants for a fraction of the price of a pot grown shrub or tree. Planting in winter also gives the hedge a chance to set roots in at a time when water is plentiful, ready to burst into life when the growing season kicks off in spring.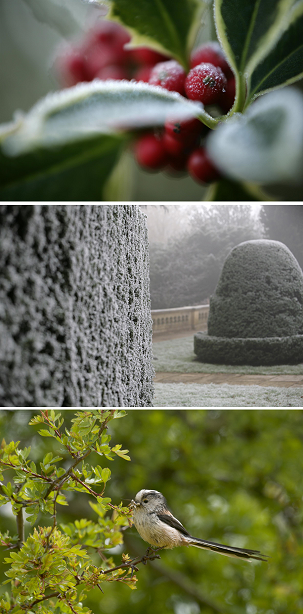 To create the hedge you have to prepare the soil, clear the area you want to plant, turn it over, then add some mulch (well rotted compost or a peat free bought type if you don't have a compost heap). Depending on how thick you want your hedge to be, you can plant in single rows or staggered double rows – the latter giving a denser hedge with fewer gaps in the early years of growth. You want to leave enough space for each plant to thrive in its own right, but have them close enough to form a connective barrier.


Once they are dug in, mulched and watered, you need to be brutal and cut them down to around a foot high. This should guarantee that when they start to grow in the spring you will have a hedge that is nice and thick at the base.


Some hedges are better for wildlife than others. To make a good wildlife friendly hedge you could mix things up and include different plants, such as dog rose, hawthorn, field maple, hazel, crab apple, wild privet, holly and cherry plum. When the hedge is established, you could think about adding in honeysuckle and ivy to fill it out and to give it some extra oomph for wildlife. Once your hedge is established, it'll need managing to keep the shape and size that you want, but think about only cutting it every other year and time this for late winter when the berries and fruit have been eaten by the birds.


If you're stuck with a fence though, it needn't be a dead zone for nature. You could grow climbers up it using trellis to create some great coverage.


All done? You've definitely earned that tea and biscuit by the fire now!

---
For more ways on how to give nature a home in your garden and to download your free guide, visit rspb.org.uk/homes
We all know there is a housing crisis in the UK. Perhaps less well-known, however, is that there is an equally urgent housing crisis facing much of the UK's threatened wildlife.
The worrying state of things for creatures that call our gardens 'home' has encouraged Rightmove to lend our support to the RSPB's new Giving Nature a Home campaign. The objective is simple: to encourage people across the UK to create a million new homes for nature in their gardens and outdoor spaces.