5 Ways to Personalise Your New Home
Home may be where the heart is, but adding personality with your own creative input is the key to settling into a new house.
An imprint of your identity is what transforms a building into a space that you love – so whether you're buying your forever home or moving into a short-term rental, adding a personal touch will make all the difference.
Once your stamp is added to a property, you can set about creating memories that will last a lifetime – that's why in this post, we're bringing you a handful of hints on how you can inject some personality into your interior décor.
Keep your priorities close at hand
Settling into a new property can take time – but with your home comforts at hand, the transition is likely to be that much easier. From pets to photographs, make sure you know exactly where and when your most important possessions are being moved. Once these are unpacked in your new building, you'll begin to feel at home right away – surrounded by the things that mean the most to you and your family.
Experiment with art
You don't have to be a budding artist to create a masterpiece in your new property. The beauty of art is that it's all about perception – and your new blank canvas can be decorated as you see fit. There's no need to spend a lot of money putting your stamp on your new home. From getting the kids involved to experimenting room by room, find ways to inject some colour and personality into your property and you'll soon start to feel right at home.
Restore old furniture
Whether it's shabby-chic or antique, rustic styling is right on trend. It can be tempting to furnish your new property with sparkling new suites – but whether you're seeking vintage style or just looking to cut back on your budget, why not start with the furniture you already have? Forget soulless flat-pack furniture – pick your favourite pieces of furniture or scour sale-rooms for some pre-loved bargains and set to work. Create the restoration look yourself with a pot of matt finish furniture paint and embark on a project the whole family can take part in.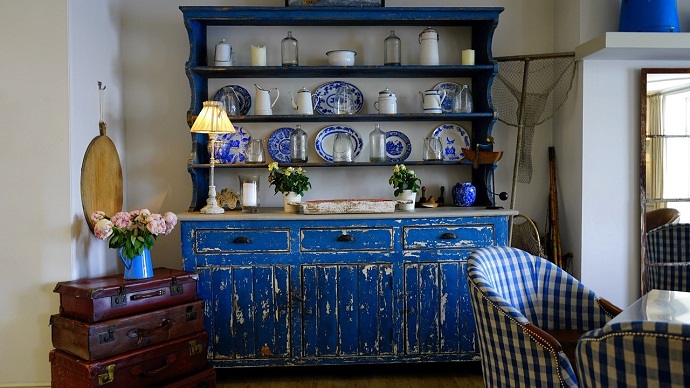 Think outside the four walls
As a homeowner, you have complete liberty over your creation – so whether your ideas are big or small, they'll bring you one step closer to building a home that's perfect for you. From geometric prints and bright and bold seat covers to indoor gardens and handmade door curtains, there are a number of ways to breathe life into your new property. In the world of renting, personalisation doesn't mean you have to kiss goodbye to your damage deposit either. While most landlords opt for neutral hues throughout their properties, you can accessorise as you see fit. If you want to add colour to your walls, check with your landlord before you go ahead. As long as you leave the property in the same condition you found it, most landlords will be happy for you to put your stamp on the place.
Upgrade and improve
While an extensive remodelling might be on your wishlist, it's likely your budget has other ideas. Start off simple by upgrading and improving room by room. Decide what you love about each space and what you'd change – then spend some time coming up with low-cost ways to overhaul each room. From sprucing up your bathroom taps to adding large rugs into rooms with laminate flooring, it doesn't have to cost the earth to make each room a space you love spending time in.
---

Pegasus Personal Finance provides affordable finance options for property owners looking to carry out home improvements. Whether it's for a kitchen-extension, conservatory build or loft conversion, Pegasus Personal Finance offer a wide range of personal loans to suit every borrower's needs and circumstances.
www.pegasuspersonalfinance.co.uk/