App of the Week – JustPark
This week's featured app isn't just a money-saver; it's a potential money-maker too!
JustPark is part of the new-fangled 'share economy', a wonderful idea which encourages individuals and communities to share their surplus goods and services. The idea goes something like this…
Say you have a spare car parking spot outside of your house, and your house just so happens to be situated near to a local train station. Instead of leaving your driveway empty, JustPark allows you to sell your space by the hour, day or week, for whatever price you want, right on their website and through their app.
JustPark is also great for drivers who are looking for discounted parking. For our test we tried the parking spots on offer in Putney, South West London. On-road parking in this neighbourhood costs around £2.40 per hour, yet with JustPark we were able to find driveway spaces for as low as £1.50. These cost savings can really add up if you're a regular commuter.
JustPark can also be a great timesaver. With the average driver wasting 106 days of their life looking for a parking space, the convenience of being able to pre-book that 'perfect spot' is undoubtedly appealing.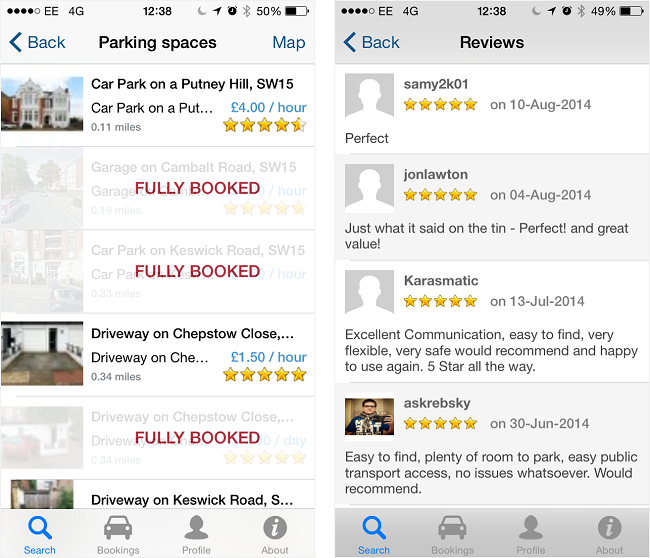 Another useful feature of the app is the ability read reviews of the parking spots on offer from other users. There's also a 'Driver Protection Guarantee' which protects users if the car parking spot is mis-sold or becomes unavailable. In our view though, the real benefit of JustPark is their airport parking offerings. A quick search for Gatwick, for example, shows spots from £3 per day, with Heathrow only marginally more expensive at £3.10. Unfortunately the JustPark app doesn't seem to have made it to Android smartphones just yet, although it is available for iOS and through their website.