App of the week – Money Dashboard
When preparing to move house we often find that we have to spend less or budget better.

So imagine our delight to discover a helping hand for this very need in the form of the Money Dashboard app. By showing you where you're overspending, Money Dashboard helps you make better decisions about where your money goes, so you can save up for that dream move.

The app, which is available for free from both Google Play and the Apple App Store, lets you see all of your bank and building society accounts in one place wherever you are.


Money Dashboard makes it easy to see where you might be overspending at a glance and also suggests solutions to help you save. For example, it recently ran a Big Energy Switch, offering users an opportunity to register for cheaper gas and electricity deals.


Its colourful charts and graphics help you make sense of your spending and break down your outgoings so you can immediately spot where you've been shopping a lot. In the Rightmove office, a couple of us noticed that we've been splashing out on adding to our winter wardrobes in the last couple of months. But, on the plus side, our supermarket spend has been low lately so we can pick up a bit of extra comfort food when it gets chilly!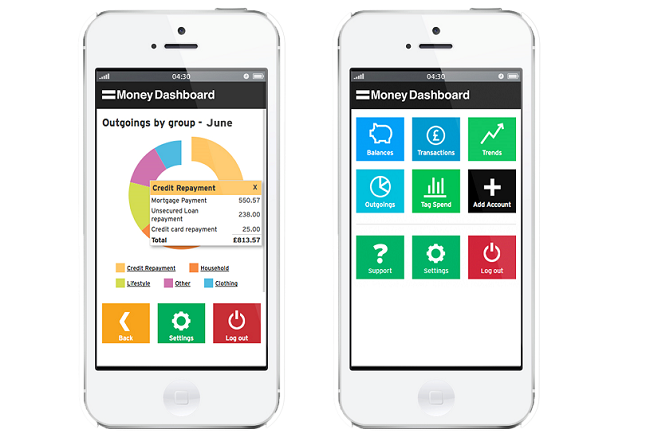 You can use Money Dashboard by signing up with your bank login details. It uses the same security practices as the world's leading banks and is read-only, so no payments, withdrawals or transfers can be made from your dashboard.


Not only can you see what you've been spending on a monthly, daily and weekly basis but Money Dashboard's budget planner can show you what's safe to spend each month and what you have left over to start saving money. And here's the extra clever part, it uses past spending patterns to predict future outgoings.

Whether you're saving for a deposit on a new house or just some little home improvements, the Money Dashboard app can help make these goals a reality and allow you to be good with money.