App of the Week – TaskRabbit
Whispers of TaskRabbit have been circulating around the Rightmove offices for a little while now, so we thought it was about time to put it through its paces!

Marketed as the app that lets you live smarter, Taskrabbit is essentially an online shop for freelancers. This includes cleaners, handymen, a man-and-a-van for help moving house… even your own PA should the need arise.
For testing purposes we tried out the iPhone version of the app. After signing up through Facebook, Google+ or by setting up a new account, you're then presented with a 'How can we help?' window which allows you to select the type of freelancer that you're after.

In our test area (Putney, London) we were shown services starting from £11 an hour, including heavy lifting, personal deliveries, event planning and flat pack assembly.

Once you've selected the task you want help with, you are then presented with a choice of 'taskers'. Taskers are the freelancers who bidding for your work, all of which are vetted with an identify check, criminal record check and an in-person interview. There are also user generated reviews for each of the taskers, allowing you to get a sense of the person before you hire them.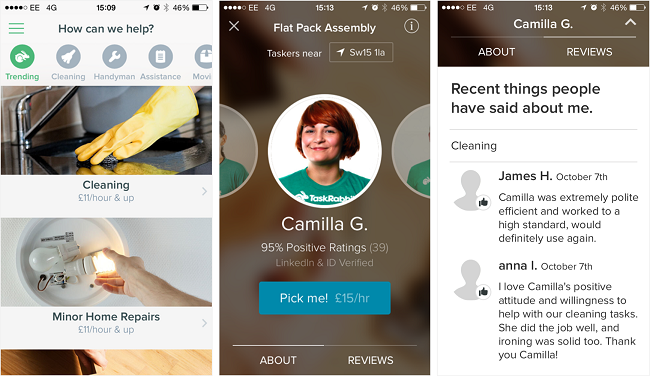 The final part of the process lets you choose when and for how long you want to hire your Tasker, with payment being taken through a secure online transaction.

The whole process from start to end was seamless, helped in part by the app's interface being clean and simple to use throughout. We also love the whole concept of Taskrabbit, as it serves a very real need for an increasingly time-short society.

In short, whether you need help with setting up some Ikea furniture or are seeking some extra muscle for a mammoth house move, TaskRabbit is a very worthy winner of our App of the Week!

Taskrabbit is available for free on the Apple App Store and Google Play.