BBC Interior Design Masters contestant reveals top tips
Whether you're a seller looking to spruce up your home on a budget, or a renter wanting to add a personal touch to a property, redecorating can be daunting challenge.
So we spoke to Peter Grech, a contestant on the new series of BBC Two's Interior Design Masters, for his top design tips.
The 33-year-old, who was born in Malta and previously worked as an A&E doctor, now runs his own interior design company in Altrincham.
In this article he talks about some of his experiences on the show, including sharing the limelight with host Alan Carr, as well as his major design dos and don'ts…
How did you get into interior design?
My father is an architect, so I've always had a connection to the design world, and I guess that grounding gave me a foundation to process the way people think about spaces.
I've been hugely passionate about interior design since I was a child, and I was encouraged to study architecture.
As it turned out, I studied for a medical degree and became a doctor. I left Malta to train professionally in the UK and until three years ago I was working as an A&E doctor.
However, I've always been a bit of a design geek. When I was studying for my medical degree, I'd spend a lot of time playing around with 3D modelling software and in my break times I'd be designing this particular model house. After I graduated I was just as proud of finishing this model house as I was with my degree.
I've always loved helping people discover the potential of their home, and over time more and more friends started asking for design tips and help with renovation ideas. So three years ago I decided to start my own company and I now work on residential projects all over the UK.
It's hugely rewarding and an absolute joy. Being able to look at four walls and collaborating with a homeowner to improve and invest in their home is a real privilege.
How was the experience of being on Interior Design Masters?
It was a really challenging process. I'd never been on TV before or experienced that level of competition.
It was great seeing the other contestants work up close, they're all so talented. It was strange because usually a designer works in their own silo with clients and suppliers and tradespeople; rarely do you come face-to-face with another designer on a project.
So it was very different from what I'm used to, but it makes you realise how much talent is out there. It was a really inspiring experience.
Alan Carr as the host was incredible. He's exactly as you imagine him to be. He's so warm and constantly cracking jokes, he's really lovely.
How can sellers spruce up their homes on a budget?
The first 11 seconds that a prospective buyer spends in your home, or viewing your home virtually, are crucial. It's really important to be mindful of making a great first impression – from kerb appeal to the approach to the front door, to the hallway.
Pay attention to detail, declutter, and allow people to see space properly and for what it is. That's always a solid starting point.
Then, in terms of the aesthetic, it can be hard to guess what the buyer wants, so try to neutralise anything that's too bold or over the top. However, also try not to be too neutral. It's a fine line finding the middle ground, but you want your home to have mass appeal.
As a general rule, white paint always looks clean and fresh, so if you're stuck for ideas or time, that's where I'd start.
Perhaps get on Zoom and ask a friend to look at a space for a second opinion, and bounce ideas off one another. Other perspectives can help you see a space in a different light.
Your goal should be to make a space sing and show off and feel homely.
How can renters make a property feel more homely?
The most important thing is to have an open discussion with your landlord and first and foremost get their consent before redecorating. If you've got a good relationship with your landlord, tell them that you want to invest in the home and improve how it looks.
If you want to do something bold that your landlord isn't keen on, you can always restore a space to an agreeable colour or design – as long a you're not making structural changes.
There are great things that you can do with removable wallpaper, which has an adhesive backing. Or you can focus on soft furnishings such as rugs, cushions and ornaments, which can really add a sense of theatre and drama to your home.
Are there any quick wins for redesigning a room?
The most impactful thing you can do is to make sure that a layout works really well. Make sure that furniture pieces are positioned properly so that people can walk in easily and see the whole room, and see that the room is functionable, as rooms can get cluttered over time.
The second thing is to think about colour and make colour choices work and go together. If you've got an expensive sofa, you obviously don't want to replace it, but you can pair the curtains to it, for example. Try to be open-minded about matching colours and textures.
Paint is the most cost effective way of updating  a room, hands down. It's easy to cover up and change over time. However, make sure the finish is as neat as possible if you're doing DIY job.
A poor finish can really let a room down, but if something is done properly, a buyer will really notice.
Wallpaper is tricky. It can be a deterrent if not done properly, or if you choose the wrong pattern. So if you're new to interior design or redecorating, I'd advise to paint a room before thinking about wallpapering.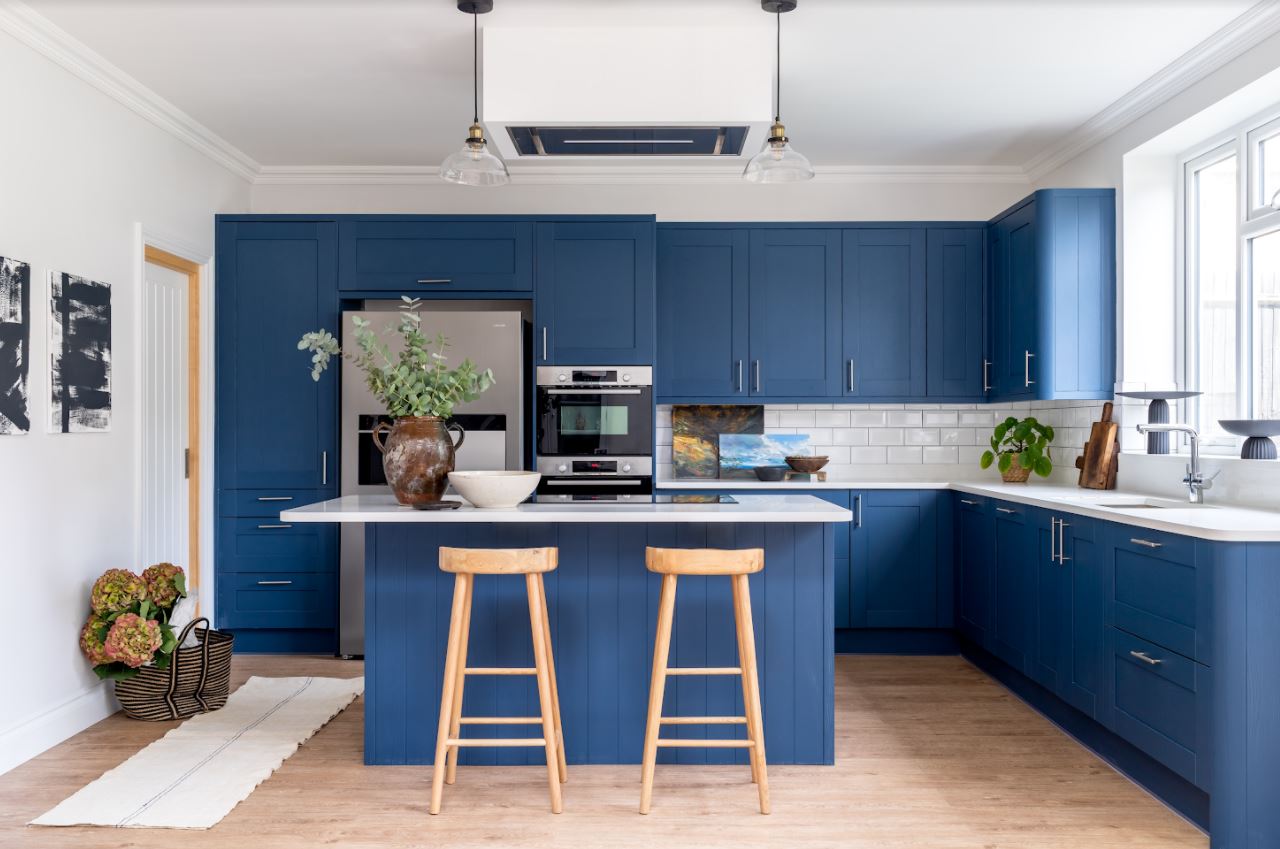 What are your top tips for upcycling furniture?
I love incorporating vintage or re-loved pieces into a home, as they can add lots of personality to space. If they're handed down through families, they can have really lovely stories attached to them, and it's always good to have pieces of different ages in a room.
My first tip is to try and identify what the piece of furniture is made of, and the quality of the material.
For example, with a mahogany table – which is beautiful, high quality wood – my advice would be to respect the craftmanship and try to leave the table in as original a state as possible.
However, with something that's maybe a bit cheaper, you could easily resurface and re-varnish it to brighten up a space without doing anything too complicated.
Wallpapering and painting is also another interesting element of upcycling. If you've got a bookcase, for instance, you could wallpaper the inside which would give a nice contrast to the wooden frame. This allows you to introduce pattern to a room without completely redecorating.
What are the main dos and don'ts of interior design?
The main thing is to pay attention to lighting; it's so important. Poor lighting can make a beautiful space fall down – such as too many spotlights or just a single pendant.
If you're going to spend a lot of time in a room, you want a lighting plan that makes sense for different moods, different times of the day and different activities.
So you want bright lights if you need to concentrate when you're working, but if you're sitting with a glass of wine and a book then you'll want something a little softer – maybe table lighting or pockets of glow that you can replicate around the room.
Great lighting can really transform a space.
A big no-no is buying everything from one retailer and making your home look like a show room. You can make a room feel really interesting if you buy pieces from lots of places.
We want our homes to be a reflection of our personalities and personal items that we collect over time really highlight that and tell a story. So my advice here would be to source from different shops. Aim to create a layered, curated look.
How can parents get young children involved with interior design?
Children are so uninhibited, which can really help in the design process. As adults we have preconceptions about certain things, but children focus on what brings them joy and that's really brilliant.
So if you're redecorating your child's bedroom, get them involved in redesigning their own room. Let them choose the colours and allow them to make decisions.
If they want a bright purple room, you can help guide them. You don't have to paint all four walls purple, but perhaps the cushions or duvet set can be purple.
The key is to get them involved and feel connected and invested in somewhere where they belong.
Do different rooms need different approaches, design-wise?
It all depends on what you want the room to function as.
With everything that's happening at the moment, a guest bedroom also needs to be a study, and a living room also needs to have storage for toys, games consoles and schoolwork.
So be flexible and adaptable in your approach, but also, concentrate on the mood and feel of a room and let that guide your decision-making. We all express ourselves differently, so focus on what appeals to you. Whether that's holidays, or feeling relaxed, or something more energetic, hone an idea and make the room reflect that feeling.
You can watch the new series of Interior Design Masters on Tuesdays at 8pm on BBC Two.
READ MORE: Laurence Llewelyn-Bowen shares home improvement dos and don'ts
The header image for this article is credited to Jamie Thompson Photography.