The ten most sought-after neighbourhoods for buyers
The housing market is busier than ever with a record number of buyers wanting to move.
The good news is that in the past two months we're now seeing more homes coming up for sale – more than 260,000 new sellers came to market in the last two months alone.
But if you're looking to buy a home, you'll still need to be ready to move more quickly than ever before.
A great way to make sure you can find out first when a new property is listed in your perfect location is by signing up for our Instant Property Alerts.
"More buyers have realised they don't have the luxury of waiting until the weekend to decide which properties they want to request to view, and so they're making sure they've signed up to find out first when a home comes up for sale," says our property expert Tim Bannister.
More than 2.7 million home-hunters have already signed up to find out instantly when a property comes up for sale, and so we've taken a look to find out which neighbourhoods have the most eager buyers waiting to move in.
The ten most-sought after locations for buyers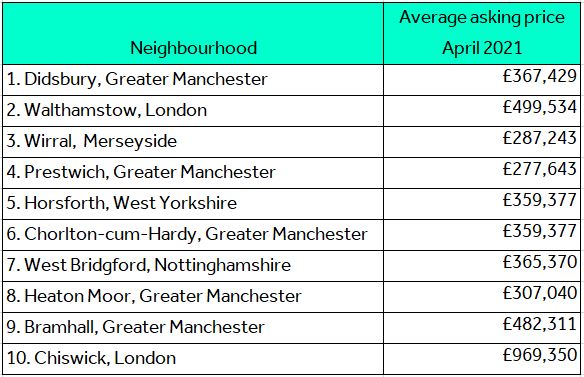 Top spot: Didsbury, Greater Manchester
Five neighbourhoods in Greater Manchester feature on the list, with the suburb of Didsbury taking top spot.
Didsbury is less than five miles from Manchester city centre and one of the most expensive suburbs in the county.
The average asking price in Didsbury is £367,429, which is more than £130,000 higher than the Greater Manchester average of £237,380.
This leafy neighbourhood is popular with buyers who are looking for family-sized detached houses with big, private gardens close to the well-rated local schools. There's also a mix of Victorian cottages and terraced houses, traditional semi's and new-build flats and townhouses.
There's also a thriving café culture in Didsbury, with a great choice of specialist shops for foodies and popular local restaurants, bars and pubs.
Rob Kennedy, Managing Director of Philip James Kennedy in Didsbury Village says there has he's seen a surge in the Didsbury property market this year, "with record levels of sales and many properties generating multiple bids. House prices have increased as a result and properties are selling and completing faster."
Search for houses and flats for sale in Didsbury
Second on our list is Walthamstow in east London, where average asking prices have risen by 116% over the past ten years, from £230,888 to £499,534.
The only other London location in the top ten is Chiswick, which is also the only place on the list where prices are lower than this time last year – even though the average cost of a home here is £969,350.
Our property expert Tim Bannister says: "Our new analysis gives sellers in these local hotspots a clear indication of just how popular their area is, as it tracks the huge pool of the most eager prospective buyers who are signed up to find out instantly when a seller decides to bring their property to market."
READ MORE:  The most searched-for countryside market towns on Rightmove
You can set up an Instant Property Alert on Rightmove here.
The header image for this article is provided courtesy of Philip James Kennedy estate agents, Didsbury.