What could happen to house prices in 2021?
The property market has experienced a mini boom in 2020, and the big question many of you want answered is: will prices continue to rise in 2021?
Whilst we don't have a crystal ball, we do have the biggest home-hunting audience in the UK, as well as unique insight into future demand for property.
So armed with all that data, we've produced a forecast of what we think will happen to property prices in 2021.
Our main prediction is that the recent surge in average asking prices will continue into next year, as the nation's housing needs are likely to outweigh any economic uncertainty.
Specifically, we forecast a robust 4% national average house price growth in 2021. However, we think that the price rises will be at a slower pace than this year, which finished 6.6% up on 2019.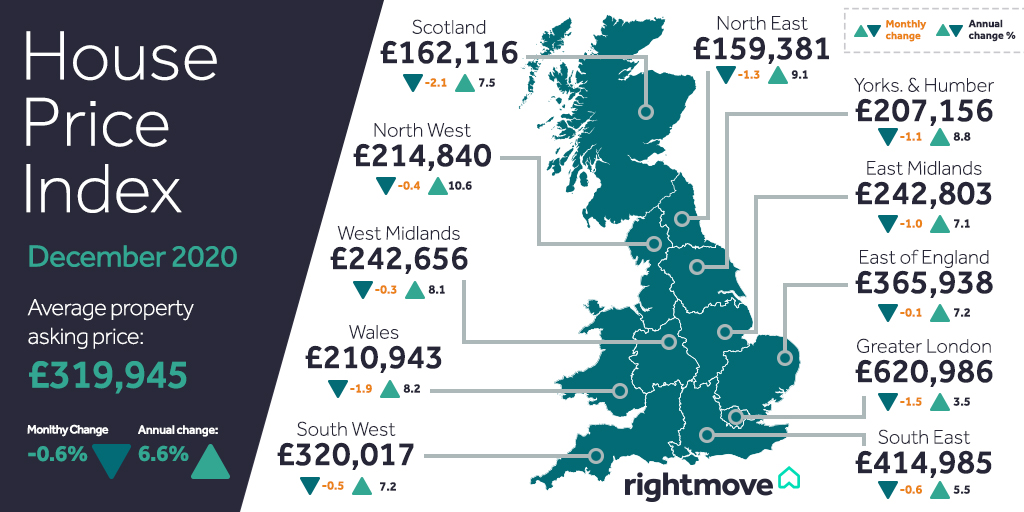 What can we expect from the property market in 2021?
It will be a busy start to 2021. The New Year is typically a time for resolutions for the year ahead, and many will see it as an opportunity to draw a line under 2020, which may well include a fresh start in a new home for those who have not already acted.
Many of you have already done so this year, and many more are continuing to do so despite the seasonally quieter run-up to the Christmas period and the declining chance of completing a purchase before the stamp duty deadline in March.
Despite the clock ticking, around 130,000 sales were agreed over the last month, up by a remarkable 44% on the same period in 2019.
However, there remains a processing logjam and some completions are already projected to be delayed until April next year, especially where there are search delays, legal issues or complex mortgage applications.
What will happen when the stamp duty holiday ends?
It will be a slower second quarter once the stamp duty holiday is over, though even with the average price in Britain up by 6.6% this year, cheap mortgage rates that are available for some leave scope for further modest price growth – despite the loss of the tax saving.
What do the experts say?
Our resident property data expert Tim Bannister explained that it may be quieter in the market in the spring.
He said: "2021 has a lot of variables, and so is not an easy one to call, but with Rightmove's unique leading indicators of buyer and seller behaviour we are confident that the housing market will continue to outperform general expectations next year as it did this.
"Our 2021 forecast of a 4% price rise is more conservative than the unsustainable 6.6% national average seen this year. There's likely to be a lull in quarter two unless the stamp duty holiday is extended, but for many buyers its removal will not be make or break, though may lead them to reduce their offers to a degree to compensate for the higher tax, and indeed many sellers may be prepared to help to mitigate their buyer's financial loss.
"First-time buyers will remain largely exempt, so in most cases will be no worse off. The maximum savings of £2,450 in Wales or £2,100 in Scotland are considerably less decisive than the £15,000 available in England for a house costing £500,000 or more, which does however only apply to a small part of the market."
To read December's House Price Index in full, click here.
READ MORE: How much have house prices risen this year?