Asking prices are at an all-time high right now
Prices of newly-listed properties are at a record high and homes are selling quicker than ever before, but what does this mean for your home move?
Well, buyers are being spurred on to act quickly, fuelled by the extra competition in the market. In fact, the number of buyers contacting estate agents is up by two-thirds compared to a year ago.
Sellers, however, should be careful not to overvalue their homes, because if they want to complete a sale in time for the stamp duty deadline, they need to find a buyer soon rather than later.
The latest research from our data analysts has found that the average price of property coming to market increased by 1.1% this month, to an all-time national record of £323,530.
This is more than £16,000 higher than a year ago, and the highest annual growth rate for over four years.
What are the headline figures?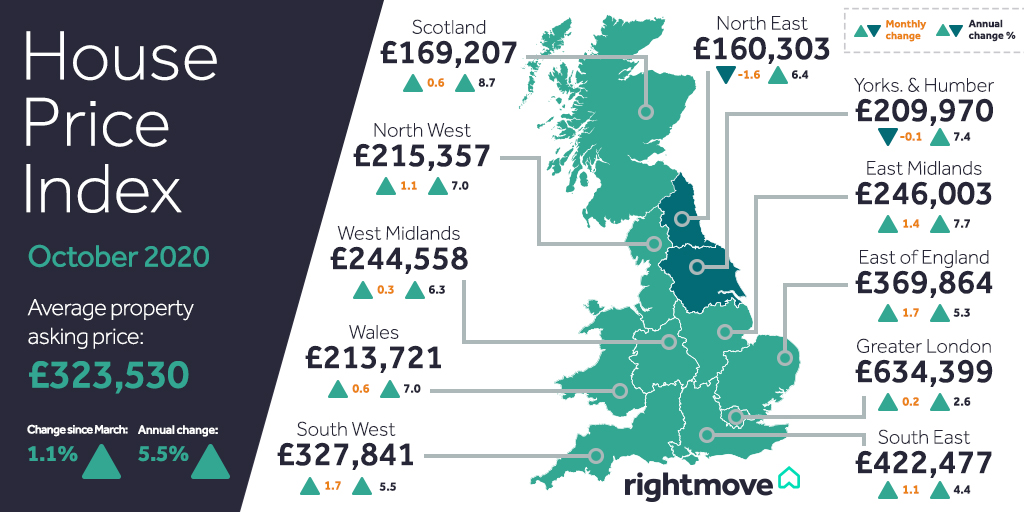 As well as the new price record, September saw several other new records for market activity:
The average time to sell is now 50 days, which is 12 days faster than the same period last year
For the first time ever, estate agents now have more properties marked as sold than they have as available for sale
The number of sales reported by agents also set a new record, and was 70% higher than the same period a year ago
We've also seen that:
Traffic to Rightmove was up almost 50% on September 2019, the biggest annual jump since 2006
The pace of growth is easing, but the number sales agreed for October so far is still up 58% on the same period last year
What do the experts say?
Our resident property data expert Tim Bannister explained that home-movers who are hoping to beat the stamp duty deadline must account for sales taking longer to complete in the current market.
He said: "Previous records are tumbling in this extraordinary market, and there are still some legs left in the upwards march of property prices. We predict that the annual rate of growth will peak by December at around 7% higher than a year ago.
"Many buyers seem willing to pay record prices for properties that fit their changed post-lockdown needs, though agents are commenting that some owners' price expectations are now getting too optimistic, and not all properties fit the must-have template that buyers are now seeking.
"Not only is the time left to sell and legally complete before the 31st March stamp duty deadline being eaten away by the calendar, but more time is also needed because the sheer volume of sales is making it take longer for sales that have been agreed to complete the process.
"Sellers and their agents should therefore be wary of being too optimistic on their initial asking price, as whilst activity levels continue to amaze there are some signs of momentum easing off from these unprecedented levels."
What are estate agents seeing?
Martin Robinson, Director of Hunters, said: "We would normally see a slowing of the market as the nights draw in, but the appetite to take full advantage of the low interest rates and a stamp duty holiday means activity continues to grow.
"Demand is still outweighing supply, particularly for quality properties marketed at the right price, and we're regularly experiencing sales going to best and final offers. The market continues to be strong right across the property types, whether it be first time buyer, investor, second time mover or houses in the country which offer more outside space.
"We're also seeing changes in the habits of the consumer with many saying that there is no need to be on the doorstep of their workplace and are looking to move to a more rural or affordable location, broadband speed permitting, to work remotely where they can get more for their money."
Dominic Agace, Chief Executive of Winkworth estate agents, with 100 offices nationwide, including 60 in the capital, added: "The market remains brisk across all levels, as we see new lifestyle choices support this demand. We are now seeing sellers join the property market, catching up with buyers' early start.
"With both tracking well ahead of 2019 levels, we expect this activity to continue for the rest of the year. However, with increasing supply and uncertainty around Covid, we expect prices to flatten out now we are past the peak autumnal market.
"The market has been strong across all our London offices, as property movers look to take advantage of the savings on stamp duty and the record low interest rates.
"This includes those looking to get onto the housing ladder, second steppers looking to move from a flat to their first house, and people looking for outside space by moving to outer London or going further and taking the plunge to make their move to the country, with our offices in commuter locations and beyond seeing significant demand. 
"I think the trend to make a move for more space will continue, reflecting the increasing trend for working from home."
To read October's House Price Index in full, click here.