This London home played a starring role in hit TV series Killing Eve
If you're up to date with hit BBC show Killing Eve, you'll know that main character, Villanelle, isn't one for a quiet life.
And when she's not on the run, she opts to stay in some pretty extraordinary places.
Killing Eve filming locations have hopped, skipped and jumped around the globe, with glimpses of Paris, Amsterdam and Rome just some of the backdrops you may have spotted across four seasons of the show.
Closer to home, one of the filming locations we've spotted in the most recent series is a showstopping London home that's currently listed for sale with Hamptons. This incredible six-bedroom home is set on a private road in the north-west London suburb of Stanmore, and it's almost hidden among masses of lush greenery.
This popular film set home isn't a stranger to the big screen, either. It also featured in hit TV shows Fortitude and We Hunt Together, and was pursued by Stanley Kubrick as a set for A Clockwork Orange.
The house was commissioned by Ernest Shenton, who introduced one-hour photo processing to Britain's high streets in the 1980s. The current vendor says, "He wanted it to be full of light, the ultimate party house. Out in the garden you've got the lake and the water feature, which is particularly special. Living here, especially during lockdown, has been paradise."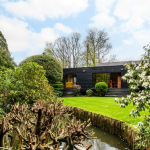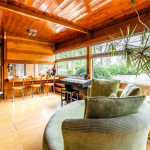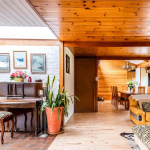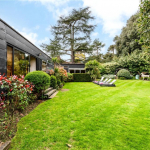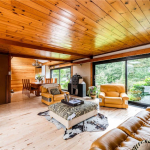 This 1960s family home is the work of architect, Edward Samuel, and brings together an eclectic mix of Nordic, Japanese and Modernist architecture. Open-air living spaces are set across a single level, with dramatic floor-to-ceiling windows and French doors flooding the home with light for some peak golden-hour moments.
The views from the six-bedroom house are pretty incredible too, as this unique London retreat is set on the banks of a shared lake and surrounded by manicured gardens.
This property is for sale for £2,750,000, with Hamptons Prime Sales, Stanmore.