Where are the most in-demand country hotspots right now?
You may remember earlier this year we told you about a new trend of people escaping to the country as home-movers started reassessing their housing needs.
Our research found that lots of you had decided that this was the year to find more space, whether in the shape of a bigger garden or an extra bedroom.
And the latest study by our data analysts has not only found that this trend is continuing, but that some of the most in-demand areas people want to move to are smaller communities.
Based on 448 million searches by home-hunters across September, we found that the nine areas where searches have doubled all have a population of under 11,000.
In fact, all of the places where searches have doubled are small towns, villages and civil parishes, in contrast to searches being up 53% on average across the ten biggest cities.
Where are the most popular destinations right now?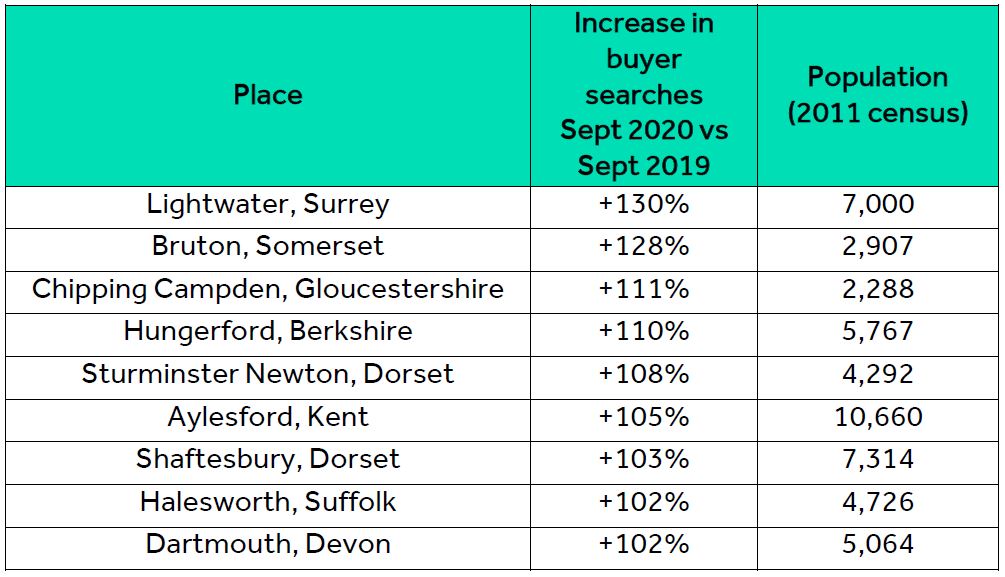 Where are the busiest local markets?
As you can see, Lightwater in Surrey is the most popular country destination right now, with buyer searches up 130% last month compared to September 2019.
The leafy village has a population of under 7,000, and house prices range from a studio flat on offer for £155,000 to a five-bed house with an asking price of over £3.6 million.
Our list features other small villages and market towns, such as Bruton in Somerset, where searches are up 128%, and Chipping Campden in the Cotswolds, with searches up 111%.
Meanwhile, searches in London were up 36%, although Bristol still reigns as the most searched for city outside London, with searches up by 54%.
What do the experts say?
Our resident property data expert Tim Bannister explained that the draw of being able to work from home more frequently, and commute into an office less often, is a big driver of this trend.
He said: "Back in May when the market reopened in England we wondered how long the desire to move to the country or to smaller towns and villages would last.
"It's clear that this short-term shift has turned into a medium-term trend, as our data is showing that home hunters looking at what's available are also turning into serious buyers putting in offers.
"There are a number of likely drivers of this change, some buyers are now more willing to have a country commute a few times a week, and others are preparing for social distancing to be here for quite some time yet, and so are being drawn to places with more outdoor space.
"Housing markets in some of the biggest cities are still busier than this time last year as the quiet life definitely isn't for everyone, but they're not seeing the same surge as these smaller areas."