Find out what major London property trend is reversing
If you live in London and you're thinking about moving to the outskirts of the capital, you're not alone.
That's because our data analysts have found that homes further out on London commuter lines are seeing the biggest jump in the number of buyers looking for their next home.
Interestingly, this is a complete reversal compared to what we were seeing this time last year.

Our study looked at the change in the number of buyers contacting estate agents between September 2018 and September 2019, and the same change between September 2019 and September 2020.
As the table above shows, the majority of zones have swapped demand rankings compared to the previous year, and as you move out by zone the jump in the number of buyers increases further.
We also looked at the change in demand for each station along the Bank branch of the Northern Line between July and September 2020 compared to July and September 2019, which mirrors the overall trend.
The two stations that saw the biggest increase in the number of buyers were High Barnet, up 166%, followed by a station just a few stops along, Finchley Central.
Northern locations of the northern line are performing more strongly than the southern locations, and there is a clear dip in demand along the zone 1 stations.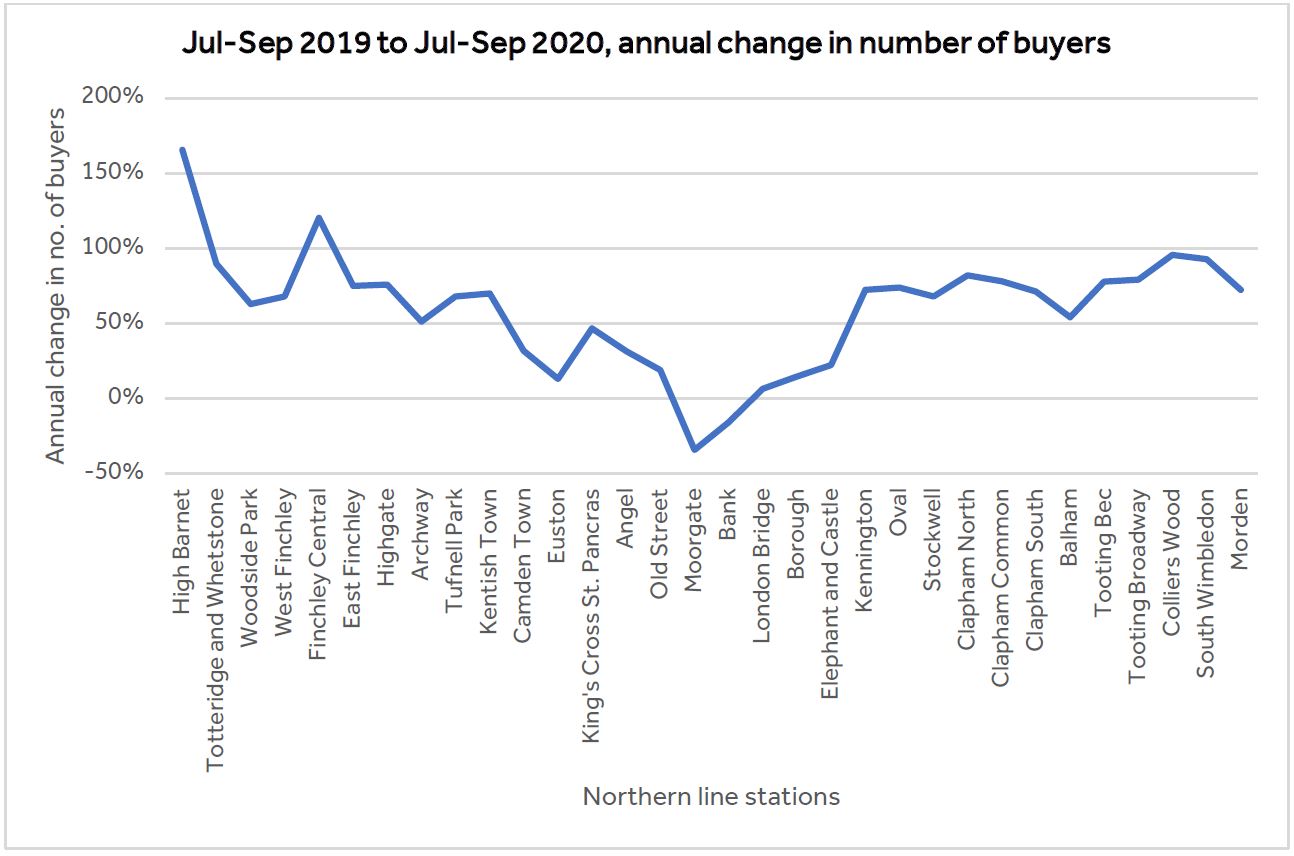 What do the experts say?
Our resident property data expert Tim Bannister explained that home-movers are definitely heading to less built-up areas as people seek bigger homes and more green spaces.
He said: "Agents have been reporting a number of people selling up in the inner London zones and moving further out, but to see this reversal in the demand trend reflected so clearly in the data is quite something.
"Some buyers still expecting to commute into the centre in the long term may have now adjusted their mindset about how many zones they're prepared to move out, leading to zone 6 being the new favourite.
"This data demonstrates the short term trend of more central places like Moorgate and Bank seeing lower demand right now – although it's worth noting that it's off strong demand levels for these locations a year ago. I do think this demand will come back eventually but it's not clear yet how long it will take." 
What are estate agents seeing?
Alex Corradi, Sales Manager of Winkworth's Finchley office, said: "We've seen tremendous interest from buyers living in central London, Hampstead and area, seeking to move out to a larger home with a good garden in the Finchley Central area and out to High Barnet.
"These are mainly couples and young families with children looking for an extra room in the house to use as an office or space outside for a garden office, as working from home becomes increasingly prevalent. 
"The properties may range from Victorian and Edwardian houses to homes built in the post-war era, from £700,000 to £1.4m. 
"Good schools are also important to this group of buyers and this part of North London is still a convenient commute for when people do need to travel to their place of work."