Rightmove adds broadband tool to property details to enhance user experience
Rightmove, the UK's busiest property website, has become the first UK property portal to add data about broadband speeds and availability to its inventory of more than one million homes.

Research conducted among over 3,000 Rightmove users found that broadband details were ranked as a more important feature when searching for property than information on transport links and nearby schools.  Following a successful two month trial, broadband information is now permanently included on property listings.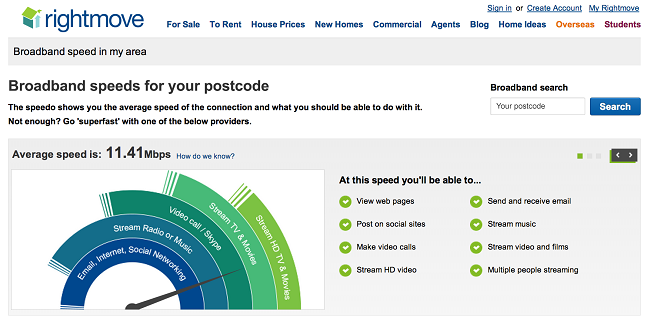 Check out Rightmove's broadband search now.


The new information is already proving popular and is currently attracting over 400,000 page views a month.


On each property a user can link through to a page where a speedometer-style display shows the average speed in Mbps, and lets people know if they can upgrade to superfast broadband and the providers who offer the service in their area.


Bernard Phillips, Head of Consumer Platforms at Rightmove, said:

"We're always considering new developments to our website and mobile platforms, to make sure we provide Rightmove users with the best property search experience and because we understand the benefits these have for our customers.  The trial exceeded our expectations so it's become a permanent addition that further enhances our listings.  We already offer a number of tools to help consumers make informed decisions about a property including local schools and transport links, and we're pleased to be the first to add data on broadband, something that has become ingrained in people's lives and an important factor when choosing a home."


The free tool joins a host of other new developments that Rightmove has invested in as part of its on-going commitment to give users what they want when looking for property.  Over the past few months Rightmove has introduced bigger images on the desktop and mobile sites, new and improved mortgage calculators, new apps for the Windows Phone and tablet and updated apps for iPhone, iPad, Android and Kindle. More than a third of all Rightmove traffic and around a quarter of email leads now come from home movers using smartphones and tablets.