The towns and cities that have seen the biggest price growth in a year
There are more home-hunters looking to move right now than ever before. Nearly a quarter (23%) of properties are selling within a week, which is the highest level we've ever seen.
The average national asking price of a home has now reached a record high of £327,797, which is five per cent higher than this time last year.
So, which towns and cities are seeing the biggest jumps in asking prices? Our data shows that many of the areas with the biggest rises are in the North West region of England.
The top ten property price hotspots
Asking prices for homes in the Merseyside town of Wallasey have risen more than in any other town or city across Britain, with a 15.6 per cent jump adding almost £24,000 to the average price of a home here, which has now reached £176,707.
This seaside town on the Wirral peninsula is so popular with buyers that one-in-three properties sold within a week throughout March and April.
Wallasey is around half an hour away from the city centre of Liverpool. The long sandy beach in the New Brighton district is a big draw in the summer months and the area also boasts the UK's longest promenade, which stretches for several miles.
Many four- to five-bedroom family homes in the town are priced well below £300,000, so many buyers can still make the most of the stamp duty holiday extension.
Our property expert Tim Bannister says: "The average asking prices of all locations in the price hotspot list are below the national average, and I'd expect them to see strong price growth continue for the rest of the year, especially as many buyers will be exempt from stamp duty in these areas right up until the end of September.
Search for houses and flats for sale in Wallasey, Merseyside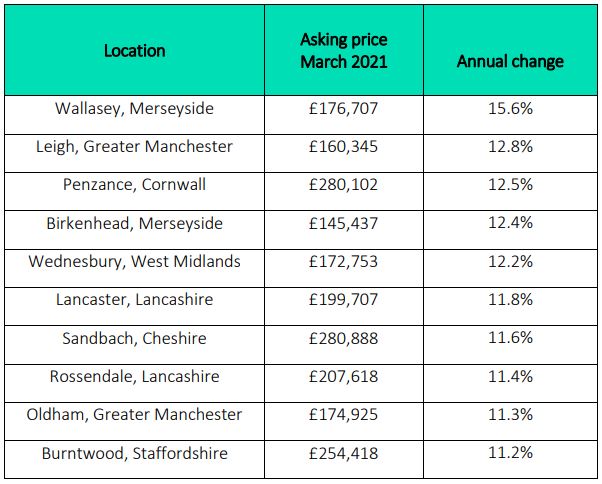 Wallasey is one of seven in our list of the top ten property price hotspots that are located in the North West region.
Second on our price hotspot table is Leigh in Greater Manchester, where asking prices are up by 12.8% to £160,345, followed by Penzance in Cornwall, where asking prices have risen by 12.5% to £280,102.
Cornwall recently replaced London as the most searched place on Rightmove, as more people look to move to the countryside or coast.
The town of Birkenhead, just four miles from neighbouring Wallasey and also on the Wirral peninsula, is fourth on the list, with a 12.4% jump in asking prices in a year.
Our tips for buyers in a busy housing market
Our data also shows that in April there were 45% more buyers contacting estate agents about properties for sale than in April 2019.
With so many home-hunters looking to move right now, property viewings are competitive. Many estate agents are prioritising physical viewings for buyers who are ready to move forward with a purchase straight away.
Our recent survey found that almost half of estate agents are asking that a buyer has already had an offer accepted on their home if they want to physically view a property, and just over a third are asking that a buyer at least has their property already on the market.
For first-time buyers many agents are asking that they first have a mortgage in principle before they can view.
Our property expert Tim Bannister says: "There is a very real possibility that you could miss out on the home you really want to move to if you haven't already put your own up for sale, or if you're a first-time buyer and you haven't first researched what you can definitely afford."
"We recently found that a much higher proportion of chain-free homes are up for sale, so it's clear some buyers are already choosing to sell first and buy next rather than tie themselves into a chain.
"To put yourself in the best possible position before you request a viewing, I'd recommend getting a mortgage in principle ready, and being clear on what the final asking price you can offer is if it is a hot market where the property is likely to go to best and final offers.
"Agents are telling me that because stock is so few and far between they're advising home owners to first get an offer accepted on their own home, and they're finding that many buyers are more willing to then give owners a bit more time to find their next place to move to before the chain can get moving."
READ MORE: Top tips for buyers in a busy property market
The header image for this article is provided courtesy of Express Estate Agency, Nationwide.