The nation's most expensive rental spots revealed as demand hits record levels
Esher in Surrey is the most expensive place in the UK to rent a two bed property outside of London1, according to new research from Rightmove.
Across the country demand for rental property is at a record high, with a 73% increase2 in email enquiries sent from home-hunters to letting agents in the past year.
A two bed property in Esher would set you back almost £2,000 per month, with the top ten priciest areas dominated by neighbouring areas in the South East counties of Surrey, Berkshire and Oxfordshire.
Oxford comes in at number two, with a two bed average asking rent of over £1,600 per month, up by  11.7% in the past year.
Two bed asking rents in Esher have risen by a more modest 4.1% in the past year3, while the national annual increase (excluding London) is 4.6%, compared to only 2.5% in the previous year. Nationally, the average asking rent for a two bed excluding London is currently £677 per month.
The two bed average asking rents in both Esher and Oxford are more expensive than Outer London, where it is currently £1,493 per month on average, up by 8.4% in the past year and a quarter cheaper than Esher.
Sam Mitchell, Head of lettings at Rightmove, says:
"The rental market has always been fast-paced but over the past year we've seen demand increase to record levels, and thousands have signed up to find out about new properties first through our instant property alerts. Rental asking prices have increased in line with this demand, with almost double the growth in the past year than the previous year.  People moving out of the capital to places in the South East has contributed to double-digit growth in rents in some of the most expensive places like Oxford and Henley-on-Thames.  Factors like being close to good schools and transport links will always come at a premium, and as these figures show it's wrong to think that anywhere outside of London will definitely be cheaper."
The top twenty most expensive places are: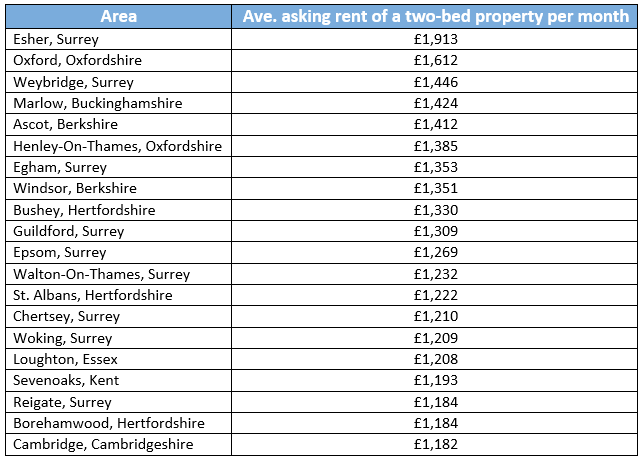 1 Based on two bed properties on Rightmove in April 2015.
2 March 2015 vs March 2014.
3 April 2015 vs April 2014.