The diary of newlywed buyers – Entry 3
Entry 3: Quick tips to bag your little place in the country
The good news… our property was on Rightmove with some nice big wide angle pictures; the professional photographer used by our agent used his witchcraft to turn our narrow galley kitchen into a vast spacious country style kitchen.
The bad news… we loved a new build property in Deanshanger but couldn't secure it without an offer on our current property and the release date had passed.
We had been advised to see the Mortgage Advisor based in the same office as our Estate Agent, who took our salary information and asked questions about our financial history. We had our estimated budget, which we were pleased with and it matched the online mortgage calculation we got on Rightmove.
We decided to see what we could find in our budget in the resale market instead as this new build poker game was testing us. Our options certainly increased, so we became addicted to the Rightmove app, saving favourite properties throughout the day and reviewing them over dinner.
We made appointments to view a few of our favourites and  I was really surprised how much space you get in the price bracket of £250k to £300k. Unfortunately none of them really sparked our imagination, not like the house we'd set our hearts on in Deanshanger.
Quick Tip:
If a property is priced at slightly over your search parameters on Rightmove you might miss out on a home you could have negotiated down to your maximum price – it could make the difference between finding your ideal place.
I broadened the search for a new home again and increased the asking price on our maximum of £300k just to see if we could put in a cheeky offer and still get something in budget. We found a developer in a small village on the outskirts of Newport Pagnell called Castlethorpe, and although it was a new build developer it was in keeping with the local surroundings and had a lot of charm.
It had a fire place, a large open plan kitchen and three decent size double bedrooms, and situated on a quiet little side road. The property was almost finished which meant we missed out on the fun bit when you can pick all the fixtures and fittings but mean that we could move in quicker. We viewed it twice and there was no sense of urgency or stress from the agent working on behalf of the developer, this created a very relaxed environment for us.
A week later we received a call from our estate agent, we had an offer on our house! A good offer as well. Now we had a difficult choice to make, either wait to see what happens to the place we loved in Deanshanger, which had 4 bedrooms, a study and was about 40k cheaper (although it had a buyer lined up we were told it looked "shaky"). Or we could go for Castlethorpe which had one bedroom less and was more expensive but it was a charming place and available now.
Quick Tip:
If you're buying a new build, the move-in date can be anything from a few weeks to a year, don't be put off by this as sometimes either way can suit your buyer. Leave your options open and keep your estate agent informed so they can pass the message onto your potential buyer.
We agonised over our decision for a while discussing the merits of both. My wife decided to ring the estate agent and made an offer on Castlethorpe slightly below asking price and as an added bonus they would even pay our stamp duty.
Quick Tip:
Be careful when accepting an offer with the stamp duty paid by the developer, we would later learn that a vast number of mortgage providers won't actually give you a mortgage when the developer has paid the stamp duty.
We were so excited and knew we were one step closer to our new home.
Just a few days later one of the nice ladies at the Deanshanger development called to say their buyer had fallen through and said we could put an offer in, typical! We were sure we had made the right choice so politely declined (funny though as we would have done anything to secure this one month earlier!).
So all that stood in our way between us and our dream home was a mortgage approval and the seemingly erratic behaviour of our buyers.
With an offer accepted and a mortgage approved in principle we pushed ahead; our Mortgage Advisor suggested we use the same solicitor to buy our property as the one that was handling our sale. Makes sense, we thought. On hindsight we should have instructed two different parties.
The solicitor wouldn't actually proceed with anything buyer-related until the sale was tied up; this probably slowed things down quite a bit. The communication issue isn't there but the urgency you feel to move things on, especially with an eager buyer who wanted to move in as soon as possible.
Our buyer kept asking for our keys and returned to the property several times over the space of the next few weeks. They asked a series of questions I wasn't expecting. Here are a few things I would prepare in future to avoid further delays:
If you have instructed a company to do any paving or ground works around the house keep all records of it you may get asked to present it
If you have a decking area in the garden check whether or not it exceeds 30cm and if it exceeds 50% of the garden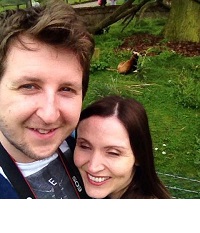 If you have replaced your windows check that you still have the FENSA certificate
If you have a burglar alarm write down the code and leave the instructions behind
They even asked if our neighbours use our spare parking space!
Next week – Sign this, sign that and worries about our buyers…
Written by Martin and Shelly, buying newlyweds.
The sales market is moving fast, therefore you need to be at the front of the queue when a property hits the market. Sign up for Rightmove's instant alerts to find it first.