Top 10 sexiest interiors brands
Written by Andrew Dunning of APD Interiors

Read APD Interiors' blog here – www.apdinteriors.com
1. Sub-Zero Wolf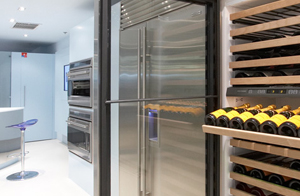 Sub-Zero Wolf is new to the UK market but has been one of the big boys in the US market for many years.  Wolf covers the cooking side of your kitchen, while Sub-Zero handles the refrigeration.  Wolf cookers are all about top quality well-built appliances, made from solid steel and built to handle the demands of the most demanding cooks.  Their signature blue cobalt oven interiors are a little secret hidden from most people.  Sub-Zero has an all-encompassing range of refrigerators, freezers and gorgeous wine fridges.  If you always need to have champagne chilled to perfection a Sub-Zero appliance won't let you down.
2. Elica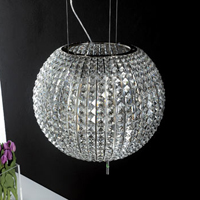 Elica have taken the humble cooker hood and really added the wow factor to an essential kitchen appliance.  Until a few years ago you either had a chimney extractor, one built into a cupboard and some people would even say, why do I need one of those?  Their 'Star' hanging hood is both beautiful and practical.  It features glass crystals and stainless steel to create a stunning signature piece for your kitchen, but one that still packs a punch in its extraction rating.  The Elica range is ever evolving and their latest product is a downdraft extractor that pops up from the worktop only when you need it – very James Bond!
3. Bulthaup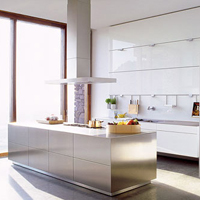 Making some of the sleekest kitchens around Bulthaup has been manufacturing premium kitchens for over 60 years.  Offering a complete lifestyle solution, the focus is on customisation of their products to suit you and how you live.  Bulthaup view the kitchen as a piece of architecture and this is demonstrated in the clean lines design and the faultless construction.  The System b3 range is a handleless kitchen that has a range of options diverse enough to cover any lifestyle, whether you are a masterchef or an enthusiastic amateur.  With special attention paid to ergonomics you can be sure everything is always within easy reach and the kitchen will be a delight to use.
4. Fritz Hansen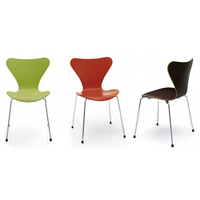 Although the name of this company is not well known, their products are famous all over the world.  Most people will be familiar with the images of Christine Keeler sat on the Series 7 chair designed by Arne Jacobsen.  This chair has sold almost more copies than any chair in the world, and is available in a wide variety of finishes including full upholstered.  Another well-known chair manufactured by Fritz Hansen is the Egg Chair, designed in 1958 for the Royal Hotel in Copenhagen and now seen all over the world.  Much of their furniture is pared down simplicity, allowing the beauty of the materials to be the focus – the Egg chair is available in the most supple leather you will ever experience.
5. Flos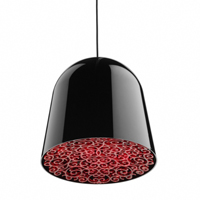 Every interior needs good lighting to create the right mood, and Flos manufacture some of the most iconic light fittings available.  Celebrating their 50th anniversary next year, the company has won multiple awards and worked with designers including Marc Newson, Marcel Wanders and Antonio Citterio.  The Flos 'Can Can' fitting by Newson appears to be an elegant pendant exterior available in shiny gloss black or white.  The hidden diffuser shows the other side to this fitting, it is in a very decorative filigree design and available in either Fushia or transparent.  Also available soon in a Mini size this would be a perfect light fitting to install in your bedroom to add some understated glamour.
6. Hansgrohe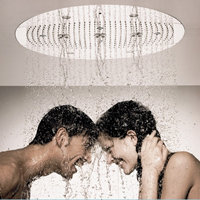 For the best showering experience available you need to look at Hansgrohe.  Founded in Germany in 1901 they have taken showering to another level with the introduction of innovative products and designer led styling.  The Raindance Rainmaker system is a ceiling mounted showerhead that is 60cm wide providing enough water for you and a friend!  This system features multiple settings for the spray, so depending on your mood you can either be deluged, be in a soft rain shower or massaged gently.  Combining German engineering with design talents from around Europe, including Phillipe Starck and Patricia Urquiola, the company delivers products that lift a bathroom to a place of pure pleasure.
7. Armani Roca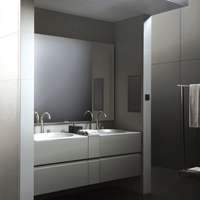 Setting a new standard for bathroom fittings, Armani Roca brings together one of the world's top bathroom sanitary ware companies and one of the leading fashion houses of the world.  Armani have long designed some of the sexiest clothing available so when they chose to move into bathroom products Roca, as a world leader, was a natural choice.  The concept for the new range is to bring sophistication into the bathroom but also keep everything practical.  The range features all the standard bathroom fittings and also lighting, wall coverings and floor treatments and uses the latest technology and manufacturing advances to produce beautiful high quality products.  The range is available in 2 different finishes and for those who live the Armani lifestyle they will soon become the bathroom fittings of choice.
8. Bisque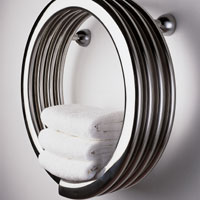 If you want a smart towel radiator Bisque is the place to go.  They have been a market leader for many years and have taken the humble towel radiator and made it sexy.  Some of their radiators have become pieces of bathroom sculpture, but importantly they all still retain practicality.  Bisque has been producing radiators for more than 30 years, and the inventive Hot Hoop is celebrating its 10th anniversary this year.  Designed to be installed on the wall with a minimal amount of fittings, installing a couple of Hot Hoop's in your bathroom really gives it an out of the ordinary look.  Importantly they also have a good heat output – an essential feature as there is nothing worse than a chilly bathroom in the morning!
9. Fornasetti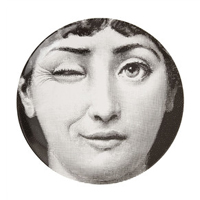 Piero Fornasetti was an Italian painter and sculptor who used the face of operatic soprano Lina Cavalieri as a motif on many items including sculpture, plates and vases.  Her iconic image has become one of the best known 'faces' to feature in interiors.  It is available in many different versions, be it smiling, winking, smirking etc to suit the mood of any home.  Adding two of the plates to a wall in your home can add a very fun element, and they have also recently introduced several items featuring a male image.  The company also collaborates with several other manufacturers, for example the image is also available in wallpaper from Cole & Sons.  If your interior needs livening up Fornasetti will certainly help you out!
10. Diptyque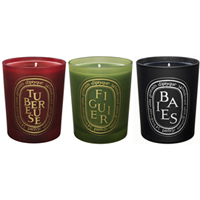 Every beautiful interior deserves luxury candles and Diptyque make some of the most sweetly scented available.  3 artisans started the company in Paris in 1951, they focussed initially on fabric and then in 1963 they launched their first candle.  The collection now includes a large range of candles, room sprays and personal fragrances.  Some of the best selling scents includes Feu de Bois, Jasmin, Figuier and Tubereuse.  They have also recently issued a The 34 Boulevard saint germain collection, a romantic appreciation of their humble beginnings.