With these keys I thee wed…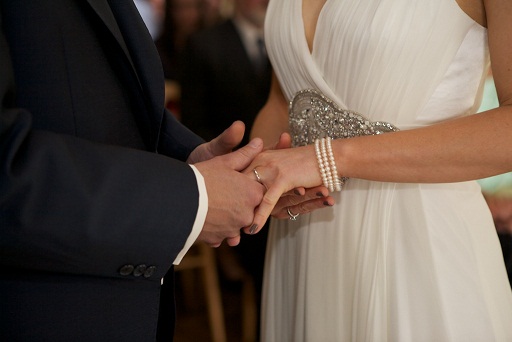 It was love at first sight: a Victorian terrace on a pretty tree-lined street with high ceilings and oodles of space and light.

"I'll take it," I announced, turning towards the agent. It was love at first sight, indeed but I was no longer talking about the property—a cheeky grin, sparkling brown eyes and a five o'clock shadow. I was smitten.
I moved in to the flat a week later but—alas—bagging my estate agent was not as simple as putting a deposit down and signing on the dotted line. It was three months before our first date (probably the only time in rental history that a tenant has been grateful for a broken boiler), three years before we moved in together and eight years before I could coax him down the aisle. But marry we did: last summer in a joyful ceremony in West Sussex. My estate agent is now officially off the market.
That's not to say a guy can't look… Less than a week after we returned from honeymoon, I caught my husband looking at porn. Property porn. He was browsing country houses on Rightmove—in broad daylight too.
That very weekend, we headed down the A26 towards a stunning three-bed cottage with a large garden and plenty of potential. Unfortunately the house was a little too 'handy for major transport routes'; the road noise was deafening. But the nugget of an idea was sown. Boy, how my husband must regret that fateful Rightmove search now.
A year later, a hell of a lot of searching (both soul-searching and house hunting), a fair few 'discussions', a couple of tantrums (mine), one very helpful mortgage advisor, one patient solicitor and three failed property purchases later and we're still looking. Watch this space.
Follow our quest to find our dream house at http://loverichcashpoor.wordpress.com/
Do you have a similar story to tell? Are you a Rightmove Addict? We'd love to hear about it, email us at feedback@rightmove.co.uk