11 Dream Kitchens For Inspiration!
It's the heart of every family home. It's where dinner is cooked, meals are enjoyed and gossip is shared between the whole household. So we're showcasing our 11 favourite kitchens to give you a bit of inspiration if you're looking to change things up in what may just be the most important room in the house!
Bright, Airy And Modern – A City Kitchen Done Right!
Located right in the heart of Clapham, this six-bed property boasts a beautifully designed kitchen – and we can't lie, we do love a good island unit! It's great for preparing the evening meal while the kids prop up the breakfast bar to tell you about their day.
But it's  the smaller touches that really separate this kitchen from others like it. From the baskets of kitchen gadgets hidden under the counter top to the jars of pantry goodies above the oven – and of course there's that cheeky wine rack hidden just out of sight.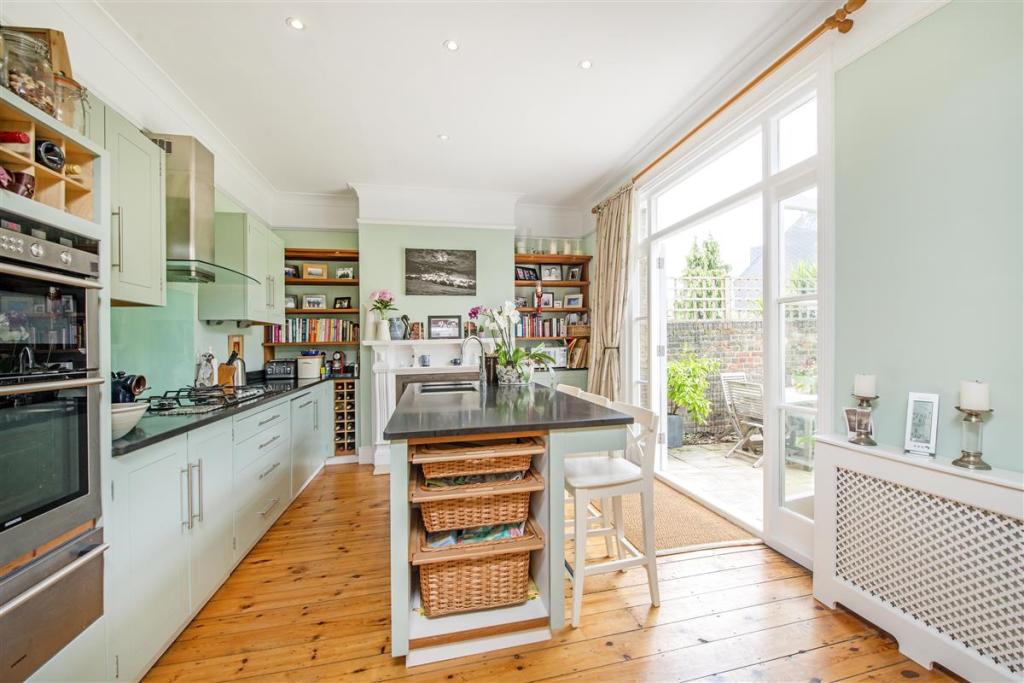 Simple And Functional Up In The Highlands
This kitchen is part of a stunning fairy-tale property up in Scotland near Inverness. What caught our eye the most with this room is just the pure the simplicity of it all.
It's purely functional in every way, there's no over-the-top gadgets and appliances cluttering up the work-space and the wooden cupboard units, tiled flooring and natural house plants all combine to give this room a great country feel.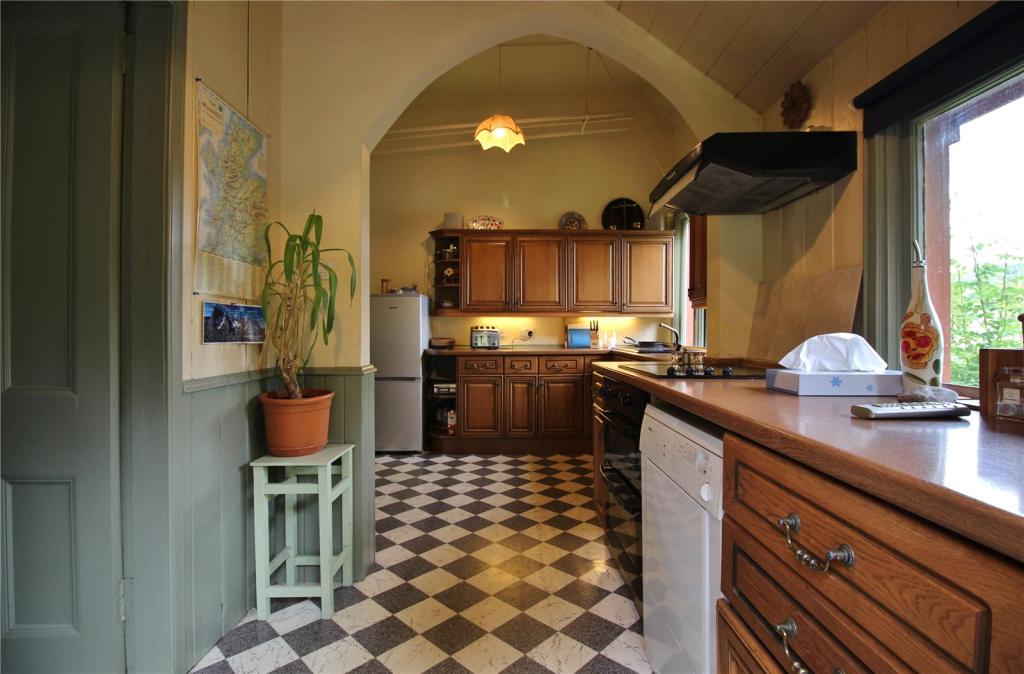 A Kitchen Built For Family Memories
This Derbyshire home has a lovingly crafted kitchen with all the trimmings of a modern kitchen (fan oven, extractor fan, dishwasher) also managing to provide a hefty dose of nostalgia for a simpler time.
Our highlights would have to be the open brickwork around the oven – creating a brilliant centerpiece feature in the room – as well as the exposed beam ceiling bringing some country vibes and, naturally, a nice big table for the whole family to gather around for their meals. Perfect!
We're Suckers For A Set Of Copper Pans…
This kitchen in a property up in Frodsham has a lot going for it – a wood-burning fire (for extra #hygge), lots of light and two taps (always handy).
But there's one thing about it that's sold it more than anything else… those copper pans! We can't get enough of this classic look, giving us visions of Julia Child cooking up a treat in her French kitchen somewhere. And make sure you keep them out on display if you follow suit and pick some up!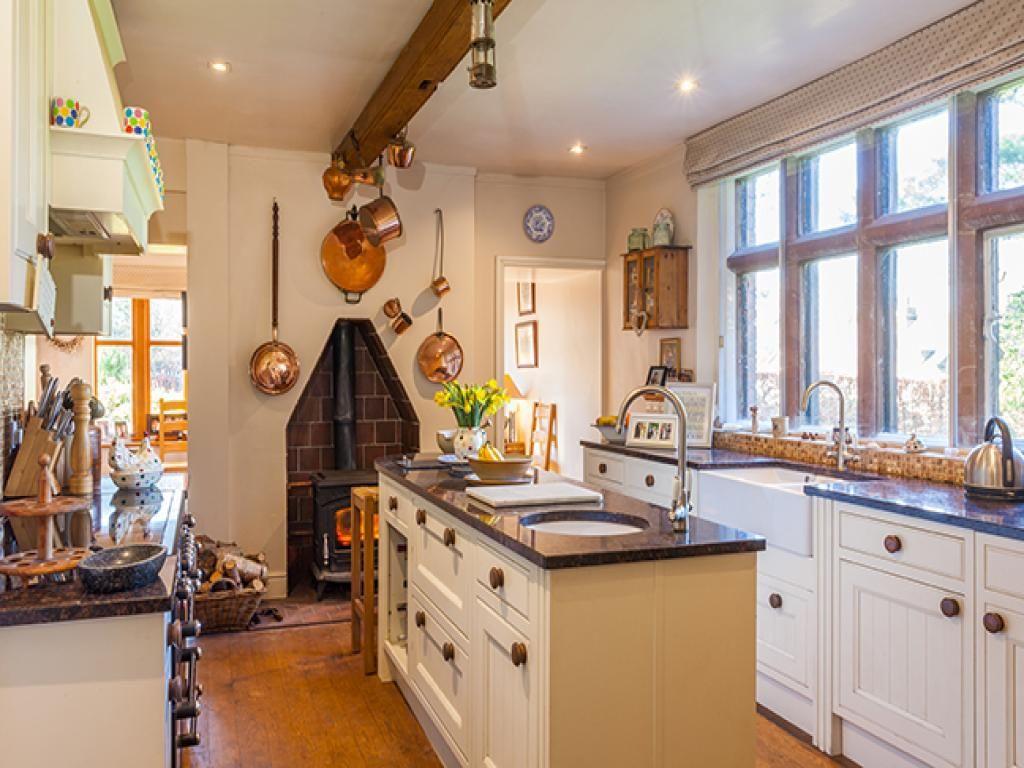 A Lighting Scheme To Keep Things Warm And Inviting
This Glamorgan home uses light to incredible effect throughout the property but nowhere more so than the kitchen.
It's not the biggest kitchen space in our favourites list but the use of spotlights, ceiling lighting and over the counter lamps creates a truly warm and bright feel throughout the room.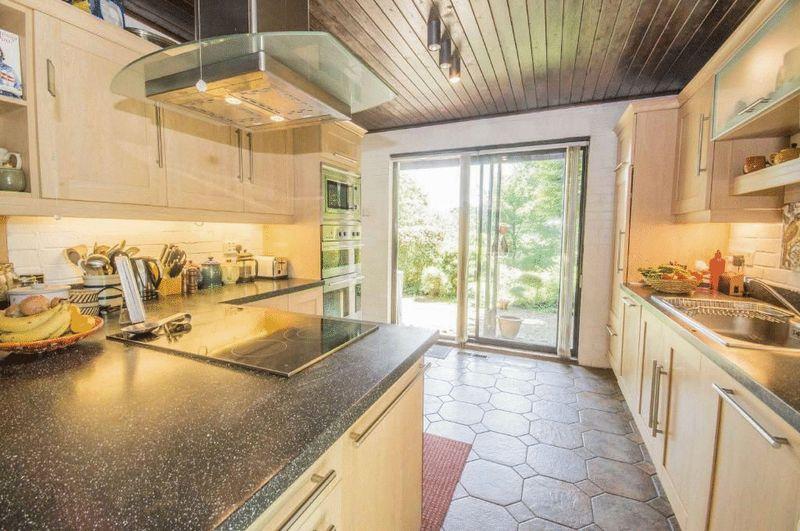 When Colour Just Plain… Works!
Up in Hampshire this eight-bed family home has some seriously good decor throughout (make sure you check out the other rooms!), but it's the kitchen that undoubtedly steals the show.
This room is proof you should never be afraid to go bold and big with your colour choices, particularly if you're working with confinements on space in your kitchen. But just remember – keep your palette limited to between one and three main colours to provide a strong theme throughout the room. Simple!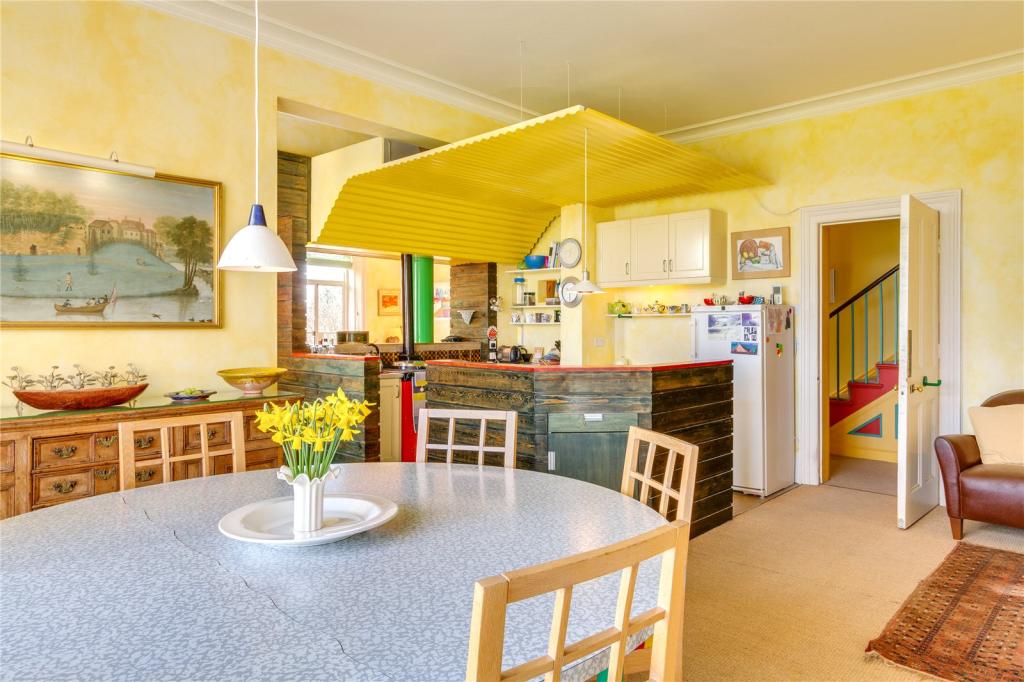 A Striking Kitchen In The City
This London pad is nice and modern throughout and has some wonderful features within its walls. While the kitchen may not stand out as clearly as some of the more traditional ones do, we love how simple and clean the owners have made this cooking space be.
If you're limited with your kitchen area space then don't over-complicate it and make sure you keep things basic – it'll work in the room's favour once everything's in place, trust us!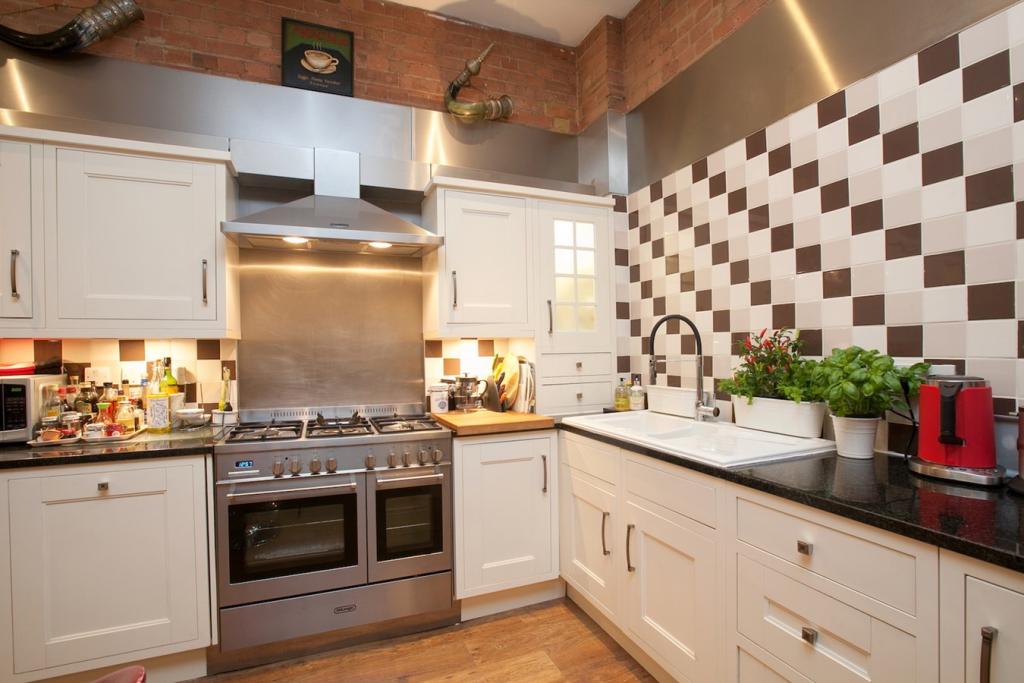 At Home On The (Kitchen) Range
This home in Monmouthshire has a great space for a kitchen and the wooden cabinets and copper pans add a nice sense of tradition to this family-favourite room.
But what sets it apart, and serves as a great central feature to the kitchen, is the range cooker in the centre. If your finances can stretch to one of these we reckon you'll never look back. There's a reason they're considered a classic…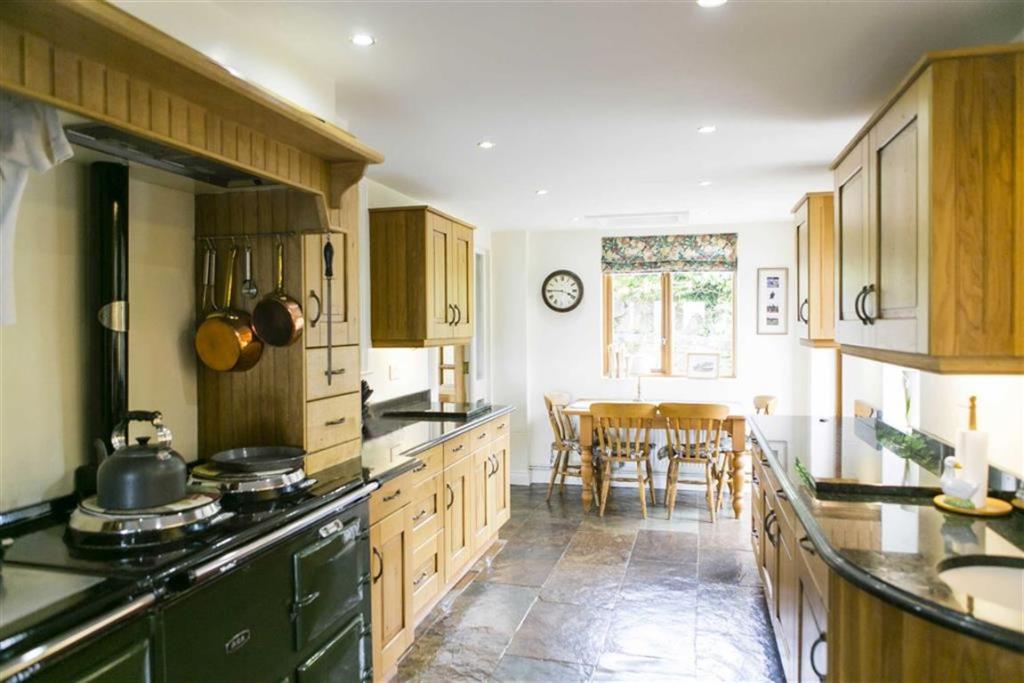 Bring The Pantry Into Your Kitchen!
Most of us aren't going to be lucky enough to have space for a traditional pantry but one way we can still include the idea of a larder is showcased in this beautiful Greenwich property.
The kitchen's got great lighting and a strong colour scheme but what stole the show for us was the shelves just above the counter-top displaying all sorts of jars filled with those pantry stables we all need when cooking up a treat. Some of these ingredients look great when out for all to see plus it's practical too – no more rummaging through the back of the cupboards!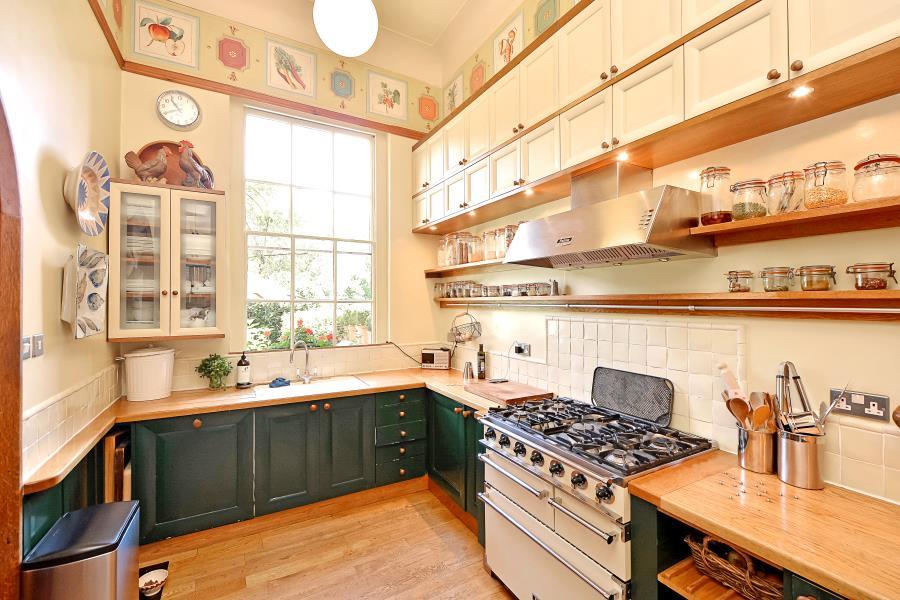 Clean And Crisp… And Spotless!
Up in Rochester this property boasts a brilliant white kitchen that gives a sense of cleanliness and simplicity that's so important when choosing your food preparation space.
While it may take a bit of elbow grease on the regular to keep it looking spic an span, you'll be thankful of it when you have guests over and they remark on just how bright and airy your kitchen is.
Bonus points for that range cooker too… you can't beat them!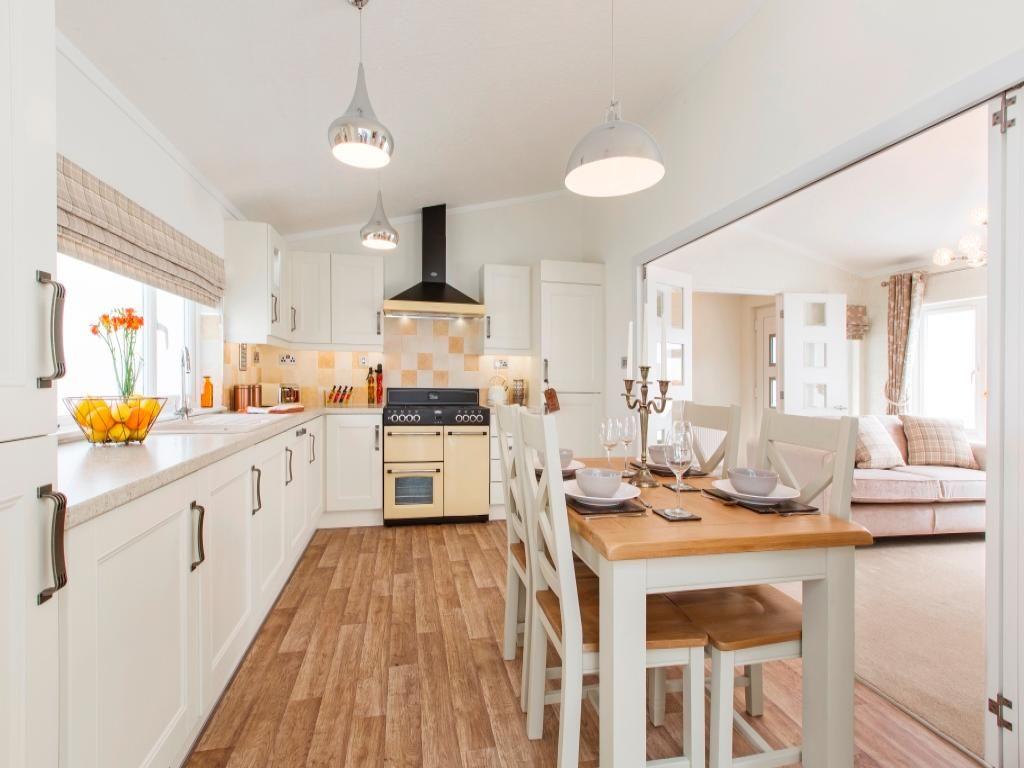 Plenty Of Space To Whip Up Some Treats!
Up in East Lothian, this five-bed family home makes full use of the great kitchen space they've got in their property – with buckets of cupboards space, a practical but good-looking island unit and a nice separate eating space to keep the kids out of the way while you're crafting that culinary masterpiece!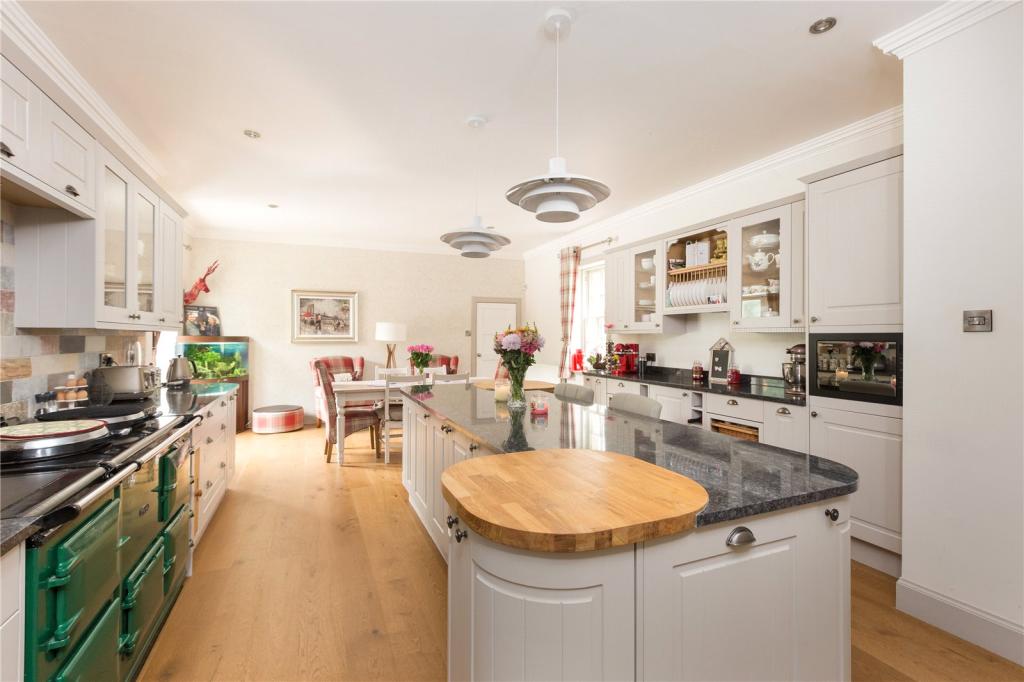 What did you think of our favourite kitchen picks? Let us know your thoughts below or tweet us @CapitalOfficial with your own kitchen inspirations!