Packing for Your Move – Top Tips
Once you have gone through the complex process of buying and selling your home, you immediately have another hurdle; the logistics of moving. 
Getting your belongings from your old house to your new one safely is a top priority but it can also be daunting!
The Big Declutter
Whether you get a removals company to conduct a full pack of your home or you would prefer to pack and move yourself, organisation and planning is key. Think ahead and declutter as there is no point moving belongings you no longer want. Start from the top of the house and work down, don't forget attics, garages and outbuildings and try to be as ruthless as you can. If you haven't used/worn the item in over a year – do you really need it?
Preparation
It doesn't matter if you are moving a priceless antique or something of extreme sentimental value, everything you are moving should be packed safely and securely to avoid scuffs, scratches and breakages. Those who have moved before know that preparing for packing can be an art in itself making sure you have all the equipment; labels, boxes, acid free paper and breathable bubble wrap.
At Clockwork we pack and move hundreds of customers throughout the country every month and our crews are experts when it comes to packing. Here are some of our expert packing tips for your imminent home move.
Add padding to the bottom of boxes to form cushioning, use scrunched up plain paper or bubble wrap.
It may seem obvious but remember to put the heaviest items at the bottom of the box.
Wrap everything loosely and separately in plain acid free paper to ensure paramount padding and protection.
Scrunch and pack paper around the stems of wine and champagne glasses to keep them protected.
All plates should be wrapped separately and placed on their side.
Newspaper not only leaves a residue but can also tarnish silverware so use plain white acid free paper for all your packing.
Framed artwork and mirrors will need to have thick card placed on the front to protect the glass and then wrap the entire item in breathable bubble wrap.
All antiques and high value items need to be properly wrapped in breathable bubble wrap. This is especially the case for oil paintings which sweat during transit.
Large vases, box canvases and other heavy high value breakables should have their own bespoke crate and fragile light fittings should be hung in a crate full of polystyrene flow pack.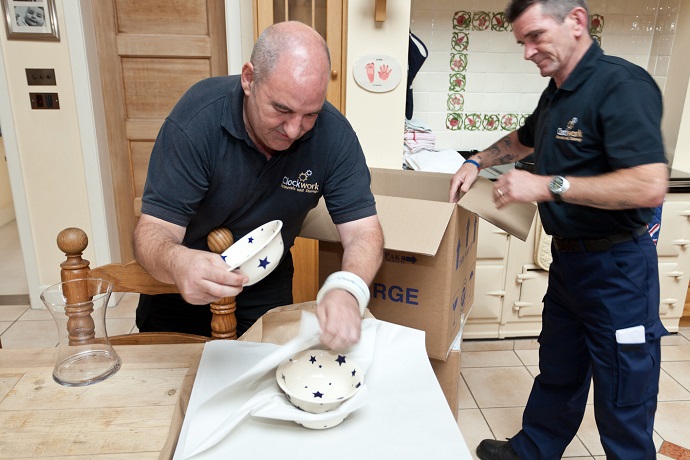 Moving Internationally
Packing for an international move needs even more care and attention than a domestic one. Shipping your goods internationally is costly so try and be even more ruthless with the decluttering and weigh up the pros and cons of putting some larger items into long term storage.
Depending on where you are moving to your items could be in a shipping container and at sea for months. Protect your items as much as possible by meticulously wrapping everything in breathable bubble wrap. Removal companies who offer international services will have specially trained export packers so it may be worth getting a quote for this service, especially if you have a number of high value items.
When packing for your relocation it is extremely important that you check up to date customs guidelines. Many countries have restrictions on items and materials such as woods, corals, furs and pharmaceuticals. Make sure anything containing fuel (such as lawnmowers) are fully drained and outdoor items such as wellies and outdoor furniture are well cleaned.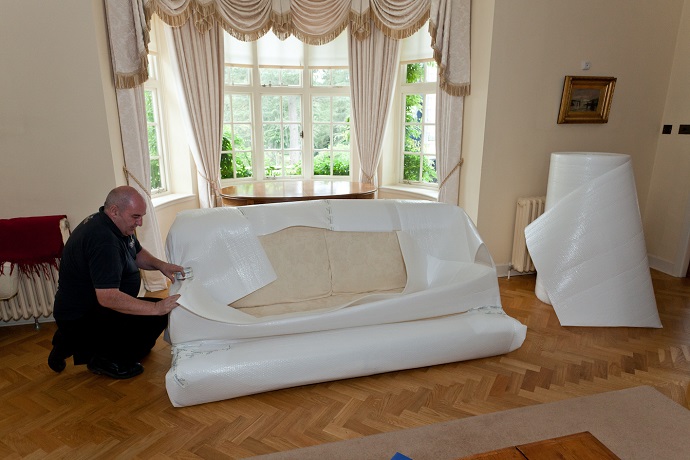 Packing Shopping List
Thick cardboard, strong cardboard boxes (various sizes), heavy duty packing tape, sellotape, bubble wrap, specialist breathable bubble wrap, plain white acid free tissue paper, polystyrene flow pack, scissors, fragile stickers, marker pen.

---
Clockwork Removals and Storage have been conducting local, national and international moves for over two decades. Their teams of packers and export wrappers are trained to the highest industry standards and can help take the excess stress away on move day.
Click here to find out more about Clockwork's services or call us on 0800 195 8671.