Why I bought a new build
Choosing between a new build and a pre-loved home is a big decision for any buyer. This week, we're catching up with recent buyers to find out why they decided to buy new. 
Colleen has just moved from Ealing to a new build flat in Colindale, North West London.
"I loved living in my previous location but what I wanted most was a place of my own. I was fed up of renting. I knew Colindale was an up and coming area with a lot of development going on and as the commute to work would be quicker for me, it really appealed as an area.
I knew it was the one really quickly
I'd been casually looking for a while on Rightmove and only really started looking seriously for a couple of weeks before I found this flat. I knew it was the one really quickly.
I chose a new build for lots of reasons.
Firstly, being available on a shared equity scheme made it a lot more affordable. Knowing I'd be the only person to have ever lived there was a big factor, too. There was also the reassurance of the NHBC warranty – I like knowing that I can fall back on that if anything goes wrong.
Beautiful oak floors, granite counter tops…
Then it was all about the features. It's got beautiful oak floors, granite counter tops, glossy kitchen cabinets and a lovely little balcony overlooking a courtyard.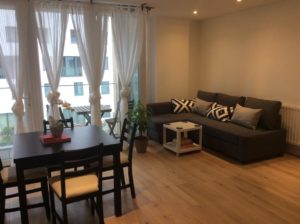 Living on my own as a woman, security was also a consideration. Here, there's a video entry phone and key fobs on all the entry ways, so it feels incredibly secure.
I bought the house through Imagine Living and I can't speak highly enough of them. They were fabulous. Every person I met was really helpful and it was a pleasure to deal with them.
It felt like home immediately
I picked up the keys the day before I moved and I just wanted to stay and not go back to my old flat that night, even with nothing in the flat. When I finally got everything there, I was really happy. It felt like home immediately.
I can't believe how low the running costs are. All the appliances are so efficient. I keep having to check if the dishwasher and washing machine are actually turned on as they're so quiet!
One pleasant surprise that I hadn't really appreciated is that everyone else in the building has also just moved in. So it's been really easy to build up a relationship with the neighbours as we're all in the same situation. It's something I really didn't expect in a London development – everyone's chatty, friendly and warm.  We're now just waiting to see who's going to host the welcome party!"
Search for your next new build home on Rightmove