Why we bought a new build
Choosing between a new build and a pre-loved home is a big decision for any buyer. This week, we're catching up with recent buyers to find out why they decided to buy new.
Chris and his wife Hannah moved in April to a 3 bed semi-detached house in the rural hamlet of Burton, on the border between Wales and Cheshire.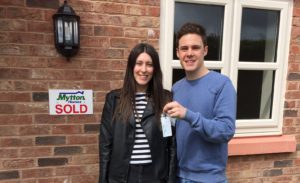 "We'd been living in a flat in the town centre and even though the location was great, we wanted somewhere quieter and a bit bigger. We were getting a bit sick of the communal living in a block of flats and after getting married, wanted something that felt more like a place of our own.
We ended up looking for about a year. At first we weren't prepared to compromise much, but realised over time that for our budget we couldn't get everything we wanted. In the end, we took a bit of a hit on the location and moved further away from friends and family than we'd originally hoped.
There's an amazing local pub!
The area is lovely, though. It's in the country, nice and quiet, and has great public transport links. I can get to work quickly and more importantly, there's an amazing local pub!
After looking at options for a few months, we quickly decided that buying a new place was our best bet. For our budget, all the older houses we saw just didn't feel like home. They all needed top to bottom renovation to get them to a place we'd be happy with and we weren't really keen on having to put the time and effort into doing that.  A big factor was also Help to Buy – we couldn't afford to buy without it.
We found the developer, Mytton Homes, really easy to deal with. The guys at Help to Buy were great, too. The buying process is really stressful but they made it easy and often went out of their way to keep us updated.
Everything's brand new
What did we like most about the new place?  Everything's brand new. It's got great kitchen appliances, a lovely big living room and two good sized bedrooms. After living in a flat, it's amazing to have so much space.
Having moved house before, I knew it'd be stressful, and I was right!  We had a complete clear out before we moved and some of the things we've ordered haven't arrived on time. So we're still sleeping on a mattress for a few days yet.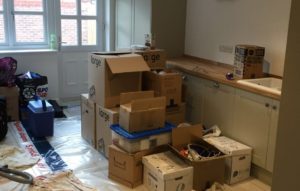 However, once we're sorted, we're really looking forward to getting our family and friends round for a massive house warming party. We can't wait to see what the future holds in our new place!"
Search for your next new build home on Rightmove