Step 5 - How to beat the crowd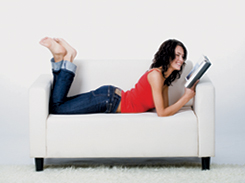 Good places go fast, so here are our tips for getting ahead of the rest to secure the best property:
Use Rightmove's property alerts facility to notify you as soon as relevant properties become available
Start viewing in good time. A lot of property to rent won't be available to move in to for at least four weeks, or even longer on student houses where new lets are often agreed months in advance
Have a cash reservation fee ready (and get a receipt for it)
Have copies of references from your employer and previous landlords available, together with your bank details, documents proving your ID and full address with postcodes for the last three years - the agent will need these for the reference check
Be ready to sign a tenancy application form - this will allow the agent to check your references and run a credit check
If you think you may need a guarantor, get this set up in good time (and check if the agent or landlord will accept one).
Reference checks
If you like the property, you will have to pass reference checks. If there is a fee for this, it is usually non-refundable, even if the reference check rejects you as a tenant.
If you pass, you may be asked to pay a reservation fee or holding deposit. Normally, you will lose this if you change your mind and decide not to take the property.