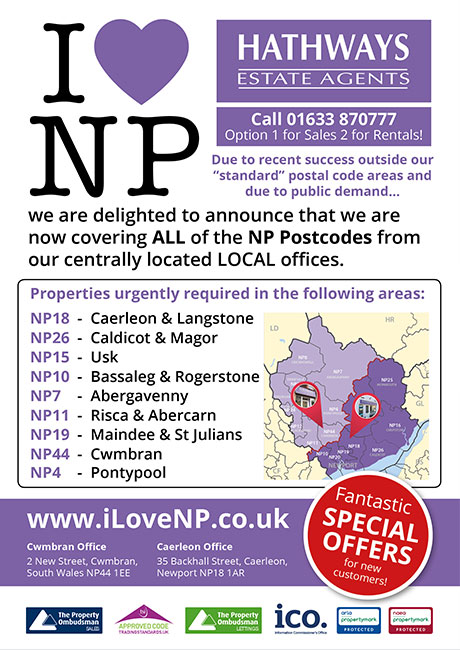 paragraph

Your Property IS Our Business.

If you are thinking of carrying out any kind of property transaction you are in the right place! Our business has been built on reputation and referrals and our clients needs are always the priority. We are not owned by a bank, building society or insurance company; we work solely for you, and our obligation is to obtain the best price for your property whether you are looking to sell or let your property. We are a local company owned and run by local people.

**Check out our REAL testimonials from REAL clients**

Since the early 90s Phillip Hathway has been actively involved in the local property market. Hathways Estate Agents office is well situated within the commercial hub of Pontnewydd Village alongside other Estate Agents, Accountants, Solicitors and Insurance brokers. We own our business premises and we are independent and not part of a franchise so our fees and charges are not governed or influenced by expensive overheads and/or franchise fees.

We ensure our service is personal and professional at all times. We genuinely care about our clients and we are not simply driven by targets. We understand that property is a people business and we ensure we have the best people working for our clients.

Visit the Meet Our Team page - A real TEAM of people helping you not just 1,2,3 or 4 people - STRENGTH IN NUMBERS!!

We fully understand that different clients have different requirements, so by getting to know our clients we tailor the service to suit their individual needs whatever the property transaction on which they are embarking.

We understand to be successful you often have to work harder, longer and smarter than others and this is our ethos. Our business is owned and run by local people who have a first class knowledge of the areas in which we operate.

We are proactive and make things happen we are always looking for our next deal to help our customers meet their objectives. We aim to be progressive and enthusiastic; we embrace technology and always put our clients needs first.

We want to be peoples first choice for any kind of property transaction.

paragraph

We want to be the best property people in our area. We don't want to be the biggest as we want to have control over the service we can offer. We have made a commitment to concentrate on our key areas of business Selling Property, Renting Property and arranging Mortgages & Insurance.

Contact us
Check out our available properties
You can see the properties we're currently marketing for rent by clicking the button below:
View properties